Other Insights
What Makes Digital Visionaries Shine?
With technology moving at a frenetic pace, organizations are experiencing dramatic change and in some cases, existential fear. Today, technology has emerged as the biggest enabler, and companies that have embraced it are the ones poised to explore new paths and scale new heights. Newer, digital native organizations have inherent advantages by virtue of their modern technology frameworks and agile mindsets.
Incumbents will survive and flourish only if they embrace digital transformation at an unprecedented scale. They must find ways to transform their products, processes and business models using digitally-enabled approaches and technologies. Organizations across industries are already rushing to embrace technology as a key component of their business strategies. Gartner expects the worldwide public cloud services market to grow 17.3% in 2019 and reach $206.2 billion. According to another Gartner report, spending on cognitive and artificial intelligence (AI) systems could increase to $77.6 billion in 2022, growing at a compound annual growth rate (CAGR) of 37.3% from 2017-22. We can expect similar growth for other big-ticket technology purchases too, whether it's internet of things, blockchain or cybersecurity.
Yet, simply adopting digital technologies does not guarantee a successful digital transformation. Our recent Infosys Digital Radar 2019 report offered valuable insights into how to proceed. In the report, we classified organizations into watchers, explorers and visionaries based on their approaches to digital transformation. While every company today acknowledges the need to adopt more advanced technology, there are some remarkable differences in how they embrace change. Having worked with some of the most dynamic, visionary organizations across the globe, here are approaches we have seen that are worth emulating.
Technology adoption at scale
A major takeaway from our Digital Radar study was that companies need substantial and consistent effort when adopting digital technologies, as opposed to one-off bursts of enthusiasm. What set the visionaries apart was that they demonstrated remarkable consistency across all digital initiatives. It suggests that a comprehensive approach is needed to achieve digital leadership. It also implies synergies across initiatives. Success in one area, such as big data, may provide a fertile ground for progress in another technology, such as IoT.
Visionary companies operate at scale on far more digital initiatives than trailing organizations. In the Digital Radar research, we measured organizations' technology prowess against a list of 22 major initiatives, including cybersecurity, drones, AI, automation, enterprise cloud, 3D printing and IoT. We found that visionaries consistently and significantly outperformed both explorers and watchers across all categories. Watchers and explorers showed most progress in areas such as digital marketing, cybersecurity, legacy modernization and enterprise cloud. However, the scale was much smaller than that of visionaries.
Even in forefront categories, such as drones, 3D printing, augmented reality (AR) and virtual reality (VR), where progress is considerably less advanced, visionaries showed consistency across initiatives. This "lean forward" approach illustrates an understanding that today's advanced technologies are poised to become mainstream in tomorrow's operations.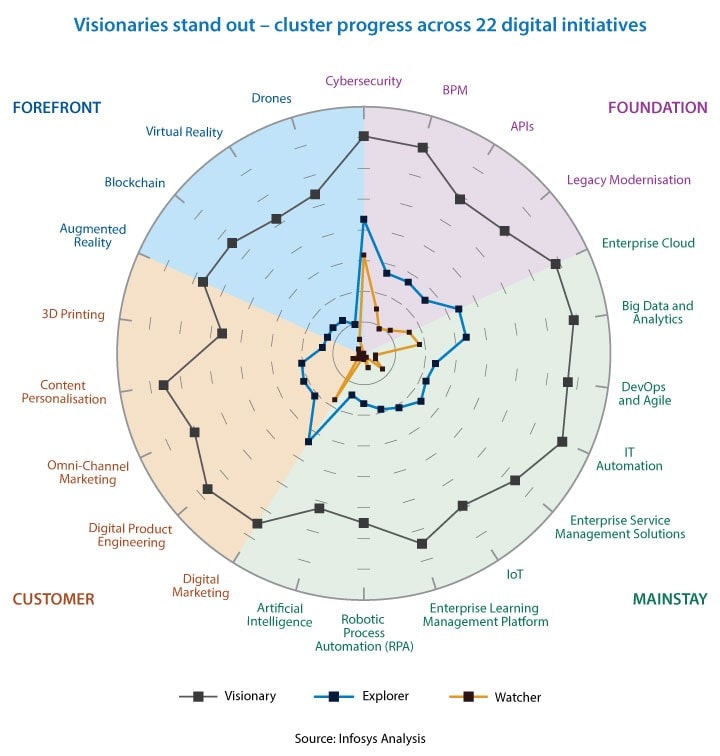 We identified five pillars, or accelerators, for digital transformation that help companies take that large step to visionary status. These include Agile and DevOps, AI and automation, design, learning, and proximity. These accelerators in isolation have limited impact, while multiple accelerators aligned with overall strategy drive significant performance improvement.
Being Agile and doing Agile
There are two primary challenges that prevent companies from adopting Agile and DevOps practices.
The first is the cultural dimension. Most organizations struggle to ensure that business operations cooperate with the IT team from the start. Our studies have shown that 80% of development projects are IT-led and IT-sponsored, without early involvement from business stakeholders. Visionary organizations steer away from the tradition of viewing IT as an isolated department and instead see it as a business enabler.
Also, visionaries set themselves apart by not only being agile but doing Agile. This means retraining employees and familiarizing them with newer ways of working. It also requires developing a "lean" mindset focused on end-to-end visualization of the value chain.
Preparing for change – employees, customers, partners
While embracing technology, visionaries still have a strong focus on the people within their organizations. These leading companies tend to look at automation and AI as strategies to amplify human capabilities rather than ways to cut costs and reduce headcount. As new tools emerge and companies educate their teams, we can expect to see greater adoption across companies and industries. But a considerable gap still exists between existing skill sets and digital skills needed as technologies evolve.
Our study found that visionary companies were more likely to bridge the talent gap by investing in digital tools and infrastructure needed to support robust, always-on, continuous learning and reskilling programs for employees. Continuous learning programs particularly help employees with skills such as Agile and DevOps, which require a mindset shift as much as a skill set change. Employees also appreciate these efforts to keep their skills current.
Despite the variety of collaboration and communication tools at our disposal, physical proximity generally simplifies product and IT development projects. Balancing global low-cost delivery with regional innovation hubs is critical. Visionaries typically implement finely-tuned strategies to locate employees in places that balance cost with proximity to customers and partners.
Visionaries are also poised to overcome the serious challenges in talent recruitment and reskilling, and retooling for new digital capabilities. Our research has shown that the winners take a visionary approach that recognizes the scale of change required and taking decisive steps to achieve it.
For long-term success, companies must embrace new technology but not simply to have the latest and greatest tools. The goal – and ultimate value – of technology is staying relevant to customers, who are digitally savvy and demand more from businesses. As incumbents fight off lean, hungry, digital disruptors, they need to find ways to develop products faster, create superior customer experiences and deliver more efficiently.
While embracing digital technologies has become a matter of survival for incumbents, it is also an opportunity to thrive and serve customers and employees better than ever.