Year
2015
2016
2017
2018
2019
2021
Categories
All
Data & Insights
Digital Experience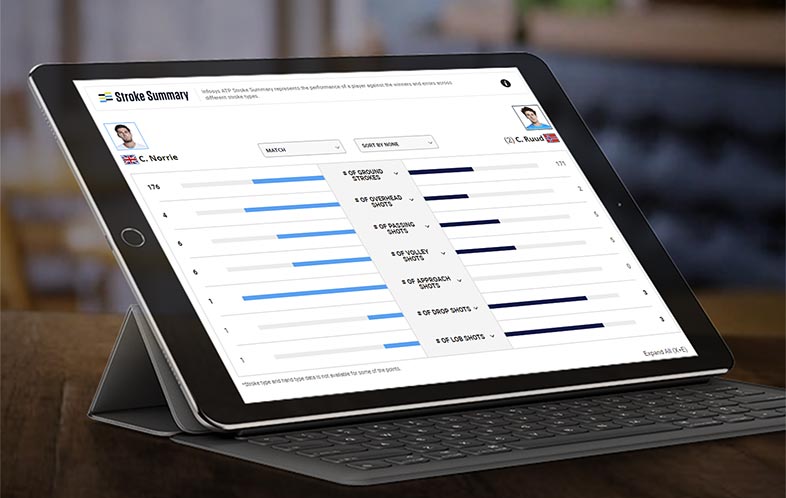 Stroke Summary
No two strokes are equal, and Stroke Summary separates the ones that impact the match the most. By analyzing success rate across ground strokes, lobs, volleys, and other stroke types, this tool enables a view of every player's arsenal of style
Know More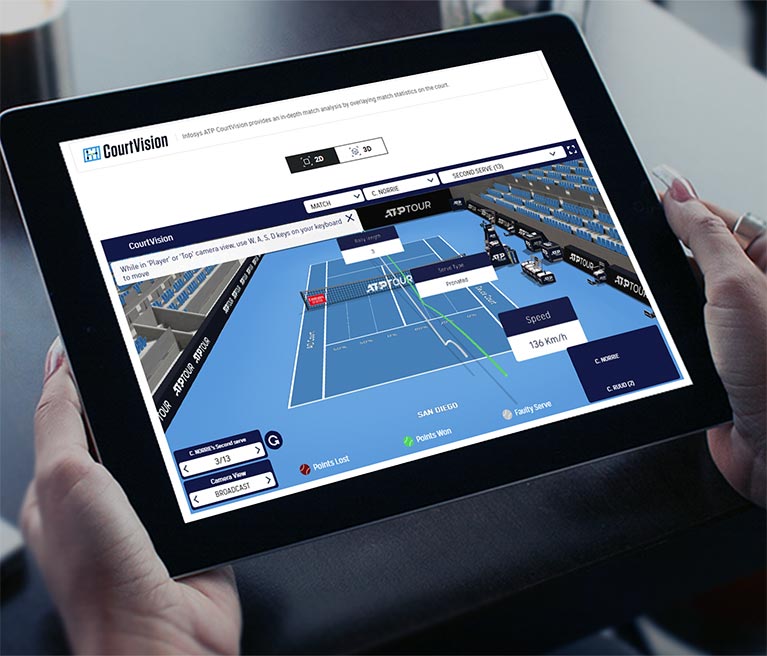 3D CourtVision
Four camera angles. Hundreds of ball trajectories. And thousands of data points in 3D. Now imagine all this live for every match on tour. That's what 3D CourtVision delivers, in an immersive web-based experience that takes fans from live replays to live insight in real-time.
Know More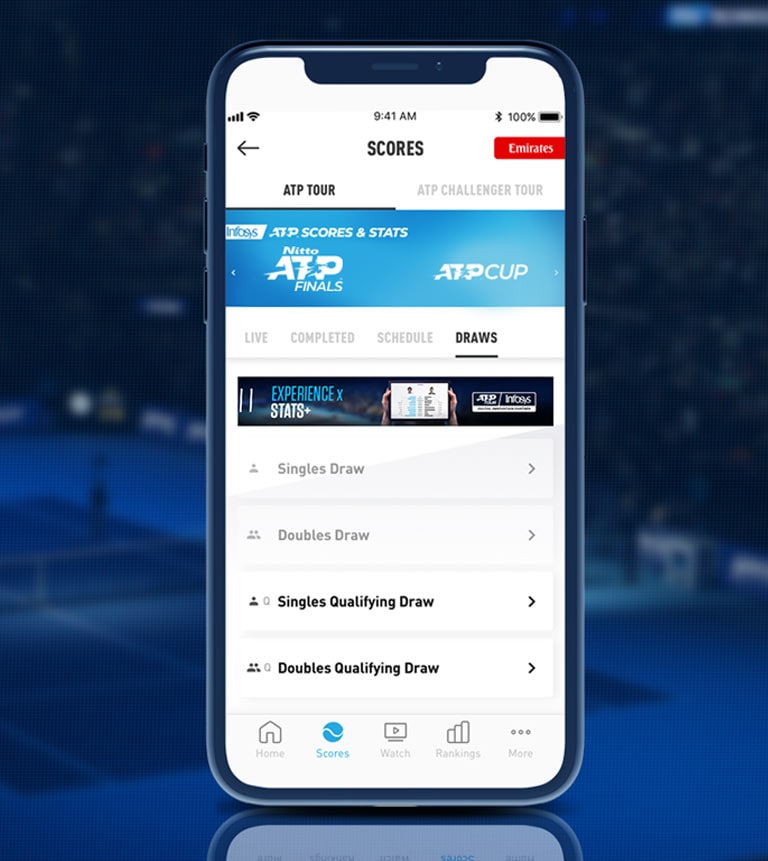 ATP Tour Fan App
Want to stay connected to the game like never before? There's an app for that, designed Infosys. Available for iOS and Android devices, the app delivers official live scores, stats, news and video with a personalised feed featuring fans' favourite players and tournaments. It's all on tap in an intuitive interface that's high on design and performance. App on. Game on.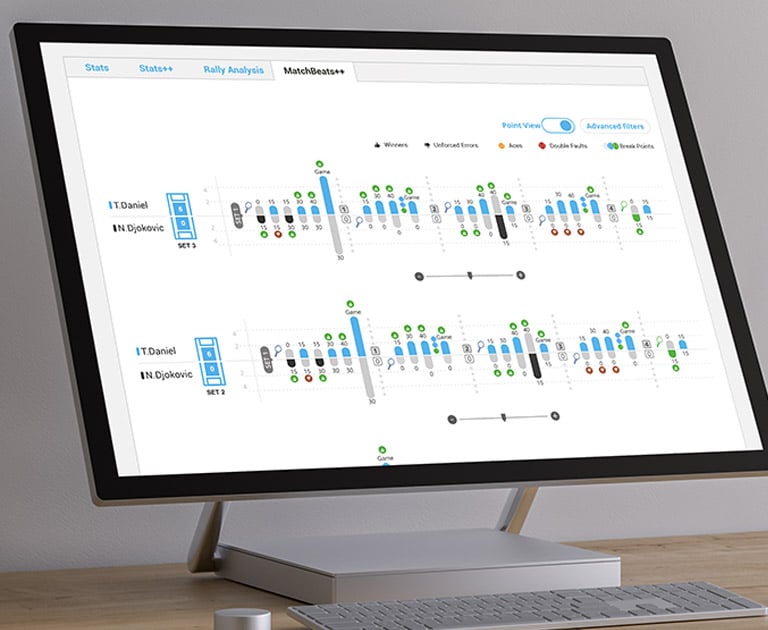 MatchBeats
Providing a way for fans to track ebbs and flows of the game, this is a data binge with a healthy dose of analytics. Fans fan filter key match moments to see performance by winners, errors, aces and more. MatchBeats++ is data nirvana, with advanced filters like rally length for any point in any set.
Know More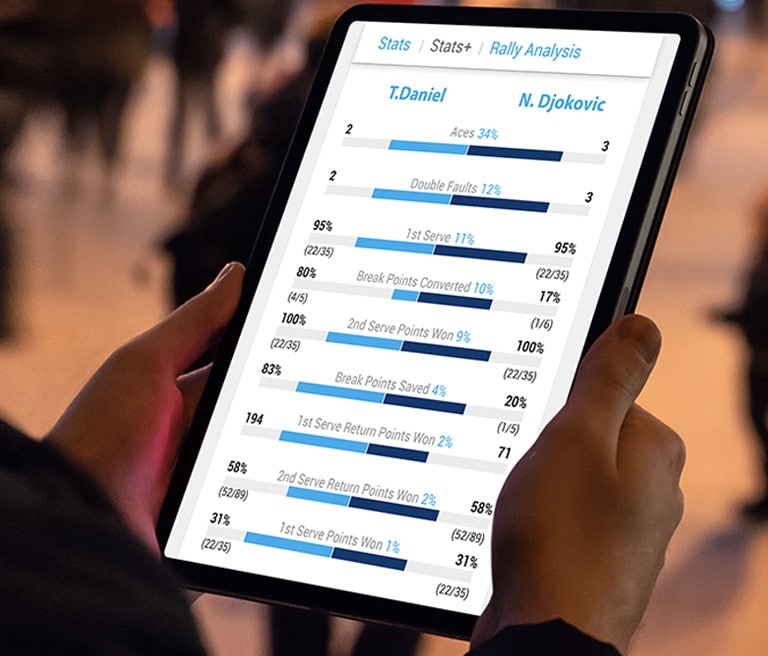 Stats+
The stats can be decoded. Stats+ enables fans, players, coaches and media to know exactly which areas of play changed the outcome of a match. With a mix of algorithms and real-time data processing, the stats are re-ordered in real-time to show their influence: break points won might matter more than net points won, and double faults may matter more than win on 1st serves.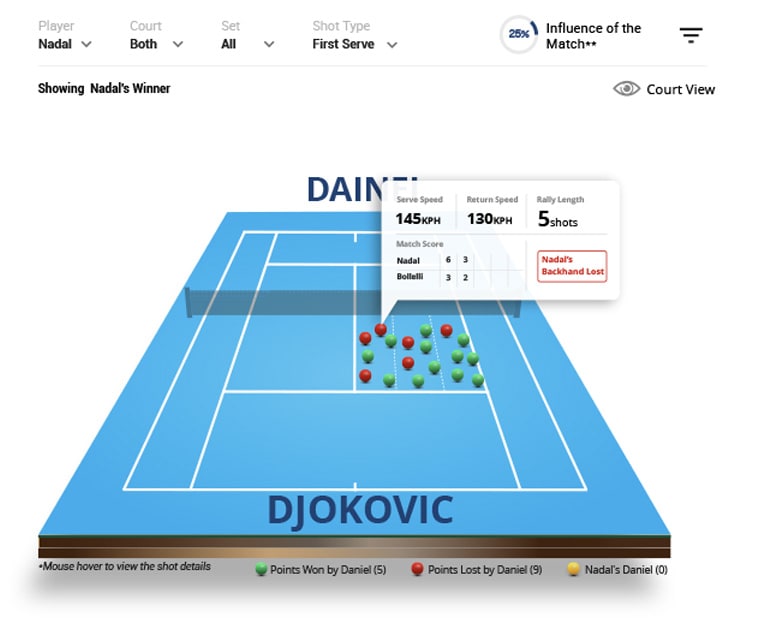 CourtVision
It's the best of insight and visualization: 3D match analysis. CourtVision provides multiple viewing angles for instant dissection of where the shots landed. A data overlay for each shot makes for easy comparison of the same parameter for both players, like winning on second serves. And the comparison doesn't stop there: there's insight on the player's performance from speed to serve points won, weighed against his career average.
Know More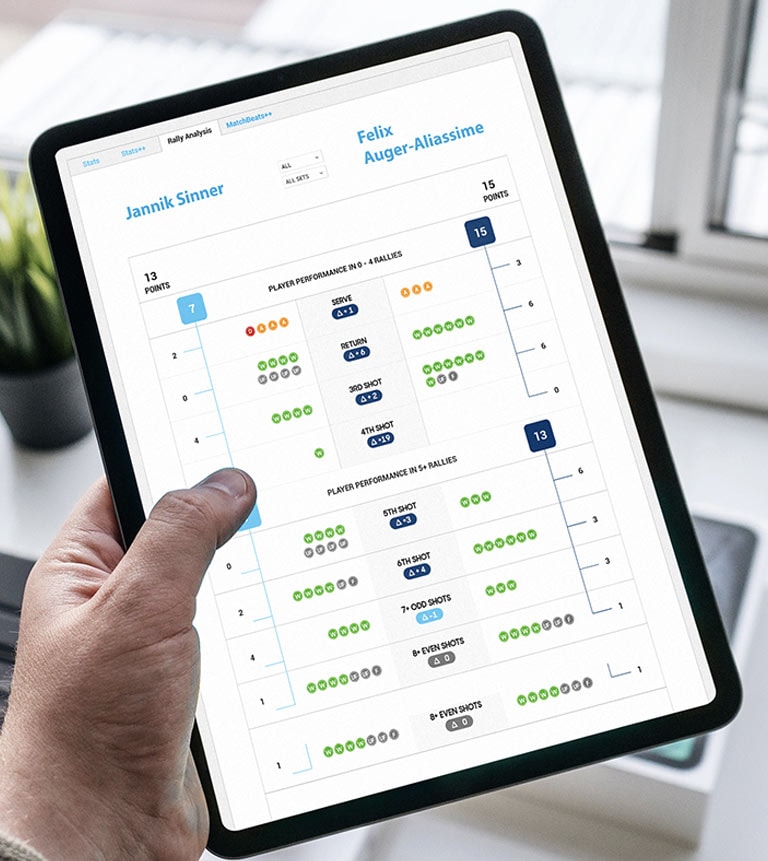 Rally Analysis
Some play long. Some race to finish. This tool enables a better understanding of playing styles, analyzing performance at each shot length, from serve to 8 shots and beyond. Each shot length metric provides views of winners, forced and unforced errors with a frequency map. Using this, one can pinpoint a player's sweet spot and potential endurance levels.
Know More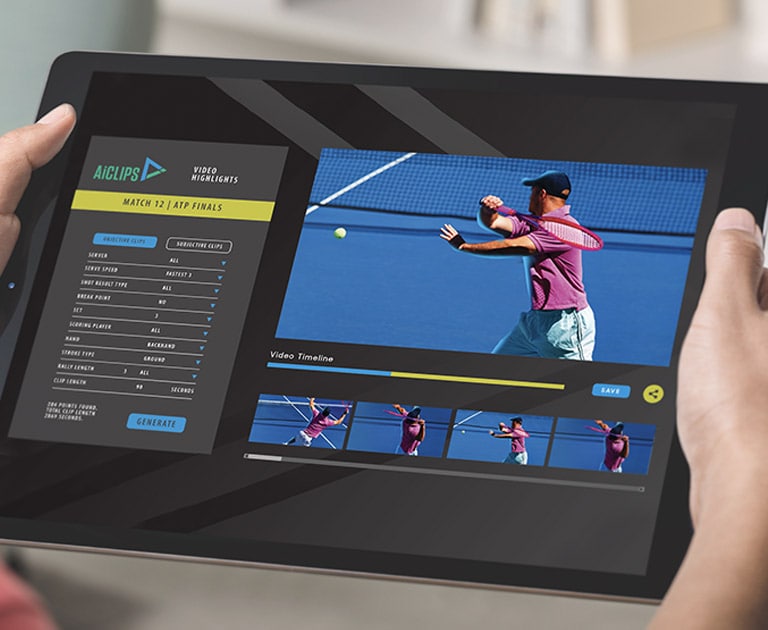 Players Portal
Designed for players to elevate their game, this portal uses artificial intelligence to spot patterns using more than 1000 parameters. The AI produces video clips that are served to players and coaches to study their game. A valuable tool in their strategic arsenal, they can filter the videos to analyze precise areas of play, like the opponent's serve at break points or shots won with a backhand slice
This technology is available for players and coaches. To know more about the Players Portal module, please write to us at ExperienceTennis@infosys.com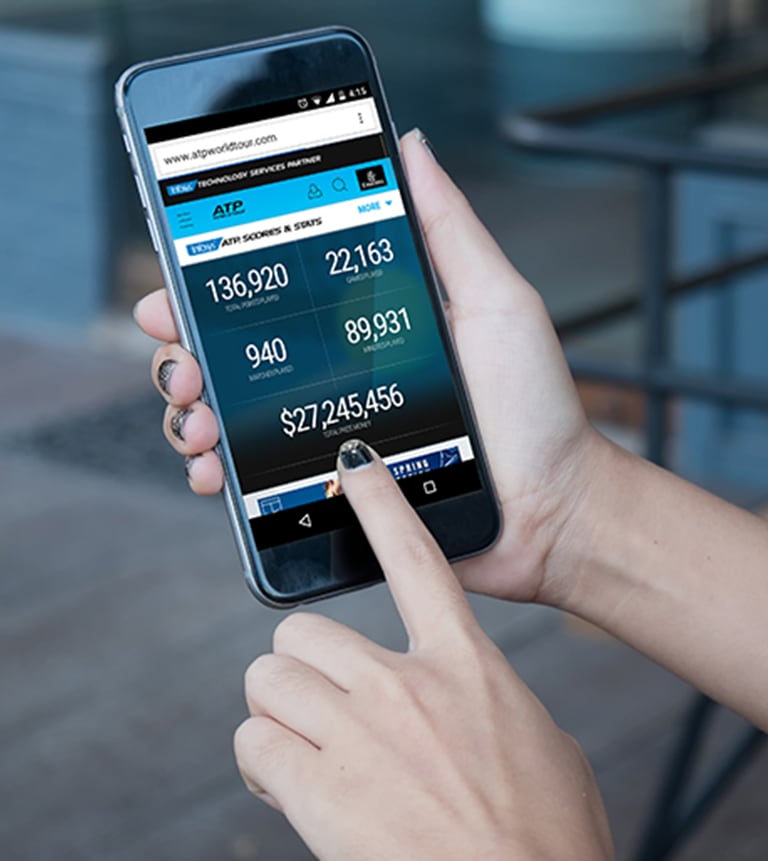 ATP scores and stats
Numbers are not everything, but they get pretty close. In association with Infosys, ATP brings you the most important stats that can make viewing the match all the more exciting.
Know More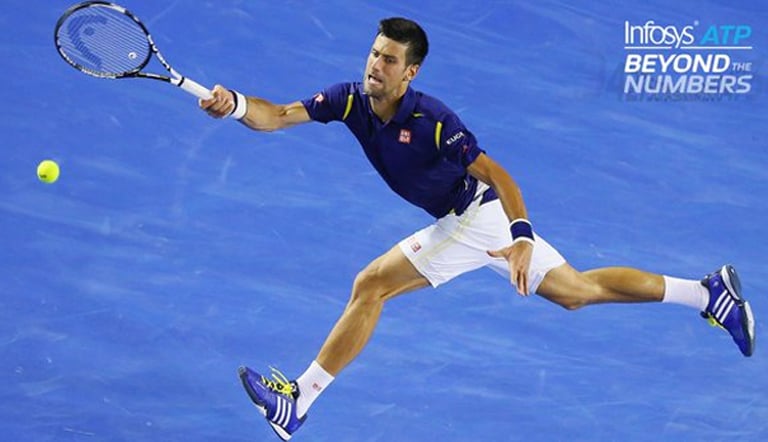 Beyond the numbers
Those who believe numbers don't tell the complete story have not used analytics to the fullest extent. With the stats that ATP provides, Infosys comes up with some pretty interesting stories – take a look for yourself.
Know More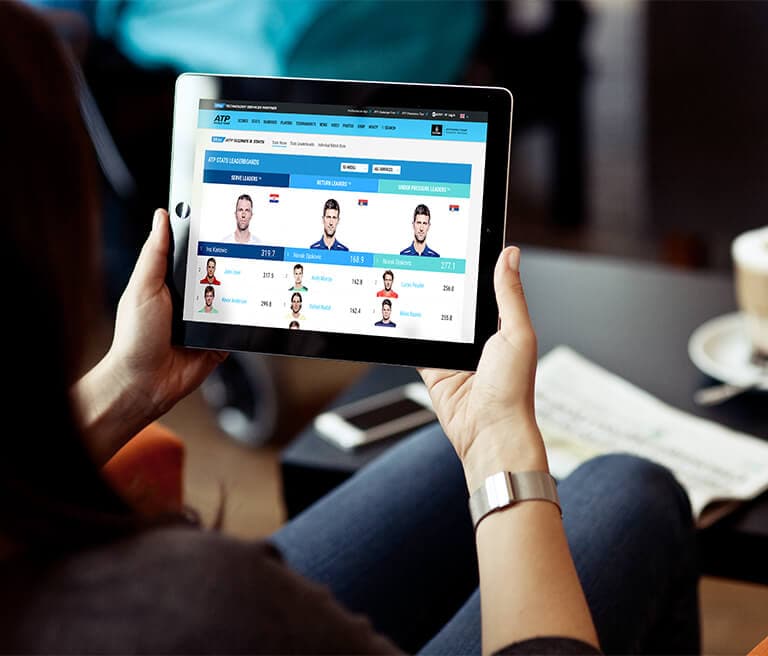 ATP stats leaderboard
For the first time ever, we've ranked players by their Serve, Return, and Under Pressure performance to reveal which ATP World Tour stars are the best in these crucial fields.
Know More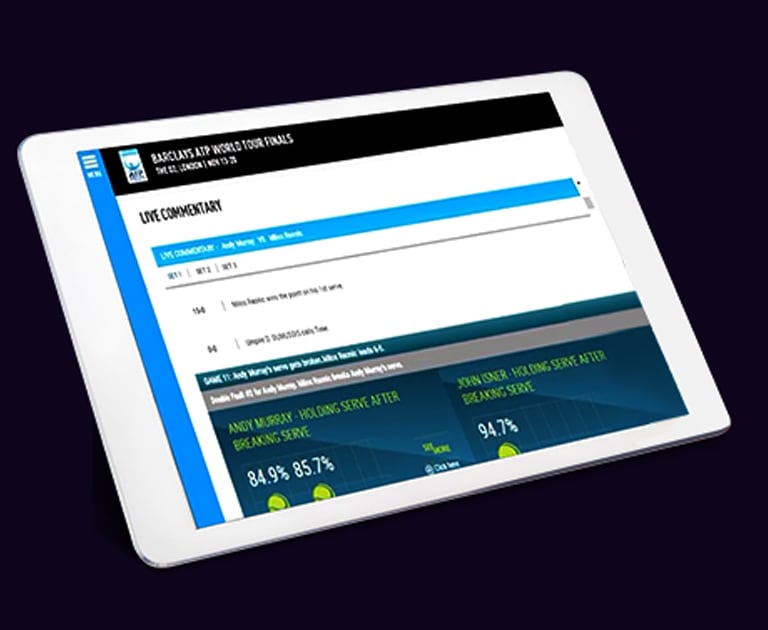 Automated insights during matches
When it's game on, we're making the in –court exciting by breaking down what just happened and predicting what can.
Augmented reality
Infosys has created an augmented reality HoloLens experience showcasing a tennis retail store of the future. This interactive 3D space provides virtual dashboards with holographic displays. You can try different products without really trying them on – like picking a tennis shoe, changing its colours, increasing its size, and even getting access to the entire store inventory – all with just voice and gestures.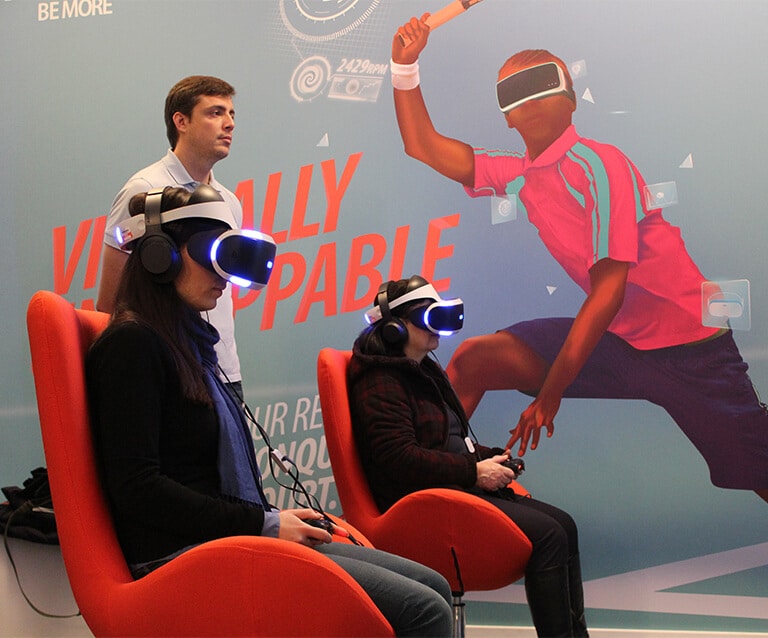 Virtual reality
We have pioneered a world- first virtual reality tennis experience delivered on PlayStation® VR, transporting fans into a live stadium environment from wherever they are. In addition to creating 360 degree views of matches from different viewing angles, we also integrate tennis statistics into the screens, so fans can truly understand the science behind all the action.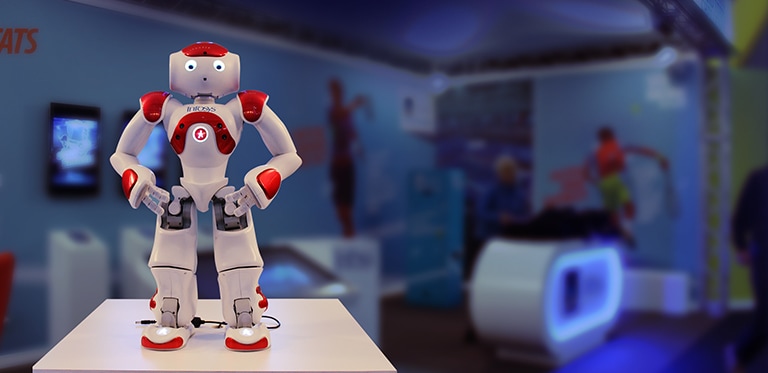 Robotics
Yes, it's a talking robot, and it talks tennis. We have made tennis insights more interactive with a NAO robot coaching fans on how to beat the world's top tennis players using data. The robot can teach you the right warm-up stretches before a game, and even pose for selfies.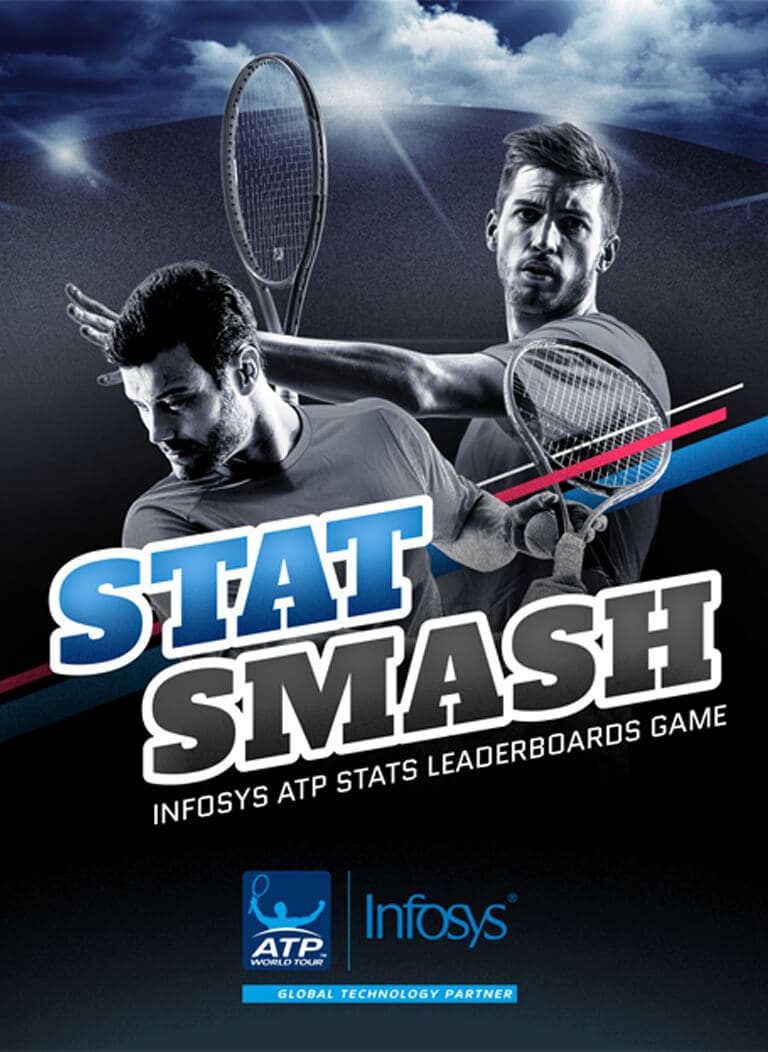 Gamification
It's not just the top players who battle it out at the ATP World Tour tournaments. Fans can test their mettle by taking part in Stat Smash – the ultimate gamification of tennis statistics at the Infosys Fan Zone by answering data-driven trivia based on the Infosys -powered ATP Stats Leaderboard, they can show off their knowledge of the game while discovering surprising performance patterns about the game's greats.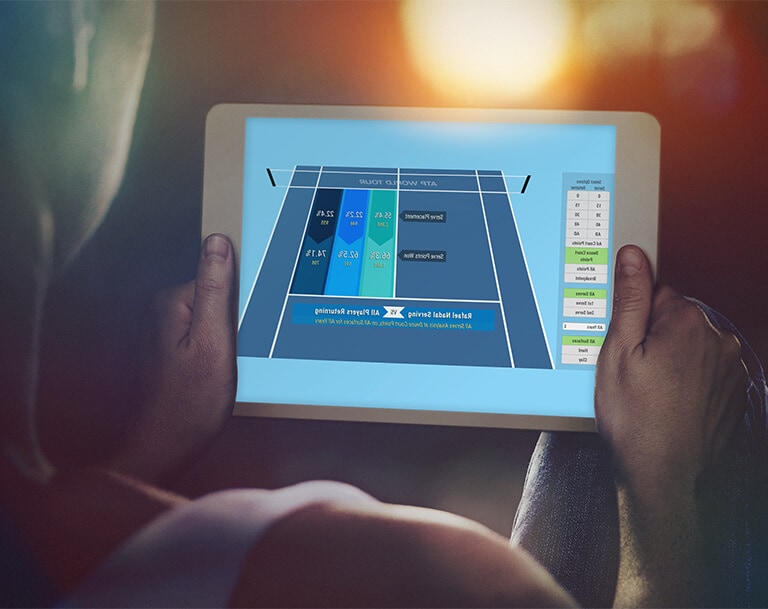 3D player analytics
What spots does Federer like to hit against Nadal, on first or second serve or any game score, like break point? On return, where does Djokovic target most of his returns? These are just a few of the insights you can unleash with the all-new ATP Serve & Return Patterns.
Know More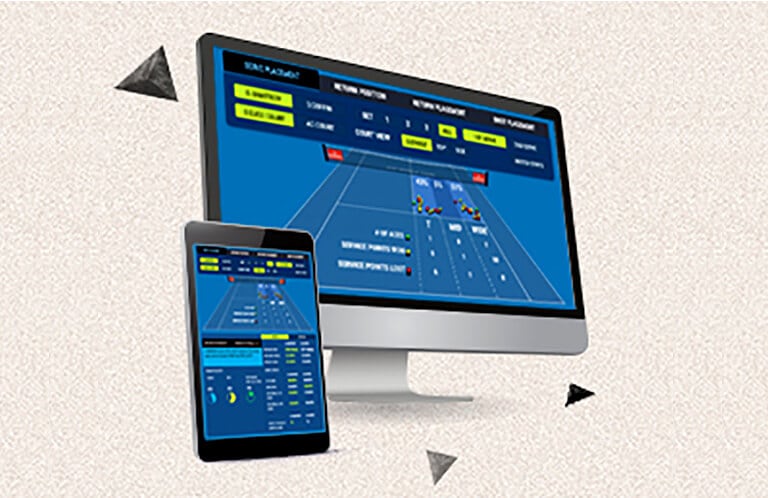 Second screen
Implemented for the 2017 Nitto ATP World Tour Finals, the Second Screen feature has been built by using Infosys Nia- Artificial Intelligence platform. The technology allows for multiple sources of data – chair umpire, player and ball tracking, as well as historical data – to be presented to players, coaches and fans. In doing so, users get foresight into player and match performance, resulting in a much more immersive experience
Know More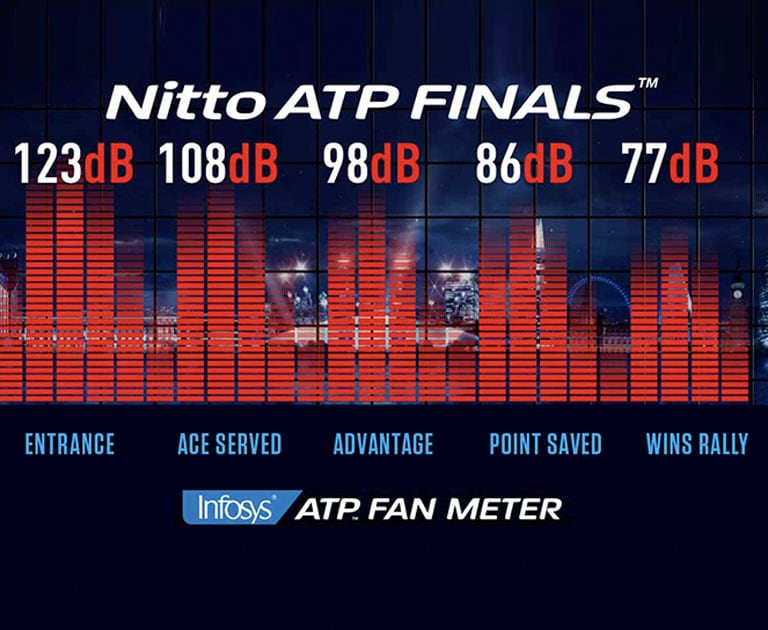 Fan Meter
It's louder than a rock concert! Crowds at The O2 arena reached as high as 110 decibels during the 2018 Nitto ATP Finals. To place fans at the heart of the experience, Infosys leveraged the Internet of Things to create a connected stadium experience by combining the sensory element of sound with powerful data analytics.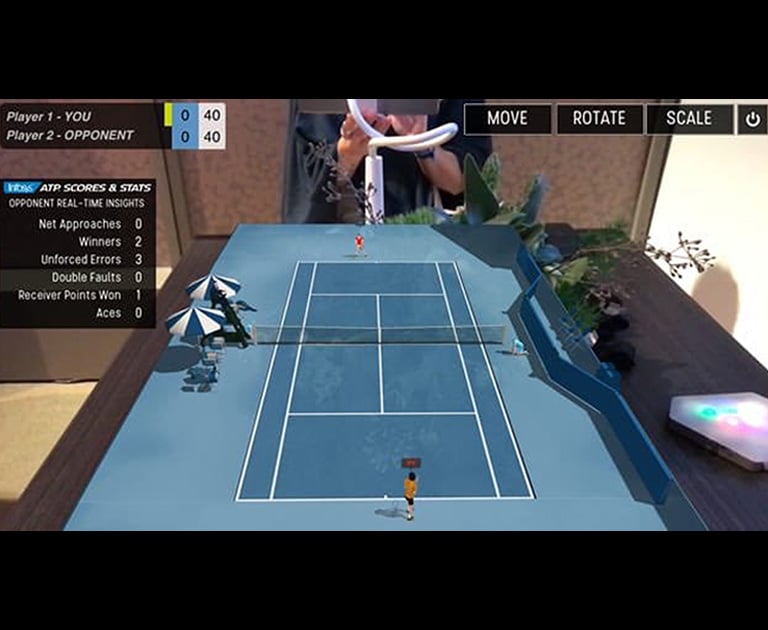 AR Tennis Gaming
Transforming any surface into an augmented reality tennis court, this experience adds another dimension to playing with technology. With holographic surface display cast via mobile devices, fans can also switch up views by rotating the court. And to make it more real, the AR screens have in-game data and insights powered by Infosys ATP Scores & Stats.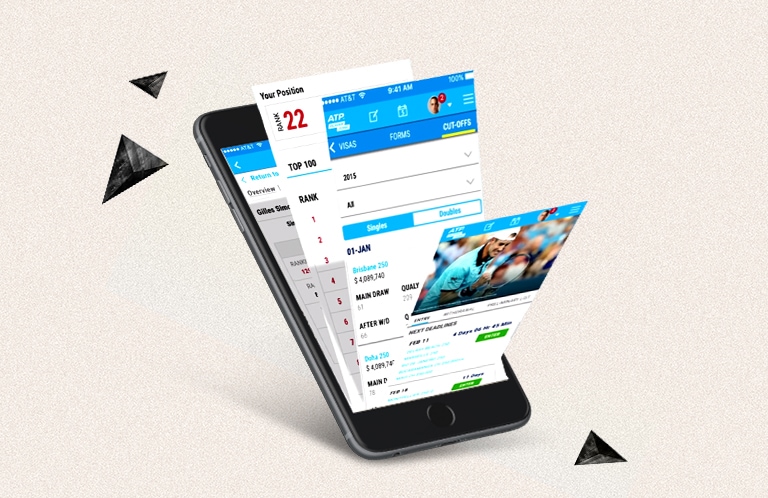 PlayerZone
The player Zone platform is developed with best in class technology which offers a bio-metric login. The app is developed to increase engagement with the players and provide a central portal of information as players progress through different stages of their career as well as offer a forum to engage with the players support teams in a private and secure digital environment.