Summary of Day 1, Sept 15th, 2020
The COVID-19 pandemic, along with factors both new and old, have reshaped 2020 in ways no one foresaw. Now, decisions made in response are likely to redefine the status quo and steer the world's direction for future decades.
Confluence 2020, Infosys' annual thought leadership conference, brought together experts in a broad range of fields to discuss technological disruption, globalism, social justice, nationalism, and the current recession. The speakers and panels of industry leaders launched the conference's first of two days. Hosted virtually from the Infosys' Hartford, Connecticut Innovation Hub, the event drew more than 1,000 participants from around the world. Participants were welcomed by state's governor, Ned Lamont.
CEOs, executives, and public intellectuals examined the factors that led the world to this point, how businesses and governments have managed the pandemic, and what is needed to move past this financial and medical crisis.
Globalism versus nationalism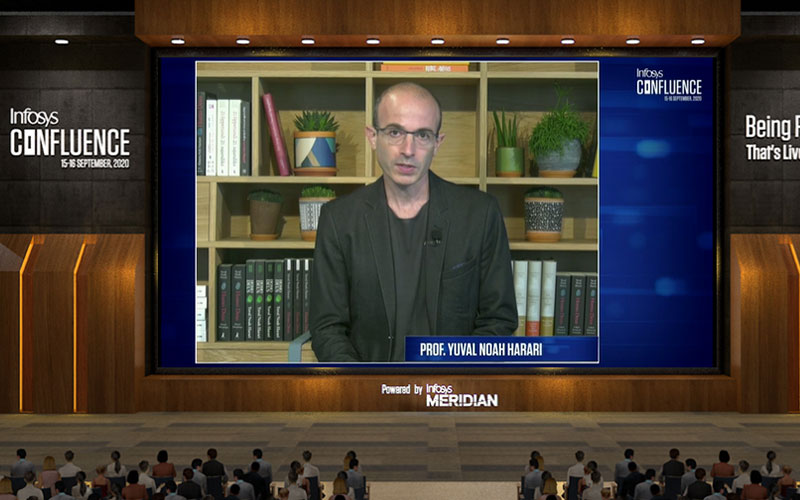 The world's global order has been marching steadily forward, founded on the assumption that all humans share the same core experiences, values, and interests, said Yuval Noah Harari, a historian, philosopher, and best-selling author of "Sapiens: A Brief History of Humankind."
Harari, now a lecturer at the Hebrew University of Jerusalem, said this liberal global order has its faults but is superior to any alternative. The 21st century is the most prosperous, healthy, and peaceful time in human history, he said. Starvation now kills fewer people than obesity. Violence kills fewer people than accidents. And despite COVID-19, epidemics kill fewer people than old age.
Harari said it's now worth asking whether the global order has any future at all. The current pandemic has given a boost to the nationalism that was already ascendant, he said, as governments increasingly restrict the flow of ideas, goods, money, and people.
"Walls are popping up everywhere," Harari said. "On the ground, in cyberspace, and inside the mind… COVID-19 threatens to put the final nail in the coffin of the global order as countries blame each other for the disaster."
Some nations, he said, envision a "network of walled but friendly fortresses. The key problem with this vision of course, is that fortresses are seldom friendly. …All previous attempts in history to divide the world into clear cut nations have always resulted in war and genocide."
Without a global trade network, Harari said economies will collapse. And global trade is not possible without setting rules. He said those factors should convince nationalists that globalism is a necessity rather than an enemy.
"The pandemic has only emphasized the vital need for global cooperation," Harari said. "Mortality from infectious diseases has gone down dramatically because the real antidote to epidemics isn't isolation, it's information and cooperation. The big advantage of humans over pathogens is our ability to cooperate effectively. A virus in China and a virus in the U.S. cannot swap tips about how to infect humans, but Chinese and American scientists can share information and cooperate to beat the pathogens."
Harari said this global cooperation is needed not only to fight COVID-19 but to address even more pressing problems. He said the three existential threats to humans are nuclear war, ecological collapse, and technological disruption.
"No nation by itself can prevent nuclear war and ecological collapse," Harari said. "And no nation by itself can regulate disruptive technologies like AI [artificial intelligence], for no nation controls all the scientists and engineers in the world. …It would be wise to protect the global order, but humans don't always do the wise thing."
More speed, less risk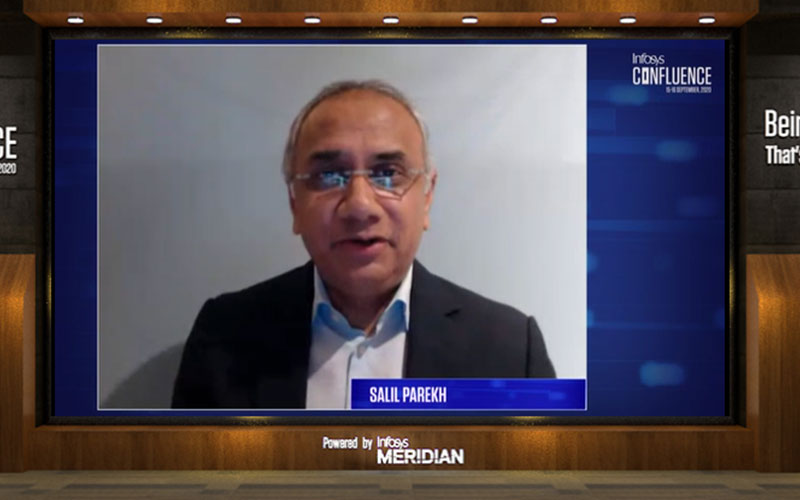 This pandemic has forced companies worldwide — even the most advanced ones — to rethink what is possible and how quickly it can be accomplished through digital acceleration.
"The benefits of what's going on in digital are evident," said Salil Parekh, CEO and managing director of Infosys. "You can see that in the way that customers of large enterprises are looking upon itthem and the way that market valuations are moving for digital enterprises. This is really making us see that speed is what is critical for you, for all of us in the market today."
That is a reflection of the company's Live Enterprise effort to become a more resilient, responsive organization that can evolve at the speed of the surrounding world.
Starting in mid-March, when much of the world shut down, Infosys moved with "extreme speed" and executives focused on employee safety (both physical and mental) and seamless delivery of client services, Parekh said. Infosys increased its network bandwidth tenfold and increased remote access infrastructure by 4 and a half times. Soon, 99% of Infosys employees were working remotely.
While technology and infrastructure are important, Social Capital played a significant role in Infosys' resilience in the face of COVID -19.
"As we move through the medical crisis and it's behind us, we will re-engage in working from office locations," he said. "We need to build social capital again. It's the glue that has really helped us get through this."
However, Infosys will offer greater flexibility where people work. That's particularly important as the workforce grows through Infosys' localization strategy. In 2017, the company committed to hiring 10,000 US workers. 13,000 were hired. Now Infosys has committed to hiring another 12000 in the US with similar goals for Europe and Australia.
Infosys has doubled down on AI and automation as important tools for efficiency, internally and for clients. Also, cloud computing has become one of the most important parts of any digital transformation as more work moves online. That led to the creation of Infosys Cobalt, which includes 200 industry solutions and 14,000 cloud assets.
"This is what gives you speed, and this is what gives you a method tofor reduceing risk," Parekh said. "These are pre-tested components and industry solutions."
One leading semiconductor manufacturer used Infosys Cobalt to improve plant process efficiency and harmonize business support processes by 30%. The company was also able to use real-time insights to predict and prevent equipment failures, Parekh said.
A major oil company used Infosys' AI and automation services to create double-digit percentage in ticket automation, ticket elimination and DevOps services productivity. The result was a 250% return on investment.
"We are absolutely convinced that digital acceleration is here to stay and will be even faster as we go ahead," Parekh said. "Cost efficiency and automation are absolutely critical, especially in this difficult economic environment."
Making the new normal work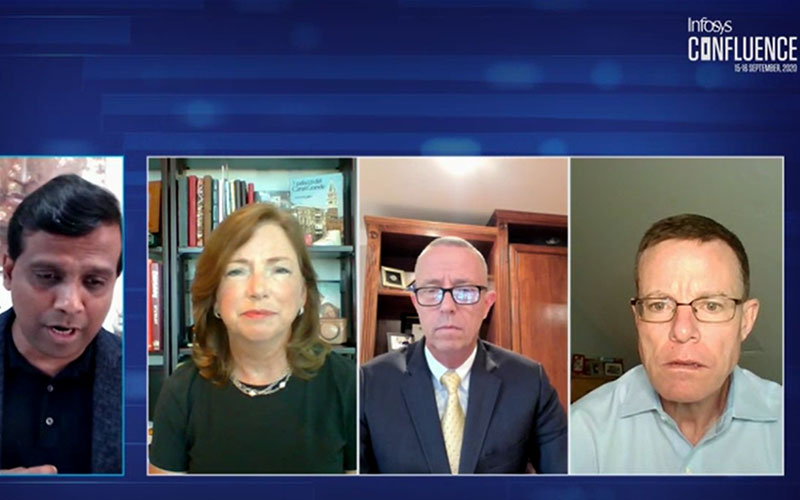 Companies worldwide are recalibrating how they operate and create new opportunities, said Ravi Kumar S., Infosys president.
"The pandemic in many ways represents a real but narrow window of opportunity for us to reflect, reimagine, and reset the world for better as we get to the other side of the crisis," he said, introducing a panel on workforce changes.
Infosys research collected data to help understand the new hybrid model, showing at which points working from home has created the most productivity, collaboration, and sense of wellbeing among employees. Those figures, however, can differ among companies.
Mike Madsen, president and CEO of Honeywell Aerospace, said the staff that could work remotely was limited. The company's factories continued to operate effectively and safely. However, other employees who were at home could work without distraction. He said the important part of managing that transition was for "leaders to communicate priorities and bring clarity to the work that needs to be done."
The rise of the virtual worker does create new exciting possibilities, Madsen said. The talent pool is now global and doesn't have to revolve around the an office location.
Barbara Humpton, president and CEO of Siemens USA, said two-thirds of her workforce shifted to their homes while the rest remained in the field. As we move beyond the pandemic, the workforce will continue to have the flexibility to work from home two or three days per week.
"There's a real opportunity to reinvent and rethink, given that we have these tools," she said. "While we've been thinking a lot about the new normal, I've been telling everybody to think of it as the 'now normal', because it's changing."
The changing environment is also altering how companies view the bottom line. She said Milton Friedman's emphasis on generating shareholder value isn't dead. It's just that it's not enough.
"Businesses do generate value for shareholders, and that's a huge part of what makes the engine run," Humpton said. "But I think what the pandemic has shown us as well is that it takes the entire ecosystem to keep that engine running in a healthy way."
Timothy F. Ryan, U.S. chairman and senior partner at PwC, said his company already had a young workforce and culture of flexibility entering the pandemic. The company was ready to shift to 100% remote working overnight.
"They knew how to work together digitally and interact with our clients," Ryan said. "And it has sped up how we work with them, leveraging automation, sharing data. We were on that journey, where both our clients and us both ended up working remotely at the same time."
Ryan is also co-founder of CEO Action, an organization advocating for greater diversity and inclusion in corporations. That initiative, created in 2017, puts PwC and other participating companies at the forefront of today's social movements around race, diversity, and inclusion.
The future is cloud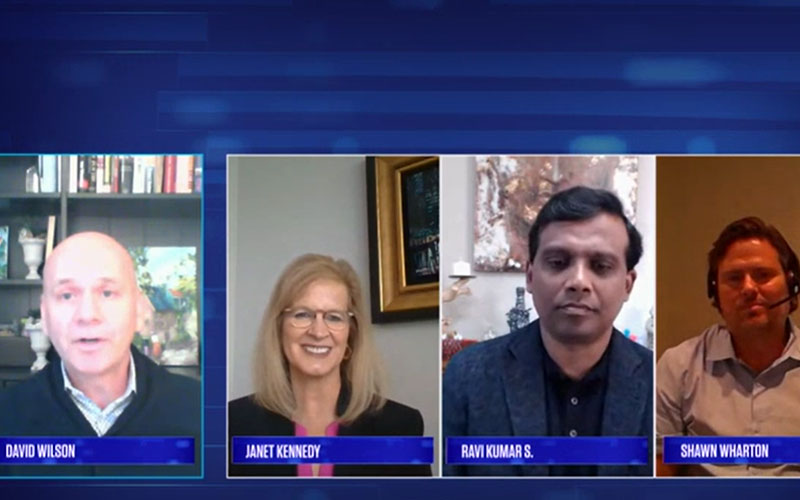 Cloud computing isn't new, but it has become one of this year's most essential technologies. David Wilson, senior vice president and head of global alliances at Infosys, moderated a panel on cloud trends and where the technology is heading.
Kumar said he looks at cloud as a broad foundation built on three pillars: creating agility, driving innovation at scale, and increasing resilience.
"We believe that if you want to orchestrate and bring the ecosystem to all our clients, we need to build reusable assets," he said. "We've created a large community of cloud innovators in our company. …They are walking the corridors of our clients, looking at day-to-day problems."
Shawn Wharton, CIO, trading and shipping IT&S at BP, said he was reluctant to start theirhis cloud journey three years ago. "Ultimately we made it a priority," he said. "Originally, like a lot of people, we were focused on cost."
However, that has evolved now that "second and third order benefits that are evolving quite quickly" beyond just automation and monitoring.
Janet Kennedy, a vice president at Google Cloud for the North America Regions, said cloud is important, but it's not always operating in isolation. "AI and machine learning are how businesses are running in the future," she said. "The customers are really driving that."
For example, Verizon is using contact center AI to reimagine the customer experience. Also, Mr. Cooper Home Loans has used AI and machine learning to train 100 pages of mortgage documents to speed up the experience.
Internally, Google is using AI to push forward the company's environmental goals. The company has been carbon neutral since 2007 but is now aiming to be carbon-free for the data centers and buildings by 2030.
Economics of uncertainty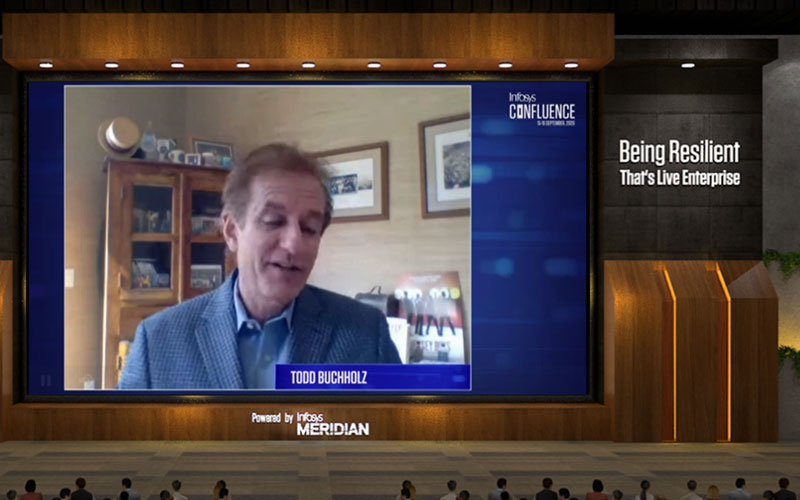 After great prosperity, the global economy this year dropped to one of its lowest points since World War II. Todd Buchholz, former White House director of economic policy for President George H. W. Bush, said the current financial crisis should not be called a recession, which is typically caused by too much borrowing and excess speculation. He said the current situation is more like a Great Cessation.
"This Great Cessation was brought on by COVID, by the government instructing people to close doors, pull down the shades, and just stay inside," Buchholz said.
Despite the dire economic situation, he said there is good news. The economy should recover more quickly from a cessation than a deep recession. Half the jobs lost in this crisis were regained in just three months. It took two years to reach that level during the Great Recession. However, he did note that some industries, such as travel and airlines, are still struggling.
Also, markets have recovered quickly from drops related to past epidemics, such as SARS, Buchholz said. Another positive sign is solid performances by companies linked to automotive and credit card debt. "Those stocks have more or less come back," he said. "If you see them roll over or underperform, that is a sign that consumers no longer have the wherewithal to keep the recovery coming."
Even with these financial struggles, Buchholz said U.S. residents are in good financial shape. Companies like Amazon have created price wars that keep costs down for consumers. The gig economy has filled in gaps in the marketplace. And people have a much higher standard of living than in earlier decades.
Buchholz said his optimism will hold as long as inflation doesn't increase. With interest rates near zero, central banks are limited in how to attack inflation. He said he is also concerned about the high level of the U.S. federal debt and has advocated for 100-year government bonds.
While much of the attention is on the short-term economic crisis, Buchholz said he wants to refocus the conversation on the long-term.
"It's not interest rates," he said. "The world is in a race for IQ points. Whichever town, city, country, or company harnesses intelligence will prosper most in the 21st century. That's one thing you can do for your community: Get Involved In Education."
Even with the vast struggles of 2020, these experts in history, business, technology, people, and economics found moments of optimism. The uncertainty of next week — let alone future years — heightens anxiety but offers the opportunity that a better world can emerge from this crisis.
The report has been conceptualized and published by Infosys Knowledge Institute