Business responsibility report
Advocating change for a better tomorrow
Infosys believes it has a role to play in building and nurturing a better world – a world of opportunity for everyone. Our advocacy efforts are guided by the maxim, 'practice what you preach'. This ensures that we share learning and best practices and support efforts in areas where we have consistently experimented and got positive results within the organization.
Our disclosures serve as a means of sharing organizational performance and best practices with all our stakeholders. They are also intended to invite a sharing of perspectives from other corporations and endeavors. Our modes of disclosure are:
Publishing our financial reports, prepared according to the Indian Generally Accepted Accounting Principles (GAAP) and International Financial Reporting Standards (IFRS) (in the Indian rupee and U.S. dollar terms). We also publish the 20-F, according to the guidelines of the U.S. Securities and Exchange Commission (SEC)
Publishing our Business responsibility report and the Sustainability Report annually, in adherence to international and national guidelines such as, the Global Reporting Initiative (GRI) framework and the National Voluntary Guidelines (NVGs) laid out by the Ministry of Corporate Affairs (MCA), Government of India
Nominating ourselves for awards, assessments and ratings of reputed national and international agencies
We forge strategic partnerships with industry bodies and consortiums at the local, national and international levels. Our advocacy efforts are championed across the world by our senior leaders.
Advocacy initiatives
In an effort to drive advocacy globally and locally, we have been part of governance bodies of national and international organizations across economic, social and environmental dimensions this fiscal. Some of our significant contributions are as follows:
Environmental advocacy
We are a member of the Energy Efficiency in Buildings (EEB) core group under the World Business Council for Sustainable Development (WBCSD). Through WBCSD, we actively engage with other companies to promote energy-efficient designs and practices in buildings. In fiscal 2016, we partnered with WBCSD to develop a toolkit – a guide to making a business case for saving energy in buildings. The toolkit was launched on December 3, 2015 as part of Buildings Day at Conference of Parties (COP21). For more details, visit http://www.eeb-toolkit.com/index.php/modal-case-study-infosys-modal.
For the first time in over 20 years of UN negotiations, a legally-binding universal agreement to keep global warming below two degrees was attempted at COP21, convened in Paris in November 2015. Infosys' case study on energy efficiency in buildings was highlighted at the India pavilion of the conference.
We are actively involved with the Central and state governments to effect policy reforms in the power and renewable energy sectors. We presented our work on environmental sustainability to the Ministry of Urban Development in India along with recommendations on efficient buildings.
Social advocacy
Diversity and inclusion has always been an area of focus at Infosys and a work environment that is fair to all is intrinsic to the Infosys value system. Infosys is a founding member of Business Disability International (BDI) – a not-for-profit social enterprise in partnership with other like-minded partners such as Barclays and GSK – that pioneers new conversations between businesses, people with disabilities and the society at large.
We constantly work towards creating strong local governance in cities where Infosys campuses are located. For example, we led the formation of the Electronics City Industries Association (ELCIA) in Electronics City, Bangalore, our headquarters.
In February 2013, Electronics City was recognized for its outstanding work in the area of municipal administration and was declared an industrial township. Infosys plays a leadership role within the Electronics City Industrial Township Authority (ELCITA) – the local municipality run and managed by the industry – which manages all municipal functions of the estate, including transport, security, estate management, development of infrastructure, water supply and solid waste management.
The model of working in collaboration with other companies and local governments to build supportive ecosystems for the industry as a whole, is prevalent across all our India locations.
Economic advocacy
We challenged ourselves to 'Be More' at the World Economic Forum Annual Meeting 2016 in Davos. Our program, entitled Amplifying Human Potential, closely aligned with the WEF headline theme of 'The Fourth Industrial Revolution' and we amplified our views via insights and debate on technology, education and skills. The Infosys delegation was led by Dr. Vishal Sikka and included Vandana Sikka, Chairperson, Infosys Foundation USA, and global segment leads Sandeep Dadlani, Mohit Joshi, and Rajesh K. Murthy. Together we had three main objectives:
Articulate our vision of creating a better future for humanity through technology and education
Share highlights from our research programme entitled 'Amplifying Human Potential: Education and Skills for the Fourth Industrial Revolution'
Enable meaningful engagement and rich discussion with customers and influencers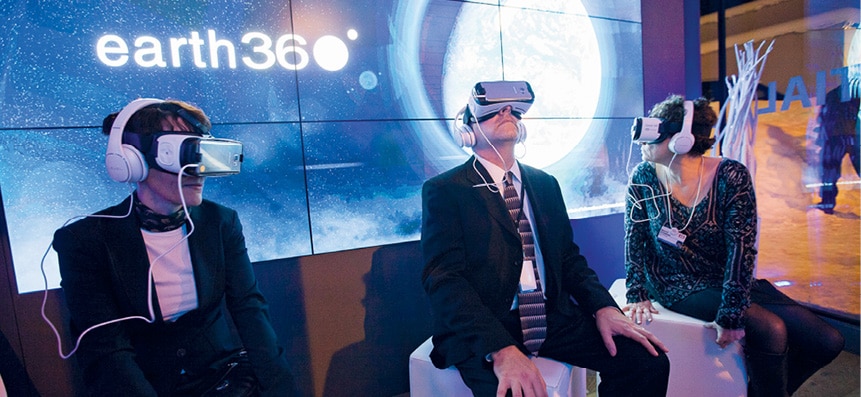 Earth 360, our virtual reality experience zone at WEF 2016, Davos, Switzerland