Business responsibility report
Being more environment conscious
Sustainability is a business imperative at Infosys. Our environmental goals are part of our corporate scorecard. This has resulted in significant investments in technology and research partnerships to create new solutions that are sustainable for the environment.
Conservation of resources
Energy
With highly efficient building designs, smart building automation and deep green retrofits, we are on our way to achieving our goal of reducing 50% of our per capita electricity use by 2018 against the baseline established in 2008. Our central command center in Bangalore now manages about 45 million sq. ft. of built-up area across our campuses in India. The Mysore campus has a second command center to manage operations across Infosys on a regular basis. We continue to share our data driven best practices to mainstream energy-efficient technologies and initiatives along with shaping a low-carbon path for the benefit of the larger community.
One of our greatest achievements this year has been the addition of solar capacity at our 450-acre Hyderabad SEZ campus making the campus 100% powered by solar energy. We have installed a 6.6 MW solar photovoltaic plant capable of generating 12 million units annually on this campus, which currently seats about 15,000 employees This plant was set up in a 50 acre space within the campus. As part of our commitment to source 100% of our electricity from renewables, in fiscal 2016 we have installed solar power plants of 9.7 MW capacity across our campuses. This takes our total installed capacity to about 12 MW of solar power plants across our campuses in India.
This fiscal, we were awarded the – LEED (Leadership in Energy and Environmental Design) India Platinum rating for two of our buildings in Pune and Bangalore, and GRIHA (Green Rating for Integrated Habitat Assessment) 5-star rating for two of our buildings in Hyderabad. With this, we now have 14 LEED Platinum-rated buildings and four buildings with GRIHA 5-star rating covering an area of about 5.25 million sq. ft. that has the highest level of green certification.
We have implemented one of the world's largest energy-efficiency retrofit programs in our buildings across different locations in India.
This initiative continues and has expanded, leading to drastic reductions in energy use. The deep-green retrofits in air conditioning and UPS systems have helped us achieve a 16 MW and 12 MW reduction respectively in connected load in the last five years and for fiscal 2016, air conditioning retrofits alone have led to a 2.5 MW reduction in the connected load. Most of the retrofits implemented have a payback of less than three years and can be easily replicated in large scale, making sound commercial as well as environmental sense. Through this, we have set a great example to other large businesses in India and worldwide.
Emissions
We strive to reduce our carbon emissions through specific initiatives and taking this further, we have made a voluntary commitment to become carbon neutral. To offset our scope 1 and 3 emissions, we made a conscious choice to source our offsets from community projects that create real and lasting socio-economic benefits. By supporting such projects throughout its lifecycle, we are not only catalyzing these projects, but also creating socio-economic value. This fiscal, we started three carbon offset projects including a household biogas project and two high-efficiency biomass cook stove projects. Together, they will generate approximately 30% of our carbon offset requirement in 2017-18.
Water
All of our new buildings are designed with the most optimal standard of fresh water requirement – 16 liters per capita per day, which is nearly 65% lower compared to the requirement of the National Building Code.
This has been achieved with our strategy to reduce consumption with water efficient technologies and equipment, recycle 100% of the waste water and reuse treated waste water for flushing, landscaping and cooling purposes within the campus.. We have worked towards measures to sequester rainwater to the maximum possible levels and today, we have 149 recharge wells and 25 lakes that enable recharging groundwater across our campuses. We ensure that the efficiency is maintained by continuous monitoring of water consumption through smart water metering. Our massive smart water metering program enables us to monitor all our water consumption online from a central location and has helped us plan water efficiency programs.. These initiatives have resulted in significant reduction in the per capita fresh water consumption across our campuses. It has also fetched benefits like reduced dependence on municipal supply of water, minimized operational business risks and at the same time enhanced water access to others.
Waste
Our initiatives are spread across three dimensions – influencing social behavior, process optimization and the implementation of technology. We have installed biogas plants to convert food waste into biogas, organic waste converters to convert food and garden waste into rich manure and a vermi-composting system for paper waste, among other initiatives. This year, we installed biogas plants of 5.5 tons per day capacity in different campuses to convert food waste into biogas that was then used in the kitchen of our food courts. This has a potential to save about 300 kilograms of cooking gas (LPG) per day.
Biodiversity
We believe that a rich biodiversity plays a vital role in the creation of a healthy and sustainable environment. We make every effort to conserve and promote biodiversity at all our owned facilities and encourage our employees and stakeholders to do the same. We have planted over 80,000 saplings this year alone, taking the total number of saplings planted in our campuses in the last eight years to over 5,00,000, resulting in a rich diversity of flora and fauna.
Being a responsible corporate citizen
Protection of the environment ranks high among our corporate goals and as a responsible corporate citizen, we are committed to have a specific policy in place to ensure we take definite steps to protect the environment. Our Health, Safety and Environment (HSE) policy – that regularly shares best practices and provides a safe and healthy workplace for our employees, contractors and visitors – is testimony to this effort. The policy is made available to all our employees worldwide on Sparsh (our intranet), and as posters and instructions on digital and physical display areas across our campuses. We have received ISO 14001:2004 and OHSAS 18001 certification for 77% of our locations in India. Our objectives and targets have been documented at the corporate and development center levels and is monitored and tracked at regular intervals. We also have operational controls for impact management based on severity.
We did not have any monetary or non-monetary sanctions imposed on us for non-compliance with environmental laws and regulations during fiscal 2016.
For more information on environment, visit
http://www.infosys.com/investors/reports-filings.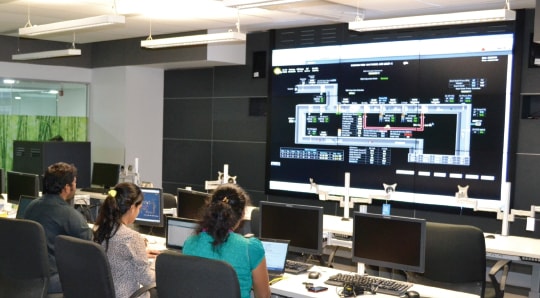 The Infosys Command Center in Bangalore manages about 45 million sq. ft. of area across our campuses