Business responsibility report
Infosys has always given high importance to community development through four major dimensions of community engagement — monetary support, organization-led projects, employee-driven initiatives and community sabbaticals. For details on our CSR spending during fiscal 2016, refer to Annexure 7 to the Board's report.
Monetary support
The Infosys Foundation ('the Foundation') was established in 1996 to encourage and support programs and organizations devoted to uplifting the economically disadvantaged sections of the society. The Foundation has robust processes to select, monitor and assess impacts of various projects. The highlights of the work done by the Foundation is available on our website, : https://www.infosys.com/infosys-foundation/.
With the U.S. being our largest market, setting up the Infosys Foundation USA was imperative to focus on supporting causes and initiatives in the areas of education and technology inclusivity in that region. The Infosys Foundation USA supports several leading Science, Technology, Engineering and Mathematics (STEM) and community-building initiatives, particularly for the under-represented communities.
Organization-led projects
Education is one of our priority areas and we have channelized our organization-led projects to promote primary, secondary and higher education initiatives across the country. We work closely with educational institutions with an additional focus on remote areas and the less privileged sections to improve access to quality education. In an effort to encourage students from rural India to pursue higher education, we provide scholarships, fund infrastructure for government schools and train the teachers of schools and colleges.
Infosys Science Foundation
The Infosys Science Foundation (ISF) was set up by Infosys and some of its management in 2009 to encourage the pursuit and practice of the sciences. The Infosys Prize, governed by the ISF, recognizes some of the finest research connected to India. The prize winners, who go on to serve as role models for young researchers and scholars, are awarded a purse of ₹ 65 lakh (tax-free in India) and a citation by a globally-renowned jury across six fields. The winners for 2015 were felicitated by the President of India, Pranab Mukherjee. They are:
| | |
| --- | --- |
| Infosys Prize 2015 category | Winner |
| Engineering and Computer Science | Prof. Umesh Waghmare, Professor, Theoretical Sciences Unit, Jawaharlal Nehru Centre for Advanced Scientific Research, Bangalore |
| Humanities | Prof. Jonardan Ganeri, Global Network Professor of Philosophy, New York University, New York, and Visiting Professor, Department of Philosophy, King's College, London |
| Life Sciences | Dr. Amit Sharma, Head, Structural and Computational Biology Group, International Centre for Genetic Engineering and Biotechnology, New Delhi |
| Mathematical Sciences | Prof. Mahan Mj, Professor, School of Mathematics, Tata Institute of Fundamental Research, Mumbai |
| Physical Sciences | Prof. G. Ravindra Kumar, Senior Professor, Department of Nuclear and Atomic Physics, Tata Institute of Fundamental Research, Mumbai |
| Social Sciences | Dr. Srinath Raghavan, Senior Fellow, Centre for Policy Research, New Delhi |
Jurors and winners of the Infosys Prize give public talks about their work under the ISF Lecture Series initiative. The ISF also piloted Gnanadeepa, a program to train educators on how to impart science and math concepts so students will grasp them better. The ISF also hosts public contests, school events and media debates to promote a healthy discussion around science and research in the country.
For more details, visit
www.infosys-science-foundation.com.
Campus Connect
Campus Connect (CC), launched in May 2004, is a first-of-its-kind industry-academia partnership program that aims at raising the employability of India's engineering students. Through CC, we seek to share some of our best practices with engineering colleges, thus aligning the needs of institutions, faculty and students with those of the IT industry. We also work with autonomous engineering institutions across the country to co-create industry electives in foundational computer science, soft skills and advanced topics, such as business intelligence and enterprise architecture. Many of these have already been included in the curricula of these institutions.
Apart from classroom sessions, the program organizes conclaves, road shows at institutions, faculty enablement programs, industrial visits for students and faculty, seminars and workshops, programming contests for students, sabbaticals, technical events, research paper sponsorships and soft-skills training for students and faculty members.
Over the last 12 years, a total of 3,71,639 students and 13,111 faculty have been covered as part of the CC initiatives. Out of 317 CC partner colleges, at least 122 engineering colleges have introduced the program as an elective for their students, thereby integrating software engineering concepts and practices into the engineering curriculum.
Here is a quick snapshot of some of our efforts:
Inspire: The CC faculty partnership model
Faculty members play a vital role in CC engagement and hence, it is imperative for us to strengthen the partnership with them. Inspire is a platform to boost the partnership between Infosys and faculty members of CC partnering institutions. It is also a celebration of excellence where faculty members get recognized and rewarded for their outstanding contribution to this program and events. It provides an opportunity for the faculty to visualize and accomplish a growth path with Infosys in terms of contributions to CC, strengthening the mutual relationship and in the process availing more competency development offerings from us.
Inspire partnerships 2015-16
| | |
| --- | --- |
| Faculty members identified at Bronze level | 269 |
| Faculty members identified at Silver level | 119 |
| Faculty members identified at Gold level | 9 |
SPARK
SPARK is a one-day program to raise aspirations of students across India. Launched in 2008, the SPARK portfolio includes three programs – the Rural Reach Program, Catch Them Young and SPARK – Guru. As part of SPARK, we engaged with over 12,654 students during fiscal 2016. Since its launch in 2008, the program has reached over 9,29,114 students.
Rural Reach Program (RRP)
This one-day program builds awareness about computers and the power of IT among students in rural India. Personal computers are donated to government schools within a 50 km to 150 km radius of our campuses. Based on the end-of-use earmarked for these computers, the schools are also provided the necessary guidance for the safe disposal of e-waste.
Catch Them Young (CTY)
This 10-day summer vacation program held on our campuses, opens up the world of IT to the bright urban youth. Meritorious students from the ninth grade are selected through a test and trained by members of our ETA department.
SPARK – Guru
This program focuses on augmenting the knowledge of teachers from government schools along with enhancing their teaching skills in keeping with the current industry needs.
Employee-driven initiatives
Building responsible citizens, we believe is the best gift we can give the world. Consequently, we provide platforms at all our development centers to encourage employees to become involved with and work on social and environmental projects of their choice. This platform also allows employees to come together to reaffirm their commitment to carrying out their civic responsibilities.
When Chennai experienced unprecedented rainfall in December 2015 causing severe floods, volunteers from our Chennai development center supported over 60 villages by sending relief materials to the affected areas and attended to the needs of people, who had lost their homes. Joining hands with the Confederation of Indian Industries (CII), we provided high-capacity pumps to the state government to drain out flood water.
Community sabbatical
Our employees are encouraged to take a break from work to participate in and lead community development projects through the Sabbatical policy for community service launched in October 2008. During this time, they receive half their salary and are given the choice to return to normal work, after completion of the project, within six months to one year. Till date, 56 employees have availed of the community sabbatical option.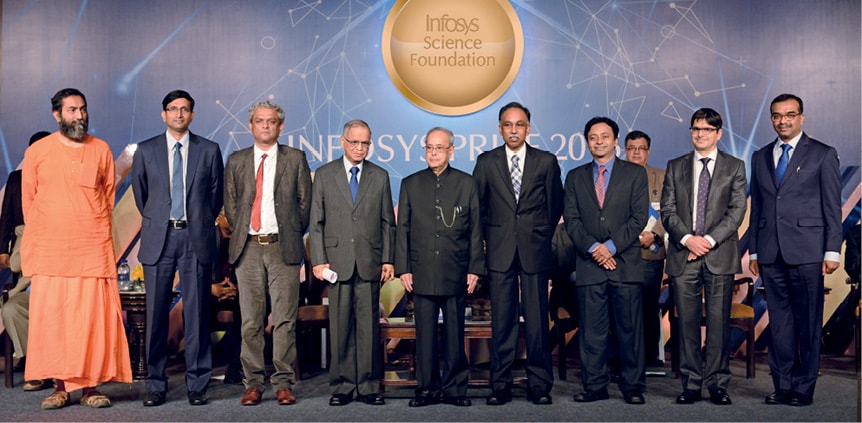 Infosys Prize 2015 winners with the President of India, Pranab Mukherjee, and Infosys founders, N. R. Narayana Murthy and S. D. Shibulal