YOU ARE ONLY AS GOOD AS YOUR… BACKHAND RETURN
Australian Open defending champions, Novak Djokovic and Naomi Osaka, both advanced to the second round of the tournament yesterday with promising performances that were built around dominance on backhand returns.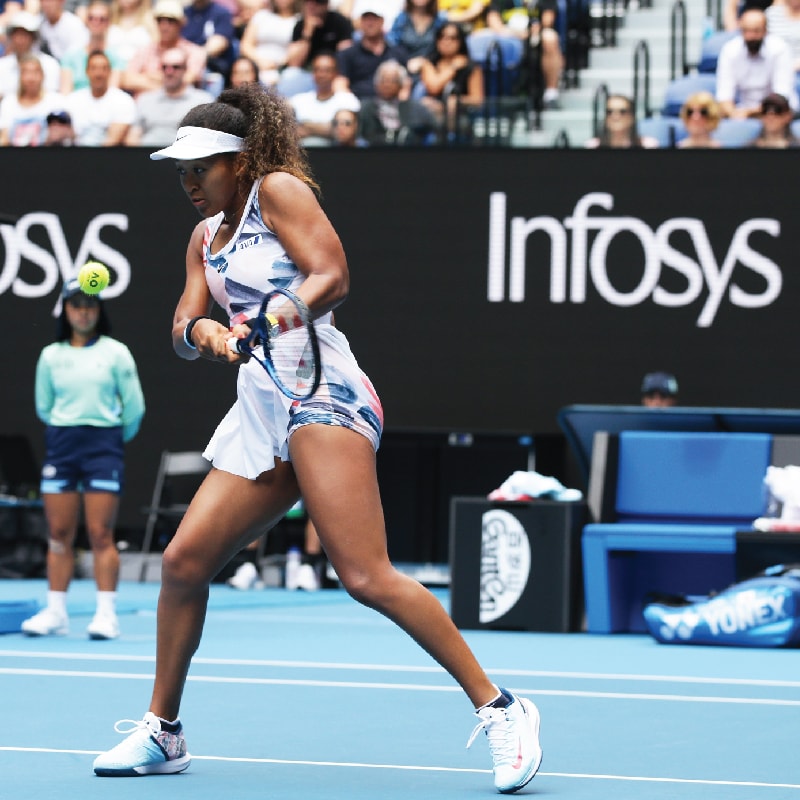 CRAIG O'SHANNESSY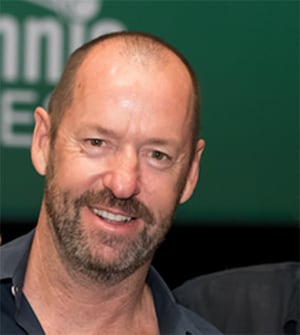 JAN
21
2020
FROM RALLIES TO STROKE TYPE, WHAT DO THE NUMBERS REVEAL?
Djokovic, the number two seed this year, defeated Jan-Lennard Struff 7-6(5), 6-2, 2-6, 6-1, while Osaka, seeded three, defeated Marie Bouzkova 6-2, 6-4.
Djokovic's level of play was of the highest order, with his backhand return proving rock-solid throughout the 2-hour and 16-minute night match on Rod Laver Arena. Overall, Struff directed 20 first and second serves to Djokovic's backhand wing, with the Super Serb remarkably putting 19 of them back in play.
Infosys Stats+ identified Djokovic was a perfect 11/11 returning serves to his backhand from the Deuce court, and made 8/9 from the Ad court. The pressure this applied to Struff was substantial, as he was always being pushed longer into the rally to win the point. As a comparison, Djokovic missed 12 forehand returns for the match.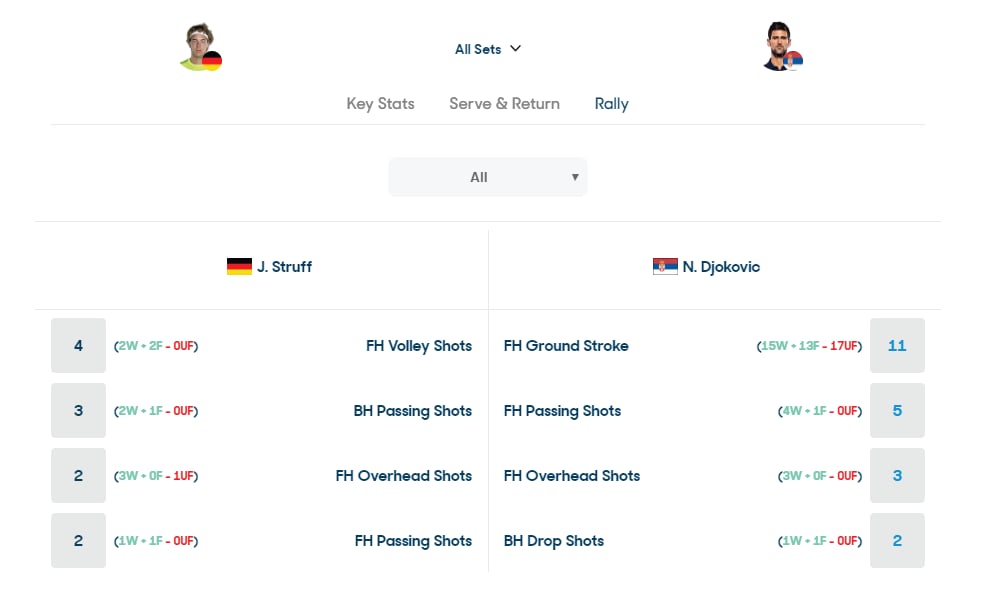 Infosys Stats+ uncovers player performance stroke-by-stroke
Infosys Rally Analysis metrics identified Djokovic crafted his big advantage in the 0-4 shot rally length, where putting returns in play has a huge effect. Djokovic won 21 more points than he lost (78 won / 57 lost) in the 0-4 rally length, but was only +1 (35 won / 34 lost) in rallies of five shots or longer.
The average rally length for the match was 3.95 shots, which was much more to Djokovic's liking than to Struff's. Struff was broken seven times for the match, and only won 41% (20/49) of second serve points, which can directly be tied to the constant pressure applied by Djokovic's backhand return of serve.
Osaka's straight-sets victory had a similar feel to it, with Osaka only making four backhand return errors for the match. She put 100% (9/9) back in play from the Deuce court, and made 79% (15/19) from the Ad court. Osaka did commit eight forehand return errors for the match.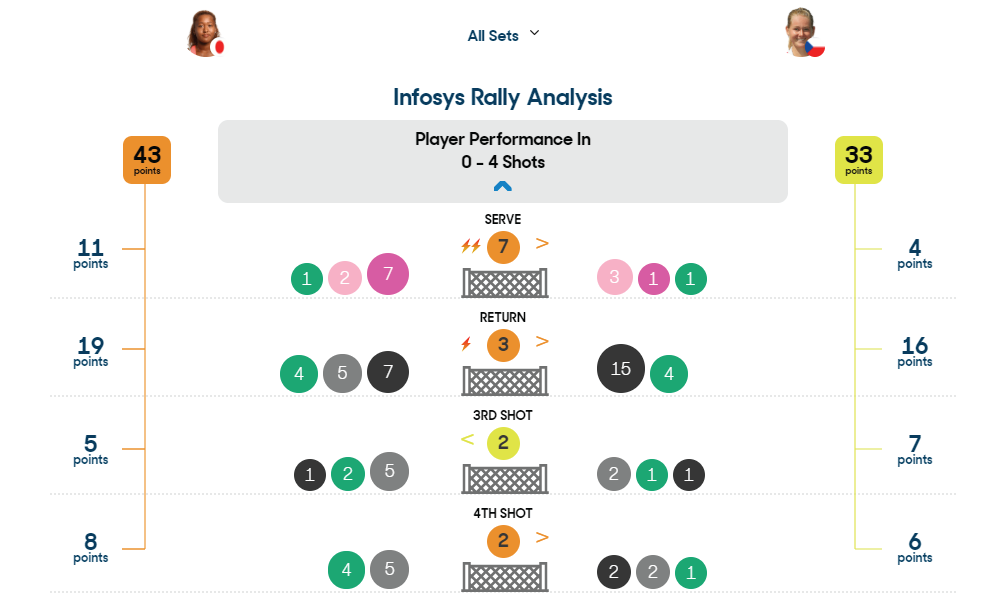 Infosys Rally Analysis reveals playing styles at different shot lengths
The average rally length on the Osaka match was a brisk 3.35 shots, with only nine rallies from 113 points (8%) reaching nine shots or longer. When you combine the performances of both Osaka and Djokovic in this specific area, the numbers really start to paint a clear picture of where they created their advantage in the matches.
Overall Return Performance
Backhand Returns In Play
Djokovic & Osaka Combined = 90% (43/48)
Struff & Bouzkova Combined = 82% (54/66)
Forehand Returns In Play
Djokovic & Osaka Combined = 79% (74/94)
Struff & Bouzkova Combined = 63% (34/54)
Struff and Bouzkova were forced to stay away from serving to their opponent's backhand returns, simply because so many of them came back in play and provided no advantage to attack. Combined, Struff and Bouzkova hit 48 serves to Djokovic's and Osaka's backhand return wing, but that almost doubled to 94 directed at the forehand return.
A downside of serving so much to the forehand return is the returner's ability to hit a bigger return, which is exactly what Djokovic did. After two days of play, he leads the tournament with the most amount of return winners, with five. Osaka is tied for fourth-best in this metric with four return winners.
The dynamic of more successful players having a stronger backhand return of serve rings true at all levels of our sport, washing down from the professional game to amateurs. But guess what the least practiced shot in our sport is? The return of serve.
We can all take a leaf our of Novak and Naomi's game and put more backhand return of serves back in play.
CRAIG O'SHANNESSY


STRATEGY ANALYST FOR THE ATP TOUR, AUSTRALIAN OPEN, NEW YORK TIMES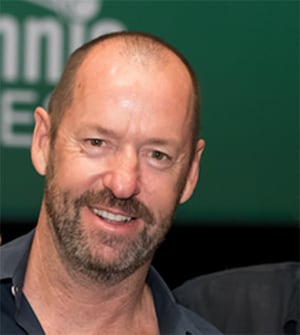 Craig is widely respected as the world leader in the tennis industry researching and teaching the strategy of the sport. Craig's data analysis work with Team Novak Djokovic has helped the Serb win multiple Grand Slam titles. Craig's work simplifies the game, uncovers key patterns of play and disrupts a sport that has traditionally relied on feel - replacing myths with metrics.

Game Pulse uses insights from the Infosys Tennis Platform to analyze the hows and whys of player performance at Australian Open 2020. This year, fans can get real-time analytics for every match, every stroke and every point with five different ways to play with data at the Infosys Match Centre: MatchBeats, Stats+, CourtVision, Rally Analysis and MatchBeats++.