IT'S TWO SHOTS THEN DAYLIGHT FOR ROGER FEDERER
The longevity of Roger Federer's career can be greatly attributed to the brevity of his style of play. The numbers clearly show he is the King of "First Strike".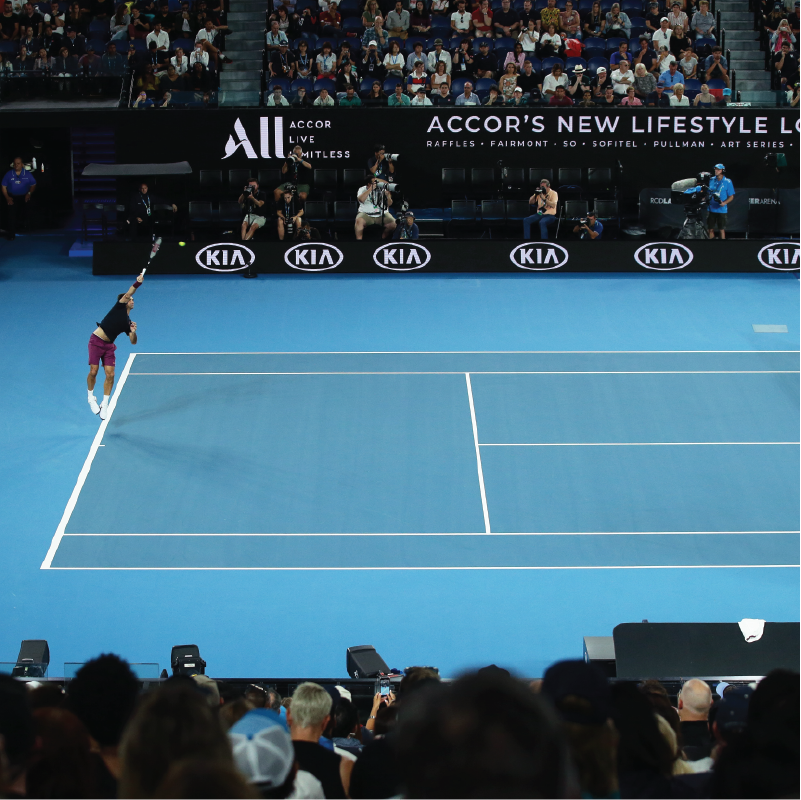 CRAIG O'SHANNESSY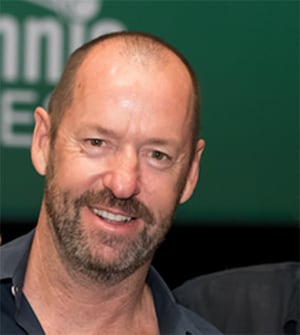 JAN
24
2020
THE SHORTER RALLIES TELL A STORY
An Infosys MatchBeats analysis of Federer's first two rounds at Australian Open 2020 uncovers that the first two shots that Federer hits in a rally are far more important than anything that follows. It's essentially, two shots, then daylight.
Rally length in tennis is divided up into three categories that mirror short rallies, medium length rallies, and longer, extended rallies. Watching Federer on the practice court leads you to believe he is the king of the long rally, as he effortlessly strokes forehands and backhands across the net ad nauseam.
But once he steps on to the Rod Laver Arena in competition, match metrics paint a completely different story. In Federer's first two rounds combined, 70% of his points have been played where he hits just a maximum of two shots in the rally.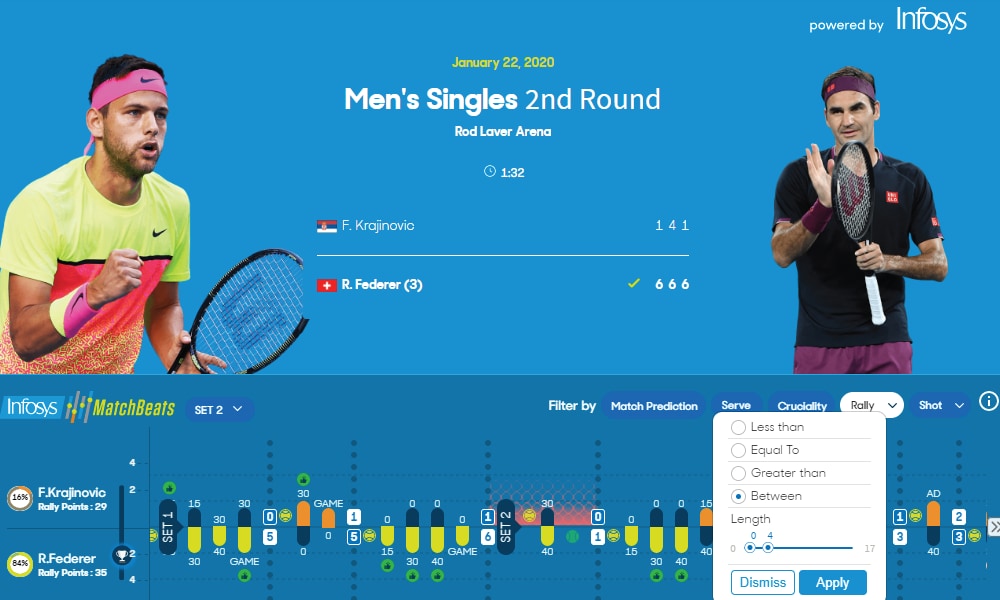 INFOSYS MATCHBEATS REVEALS WINNING PATTERNS AT EVERY SHOT LENGTH
Roger Federer: Rally Length First Two Rounds
0-4 Shots = 70% (198)
5-8 Shots = 23% (64)
9+ Shots = 7% (22)
Federer destroys opponents up front without us really even noticing it. It's in the short rallies in the 0-4 shot rally length where he crafts his biggest advantage.
Roger Federer: Points Won/Lost First Two Rounds
0-4 Shots = +55 (128 won / 70 lost)
5-8 Shots = Even (32 won / 32 lost)
9+ Shots = +10 (16 won / 6 lost)
Federer has won 55 more points than he has lost in the 0-4 shot rally length in the first two rounds. Federer plays the most points here, and also wins the most points. The average rally length in his opening round victory against Steve Johnson was 3.44 shots. The average rally length in his second round victory over Filip Krajinovic was 3.85 shots. Short and sweet to say the least.
The genius of Federer can be found just as much on a stats sheet as sitting in the front row watching him play. The numbers clearly show he is the King of "First Strike".
Infosys Stats+ identify that Federer has hit 25 aces in his first two matches while committing just one double fault. An impressive 41% of his serves have not even come back in play.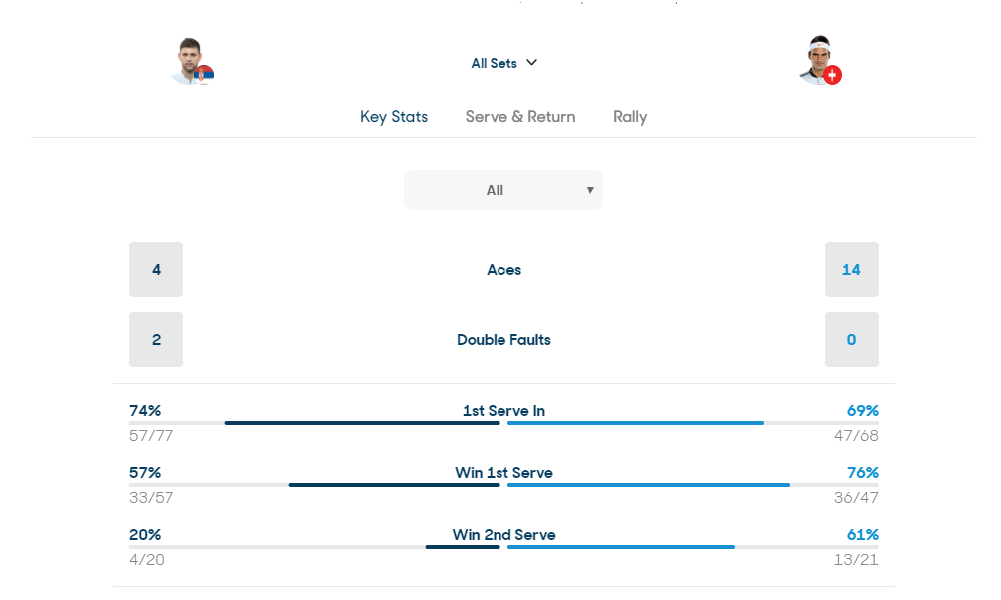 INFOSYS STATS+: RANKING STATS BASED ON OVERALL MATCH IMPACT
Federer is serving lights out so far in Melbourne. The tournament average for first serves in is 64%. Federer blows that out of the water at 72%. Federer has won 79% of first serve points and 68% of second serve points - both miles above the tournament average.
Federer will be looking to employ this "shoot first, ask questions later" game style in his third round encounter with Australian John Millman. Millman loves long rallies. Remember, Federer has played just 22 long rallies of 9+ shots in his first two rounds. Millman, by comparison, has played exactly 100 long rallies of 9 shots or longer. Chalk and cheese.
Millman's average rally length in his first two rounds is 5.41 shots - well above Federer's 3.65 shot average.
The beauty of tennis is magnified when players with contrasting game styles go head to head. Federer won their last encounter in 2019 at Halle 7-6, 6-3, but Millman prevailed at the 2018 US Open 3-6, 7-5, 7-6(7), 7-6(3).
Millman will want backhand to backhand exchanges. Federer will be seeking forehand to forehand. Whoever can make the other player bend to their intentions will advance to the fourth round in week two.
CRAIG O'SHANNESSY


STRATEGY ANALYST FOR THE ATP TOUR, AUSTRALIAN OPEN, NEW YORK TIMES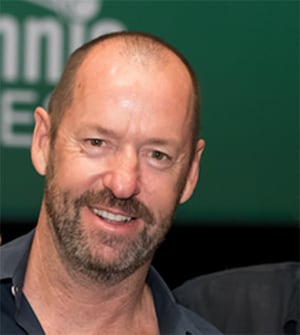 Craig is widely respected as the world leader in the tennis industry researching and teaching the strategy of the sport. Craig's data analysis work with Team Novak Djokovic has helped the Serb win multiple Grand Slam titles. Craig's work simplifies the game, uncovers key patterns of play and disrupts a sport that has traditionally relied on feel - replacing myths with metrics.

Game Pulse uses insights from the Infosys Tennis Platform to analyze the hows and whys of player performance at Australian Open 2020. This year, fans can get real-time analytics for every match, every stroke and every point with five different ways to play with data at the Infosys Match Centre: MatchBeats, Stats+, CourtVision, Rally Analysis and MatchBeats++.