Back
Blogs
Finding my feet, one step at a time
By Indumathi Suresh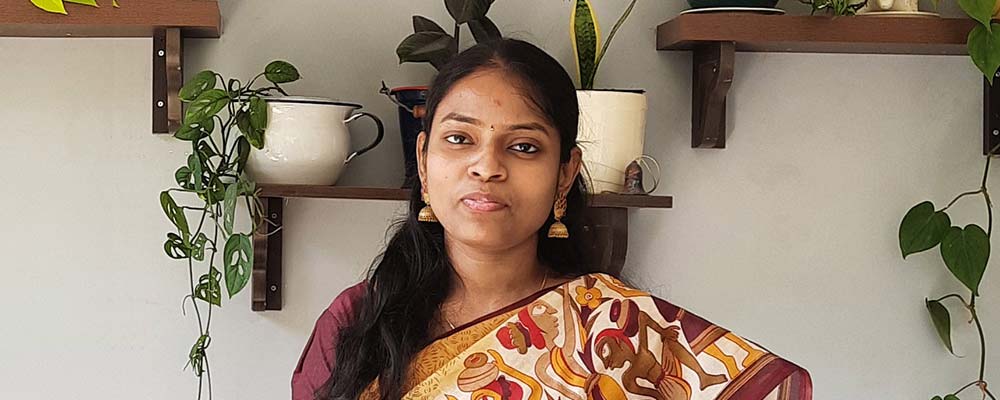 Like many Infoscions, my first and only employer has been Infosys, as I joined here directly from a campus placement. The transition from being a student to a professional was all at once exciting and daunting. Despite the initial nerves, as the journey commenced, it was exposure to a whole new world of different cultures and languages and professionalism. The initial phase was like the first love to me, which can never be forgotten. It began at the awe-inspiring Mysore Global Education Center, a fabulous set up to acquire new skills and get started on the professional technology journey. Induction programs were followed by late-night training classes for assignments and assessments, which paved the path towards a wide exposure to different courses for me. The experience gained has been immensely helpful in shaping my career.
After the training phase, I landed my first project in Hyderabad, working together with a whole bunch of new people. The newly learned skills at the training helped ease me into the realities of delivery at work. I was also drawn to the life beyond work at Infosys – DJ nights to help us blow off steam, celebrating my first Holi with my colleagues, and other regional festivals together. I was also the Master of Ceremonies for Tamil New Year celebrations at the Hyderabad Development Center. The fun never ends and even during the remote working of the past year, we are constantly engrossed with VOY, medley virtual fun activities where our families also get to join in!
Infosys inspires you to become the best version of yourself in myriad ways. The company always values and recognizes your talents. Let me share my experience. Recently, I won the CIS RISE Quarterly award for my performance at work. This further motivated me to constantly strive harder and set higher goals. Also, since I have a passion for blogging, I have published articles in the Infosys MyBlogs forum. I also took part in blogging contests for International women's day, World Book Day, Mother's Day, and so on. Apart from that, there are HALE sessions also that help us to focus on our mental well-being. Even during tough times, we are constantly notified through virtual webinar sessions about combating the virus in an effective way. There are vaccination drives conducted at the Development Centers for the benefit of the employees and their family members. HR/Managers are concerned about our general well-being and they are swift enough to offer help in the best way they can.
Learning is a way of life at Infosys. There are Lex training which are like encyclopedias covering a topic from scratch. Learning hubs like Sparsh and certification courses, where we get the opportunity to equip ourselves in the latest technologies, are a blessing. Virtual training conducted by Education Training and Assessment team help to comprehend the learnings effectively. Accelerate projects have helped me to grow technically when I required opportunities to grow. Presently, Bridge Programs are paving the way to make the work environment more creative, diverse, and innovative. Nomination emails for Architect/Consultant/Power Programmers streams are sent to enrich the learnings better and get trained professionally on various platforms.
My five-year journey with Infosys has made me confident to build a strong and gratifying career here. I am still learning the process of getting better and becoming self-dependent. My current team has always urged me to do better and grow exponentially. I would like to continue exploring opportunities in the vast horizon and leverage emerging technologies to build what's next at Infosys.
I am exhilarated to be a part of this extraordinary organization, which is celebrating its milestone 40 years of achievements. It hasn't been an easy journey with all the challenges and competition, yet we have set a benchmark in the industry! Together we take pride in celebrating our remarkable accomplishments and wishing Infosys many more years of unparalleled success and unrivaled corporate services. Proud to be a part of the Infosys family!!!