LEADERSHIP SPEAK : Being responsible in everything
The pandemic is a gigantic stress test on our world. The immense financial and operational pressures on companies is starting to tell; businesses with resilient ways of working have pulled further away from their industry peers, while those not geared to respond with predictable agility to crisis and opportunities are falling behind. The biggest learning from all this is that if companies want to take charge of their destiny, they must reimagine themselves in a more resilient, agile, de-layered and de-bureaucratized avatar. This means making themselves so sentient that the nerve tips of the organization are able to quickly sense and respond to the changes in the context that surrounds the business.
Nandan M Nilekani
Co-founder and Chairman
LEADERSHIP SPEAK : Nurturing sustainable resilience
ESG is at the heart of our approach. I am delighted to launch our ambition for 2030 with these goals and aspirations.
In the area of Environment, we are focused on preservation of our planet, around climate change, water, and waste.
In the area of Social, our emphasis is on the development of people, especially around digital talent at scale, technology for good, diversity and inclusion, and energizing the communities we work in.
Salil Parikh
Chief Executive Officer and Managing Director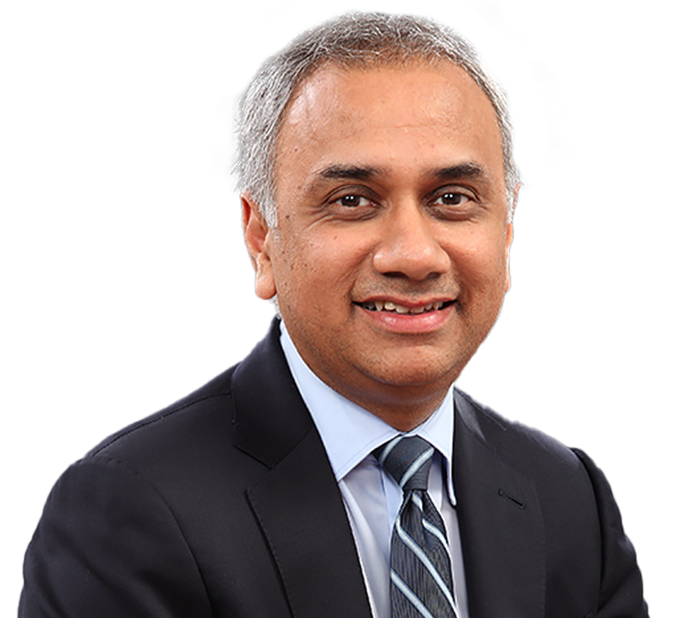 2020: INFOSYS IS CARBON NEUTRAL
Infosys has become carbon neutral for FY 2020, 30 years ahead of the timeline set by the Paris Agreement. In 2019, Infosys received the prestigious United Nations Global Climate Action Award in the 'Climate Neutral Now' category.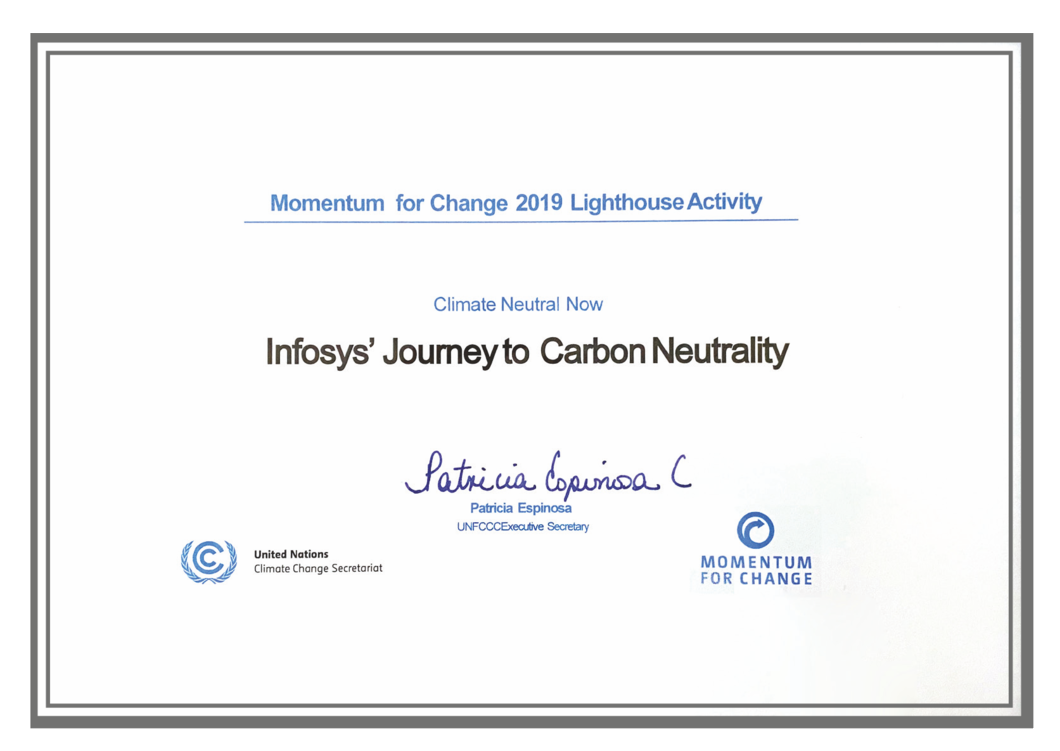 UN Global Acton Award Certificate
"Infosys' journey to carbon neutrality is truly inspiring. As one of the first companies of its kind to commit to carbon neutrality, they have provided a practical model for climate action, while setting a benchmark for integrating sustainable development and climate action. At this year's UN Climate Conference (COP 25) in Madrid, it is our honour to recognize Infosys as a winner of this year's UN Global Climate Action Awards"

-Niclas Svenningsen
Manager of the UN Climate Change Global
Climate Action Programme
CARBON NEUTRALITY - PAS 2060:2014
Infosys becomes the first Company1 in India to certify its carbon neutrality against PAS 2060:2014, the highest standard for carbon neutral certification worldwide.
1Based on publicly available data as on September 11, 2020.
A HOLISTIC APPROACH
We took action internally through energy efficiency initiatives and investments in renewables. Any emissions that remained were then offset, using community-based projects that created a lasting socio-economic impact.
Energy Efficiency
To reduce emissions
Renewable Energy
To avoid emissions
Carbon offsets
To offset emissions
WHAT OUR EFFORTS HAVE RESULTED IN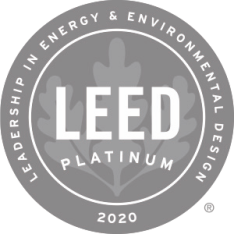 25
m sq ft
of highest rated (LEED Platinum/ GRIHA 5-star) green buildings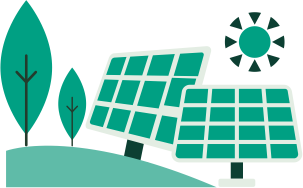 60MV
of installed solar PV capacity
30
m sq ft
of smart connected spaces
Super Efficient Buildings
with superior energy performance
44.3
%
of total electricity across India campuses from renewable sources
55
%
reduction in per capita electricity consumption compared to 2008 baseline
IMPACT OF CARBON OFFSET PROJECTS
11 of 17 SDGs
favourably impacted through
carbon offset projects
2,400+
Jobs created through
our carbon offset projects
102,000+
rural families continue to benefit
from our carbon offset projects