Innovating the Enterprise by Bringing Objects to Life
By
Harry Keir Hughes
November 2019 | Report | 22 min read |
Email this article

Introduction
Tesla resolves software problems in its cars without the need for customers to take them to a dealership. Over-the-air updates automatically refresh and reconfigure technical issues, while new features are added as part of the download. The car acts as a platform for digital product engineering on a massive scale; it uses machine learning and automation, along with thousands of sensors, to adjust parameters for safer driving, parking and entertainment.
Bringing the car to life in this way is enabled by the "internet of things," along with processes configured in the cloud and analytics as a service. This intelligent car that continuously learns and improves is reflective of how technology has developed in recent years.
For incumbent organizations, however, making the move to intelligent, real-time, sensor-driven information exchange and process improvement is tough. Unlike Tesla, which is a tech company, most organizations across industries are grappling with legacy systems and archaic processes that exist on numerous platforms. Is it possible to sensor-enable dormant objects within this landscape without tearing down the establishment? Can redevelopment of processes and applications occur while there are issues concerning compatibility with existing interfaces, modules and architectures? If not, when is a "greenfield" solution (effectively starting from scratch) necessary, and what is the appetite of firms for deploying everything in the cloud, utilizing agile development cycles and collaborative software processes consolidated on a dominant platform?
Moreover, with artificial intelligence, cloud computing and data analytics high on strategic agendas, how are firms across industries using these technologies to innovate their business? And how are they ensuring they don't fall behind digital natives?
To help answer these questions, Infosys commissioned a survey in March 2019 to determine the appetite of incumbents for wide-scale digital transformation (not just innovation) and interviewed 154 senior leaders from companies, across industries, with more than $1 billion in revenue. Respondents hailed from Australia, Canada, Europe, New Zealand and the United States.
The findings are presented in this report.
Executive summary
The role of an innovation partner is mainly seen through a prism of technology ideation and business consulting; 55% approach an innovation partner for choosing tools and technologies and 53% for formulating innovation strategy. However, only 30% are currently seeking partners for the actual execution of the strategy.
Data analytics (55%) and cloud (45%) are the highest-ranked investments for driving innovation. While 34% of the respondents said that the internet of things was a high investment priority to drive innovation, there was strong deviation between business (24%) and IT (50%) on the impact of this technology.
Eighty-six percent of the respondents said that it is somewhat important to innovate legacy products and processes to transform the business, of which 30% said it is very important. Figures were consistent across industries and between business and IT leaders, though high tech was significantly more expressive in its desire for innovation, scoring 6.6 on a scale of one (not at all important) to seven (very important).
Only 16% of organizations are using the greenfield approach to legacy modernization, while 40% are digitizing processes and reviving objects through IoT ("brownfield"). The remaining 44% are not transforming legacy infrastructure and processes.
Consumer technology, particularly around ease of use and simple, fast interfaces, is having a high impact on B2B businesses, affecting more than 90% of those surveyed. Half of those organizations said the effect was a radical change in their outlook, with 39% saying they were revamping interfaces in response.
Sixty-six percent of the organizations are already using enterprise-wide platforms for agile, software-enabled engineering, with 22% saying they are interested in software platforms but don't know how to go about procuring them.
Agile practices are being used at scale at almost half of the incumbent organizations to bring new products and services to market: 37% of the organizations are planning to scale agile methodologies in the near future, and 14% are in the initial stages of adoption.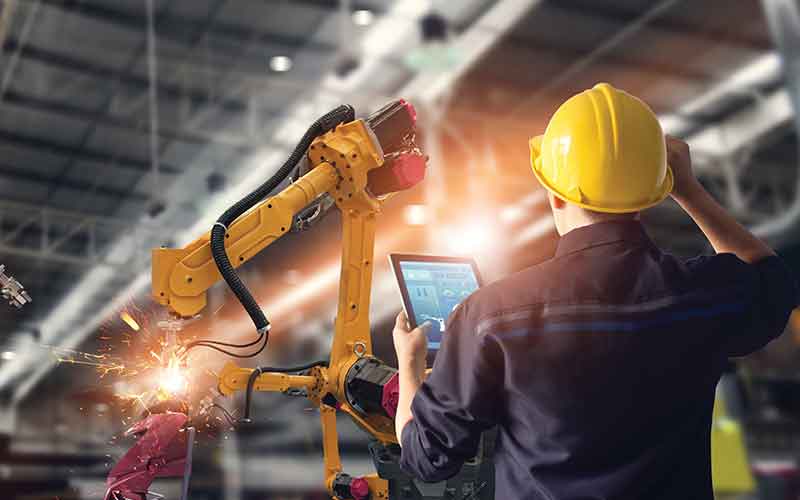 Sensor-driven development
By 2022, the global sensor market will reach $60 billion if it continues to grow at its current rate of 19% year on year.1
The ability to manage and monitor objects in the physical world through a virtual interface is taking data-driven decision-making to a new level. Smart sensors optimize the performance of systems and processes, save time for people and businesses and ultimately improve the quality of life. They also open up the possibility of new business models for suppliers and drive high value to customers.
In our research, 71% of the respondents said that building enhanced customer experiences was their key objective behind digital transformation in the short to medium term, while a similar 65% said that innovation across products or services was their transformation priority.
Bringing objects to life using smart sensors is a step in this direction, especially in consumer-led industries (such as retail and telecom), where brownfield infrastructure is updated so that new omnichannel experiences can emerge. Here, use cases include connecting a customer's mobile to a store window, for instance, or a sales manager's tablet to an e-commerce site.
In the manufacturing space, IoT spawns multifaceted use cases. For example, when monitoring industrial machines, smart sensors tell the manufacturer how much the machinery is actually being used, giving rise to "as-a-service" usage and payment models. Improvements in worker health and safety, inventory optimization and equipment maintenance are also possible as devices talk to each other in real-time. As long as the connected objects are interoperable — meaning they have a standard interface by which to communicate — new use cases can emerge that impact the user experience and spark more innovation in a flywheel effect.
In the health care space, data from health care monitors, such as ingestible tablets or wearables, could transform decisions related to patient therapies. In India, the B2B world is having a huge impact on the health of millions of people, with remote diagnostics of diabetes symptoms leveraged through IoT devices. These therapies change behavior, prevent some hospitalizations and reduce the need for doctors on-site as remote monitoring data can be downloaded over the air by physicians around the country. By 2040, highly trained health professionals will have the technology to devote much of their time to high-priority patients who have complex health problems.2 Open and secure data platforms will verify the diagnosis before prescriptions are sent to the patient's home via a drone.
An innovation partner catalyzes new business models
The task of defining an innovation strategy in an organization belongs to both the business and IT leads, who bring in partners to advise on and deliver software-enabled engineering practices.
In our research, the role of an innovation partner was primarily viewed as one of technology ideation and consulting: 55% of the respondents said they seek help in choosing the right tools and technologies, and 53% seek assistance in formulating innovation strategy. Partners are less sought after for strategy execution (30%).
Adopting new IoT-led products and services is not something firms want to do on their own. Further data from our research shows that organizations seek partners for digital product engineering, using a combination of external service providers, developing data science in-house and adopting IoT-led interconnected systems and vertical platforms (26%; Figure 1).
Along with digital product engineering, partners have a wealth of experience in emerging technologies such as AI, automation and DevOps methods of software development. In our research, businesses were twice as likely to partner with experts to bring in new technologies than they were to reengineer the product life cycle in-house. This was particularly true in the case of implementing application programming interfaces and microservices in existing processes, with thrice the number of firms choosing partners (51%) over in-house efforts (17%). Data analytics, IoT, open source software, cloud computing and unified digital business platforms were also ripe for partner involvement.
However, innovation isn't just about engineering objects to drive new value and efficiencies in current business models. It's also about finding new ways of doing things that were once not even considered viable. A partner makes it easier, driving the required cultural change and bringing in thought leadership that business owners can leverage to reorganize their thinking regarding value chain, market forces and customer aspirations. By combining thought leadership with technologies like the cloud — its on-demand availability and near-infinite processing power is still the main talking point in digital transformation the world over — a paradigm shift takes place wherein leaders begin to realize the tremendous potential of new business models. IoT can then be used to monetize unique data across the partner ecosystem, and automation can inspire a new value chain, with analytics and "thick data" harnessing the "why?" of the customer journey. It is telling, then, that in this research, data analytics (55%), cloud computing (45%) and IoT (34%) were seen as top-dollar investments to drive innovation.
More definitively, 86% of the respondents said that it was important to use these technologies to innovate legacy products and processes to transform business models; 30% termed it very important (Figure 2). Figures were consistent across industries and between business and IT leaders, though high tech was significantly more desirous of innovation, scoring 6.6 on a scale of one (not at all important) to seven (very important); the average was 5.67.
Figure 1. Digital product engineering is most often carried out by partnering, developing in-house capabilities and using vertical platforms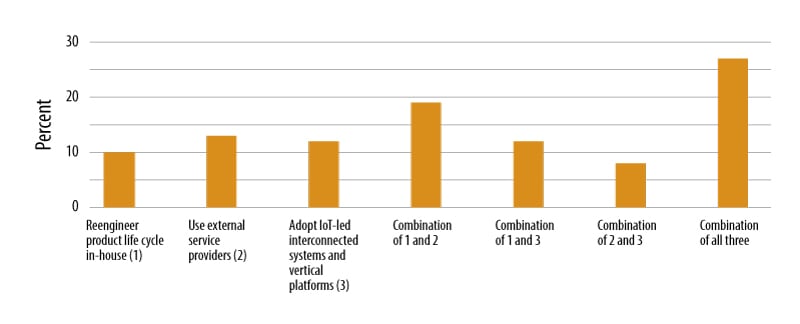 Source: Infosys Knowledge Institute, 2019
Figure 2. 30% of the respondents said that innovating legacy products and processes to transform business models was very important, with 86% terming it important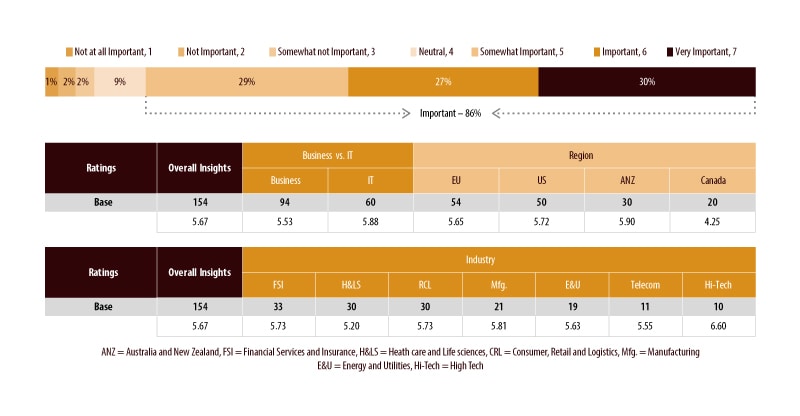 Source: Infosys Knowledge Institute, 2019
Case study: Transforming the power grid with autonomous robots
A U.S. manufacturer was responsible for maintaining millions of miles of U.S. electrical cable carrying 400 kV of potentially lethal electricity. Power loss in aging overhead conductors was a challenge, so the manufacturer invented a coating technology that improved parameters by 25%. But how were they going to clean and coat existing installations?
Infosys employed its "accelerate" and "zero distance" innovation frameworks to delineate potentially viable robots for prototyping. Two robots were engineered, one for cleaning and one for coating, utilizing a "drive-by-wire" mechanism with the ability to "see" objects in their way. The robots could run autonomously and decide whether to go forward or backward by using high-end image-processing cameras with on-board decision-making capability and an in-built IoT gateway that enabled communication with ground stations that continuously monitored battery life, coating volume, flow volume, speed and other parameters remotely.
The new system saved $6 billion due to reduced transmission costs, and it eliminated the need for hazardous human intervention.
Embedded sensors can drive both greenfield transformation and brownfield modernization
Enabling objects with sensors is a difficult affair. The framework of new systems must work with existing systems, and there are many compatibility issues as objects come online and start communicating with each other. Some data in existing databases might be hard to reach, and over-the-air communication may fail as different protocols and interface standards compete for attention. Also, real-time communication is restricted by bandwidth issues, and data must be aggregated in a format that can be used for further analysis.
It is sometimes easier to start from scratch when enabling sensors on objects. Here, greenfield transformation indicates a situation where there are no legacy assets on the "shop floor." This approach provides improved flexibility in system processes, greater efficiency and less system downtime.
Because of the implementation of modern software solutions and simulation, firms that go for a greenfield approach to legacy modernization also benefit from faster prototyping of products using agile methodologies, software-engineering approaches to testing and monitoring of assets, along with scalability, reusability and maintainability of assets.
Incumbents are usually grappling with fragmented data, connectivity issues and archaic systems and processes, and they cannot so easily leverage this top-down approach to modernization. Instead of starting from scratch, such firms must connect their technology footprint to the cloud. This brownfield endeavor often utilizes a gateway device on the "floor," digitizing objects as they transmit data to the cloud. However, if approached carefully, such a transformation, especially on the back end of the IT infrastructure, can get quick wins for a firm that wants to use its old IT systems.
Forty percent of the organizations surveyed are digitizing processes and reviving objects through IoT or sensor-led enablement (brownfield; Figure 3).
Only 16% of the respondents are using the greenfield approach, while the remaining 44% are not transforming at all.
Given that this research found that partnering is more about choosing technologies and formulating strategy than actual implementation of the road map or a program, it seems that firms really do need a trusted partner that can drive the initial stages of brownfield or greenfield transformation. By thinking big, starting small and concentrating on a few small wins, firms will gain the confidence to take on more digital and IoT initiatives at scale. This and other topics are examined in our report "Infosys Digital Radar 2019: Enabling Transformation through Salesforce."
Figure 3. Many incumbent firms (40%) are reviving objects and digitizing processes through IoT, while 16% are using the greenfield approach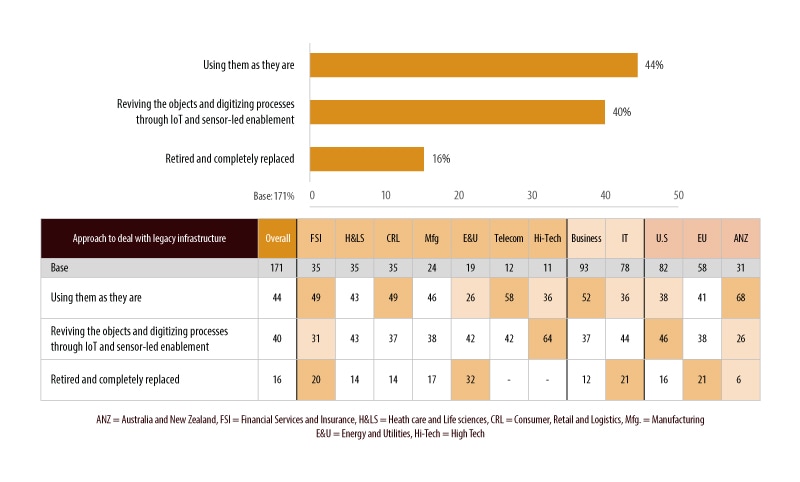 Source: Infosys Knowledge Institute, 2019
Simple user interfaces
Innovation is the reimagining of a business process that already exists. With the iPhone, innovation meant bringing millions of apps to life on a common platform — one that could be built, traded, monetized and accessed through a simple glass screen that removed all of the underlying complexity. This example shows that innovative software is a game-changer when combined with a simple user interface.
These simple user interfaces fronting complex software platforms are also finding replication in the B2B sector. Partners of Airbus, the multinational aerospace company, can access a repository of information, including fleet configuration, flight schedules and on-board sensor data, on the Skywise digital aviation data platform. Touted as a single platform of reference for major aviation players, it can be accessed through a simple, easy-to-use app. By sensor-enabling a fleet of 300 aircrafts, the app allows companies like easyJet to maintain their planes; for example, they can analyze components on their aircraft, enabling predictive maintenance and reducing delays and cancellations.
Another example is the Google Nest smart home thermostat, which gathers information such as location data, temperature, humidity, light levels and motion. The software runs on a proprietary operating system that is completely hidden from view when users interact with it via their mobile phones.
From our research, we found that consumer technology, particularly that which is built around ease of use and simple, fast interfaces, is having a high impact on B2B businesses, affecting more than 90% of those surveyed.
Half of those surveyed said this effect was a radical change in their outlook on using simple and fast interfaces. Of those radically changing their outlook, 39% are revamping interfaces, of which 19% are revamping both the interface and the underlying processes in response (Figure 4).
Figure 4. More than 90% of leaders say that consumer technology is having an impact on their business, especially around simple, fast interfaces
What effect is consumer technology having on your business, especially around ease of use and simple, fast interfaces?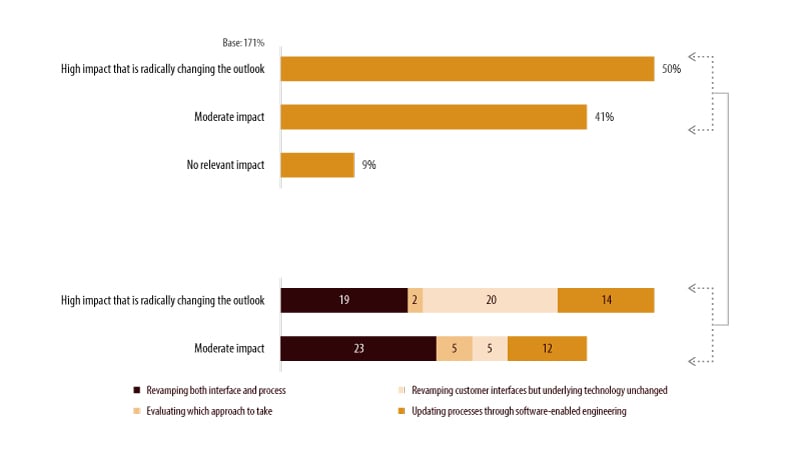 Source: Infosys Knowledge Institute, 2019
Digitizing objects: The platform approach
Sensor-driven development can help achieve new business outcomes. The effectiveness of workers improves as processes are automated and new digital products are brought to market faster, and businesses can scale more easily by enabling an ecosystem that both augments and unifies individual capabilities.
Platforms for IoT and agile, software-enabled engineering are often behind these outcomes. Such platforms combine data, devices and analytics to produce new business-fueled insights. As development proceeds, scaling up the platform means more devices and higher data volumes.
In our research, we found that two-thirds of the organizations already use enterprisewide platforms for agile, software-enabled engineering, with 22% saying they are interested in software platforms but have difficulty navigating the complexity of vendor solutions (Figure 5).
We have discussed why it may be difficult to procure a digital platform that works in a legacy estate. A gateway can be used to digitize objects as they communicate their data with the cloud, or, if a greenfield approach is viable, firms can build capabilities from the ground up that bring together physical and virtual worlds. APIs and microservices are used to provide the bridge between applications and the platform itself.
Getting the platform approach right leads to significant benefits. Once a strong platform strategy has been devised and a road map put in place, firms that are not traditionally "tech companies" can innovate and produce software applications, including digitized engineering objects, up to 100 times faster than more heavy-footed peers.3 Each platform can be run as a service, with a logical cluster of activities that delivers on a specific business goal. With the ability to instill growth at the board level, IT then becomes more than just a cost center.
Figure 5. Progressive firms are adopting enterprise-wide platforms to enable software-enabled engineering, though one-fifth don't know how to go about procuring them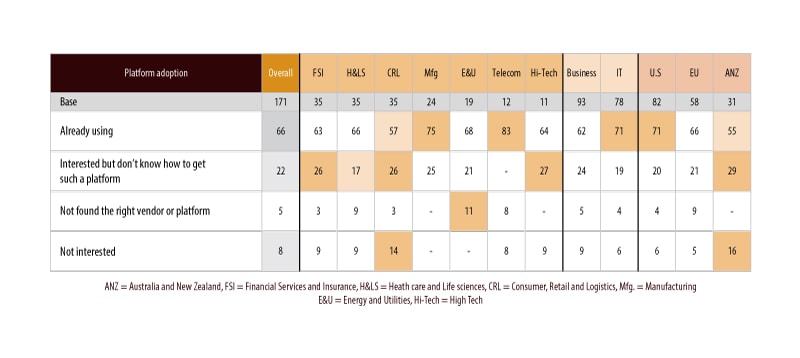 Source: Infosys Knowledge Institute, 2019
Case study: How a client used a postoperative patient monitoring system to save lives
Post-surgery care is complex: Most deaths occur in the postoperative phase rather than during the surgery. Caregivers must continue to monitor patients, and take immediate action if complications surface, long after the patients have left the confines of the hospital ward.
Many patients find it difficult to visit the hospital for postoperative follow-ups, and patient data is recorded manually. On top of that, data is often extracted from devices such as infusion pumps and ventilators that do not talk to each other or to a central system. This inability to take action in real-time costs health care providers dearly in terms of follow-up procedures and costly settlements.
With this in mind, Infosys helped a health care provider integrate smart wearable devices with a hospital management system, bridging the gap between patients and caregivers.
The Infosys Patient Monitoring System visualizes real-time data from all health care devices — even if they are at a remote location — using multimode radio frequency module design. It also stores electronic anesthesia records for future diagnostics. The solution scales with medical devices from any manufacturer, protecting investments already made by the hospital.
With the new connected system in place, the hospital reduced patient risk, reduced the need for physical visits for patients and instituted proactive, need-based care for people living in remote areas.
Agile software engineering and the new operating model
A platform-based approach to object engineering also leaves behind the "innovate to keep the lights on" paradigm and forgoes many of the innovation traps that many firms fall into.
Without a robust platform on which to build new, agile business processes, waterfall terminology at the product and design level dominates. Teams fall into long cycles of innovation, product perfection and marketing. By the time the application is offered to customers, it has either become obsolete or nimble competitors have brought out a more advanced version.
With that in mind, it is imperative for firms to use agile practices when engineering processes. Product prototypes can be developed on an all-encompassing platform, which speeds up development of IoT applications through ease of discovery, reuse and an extension of core data and service components. Once one use case has been developed, it fuels the fire for more evolved use cases further down the line, accelerating transformation.
Partners that aid an organization on this route can also provide insights and knowledge, along with the required cultural change that is necessary for agile practices.
In this research, agile practices are being used at scale at almost half of the incumbent organizations to bring new products and services to market: 37% will scale agile methodologies in the near future, and 14% are in the initial stages of adoption (Figure 6).
Figure 6. Nearly half of incumbents are using "agile at scale," while nearly 40% are planning to scale agile in the near future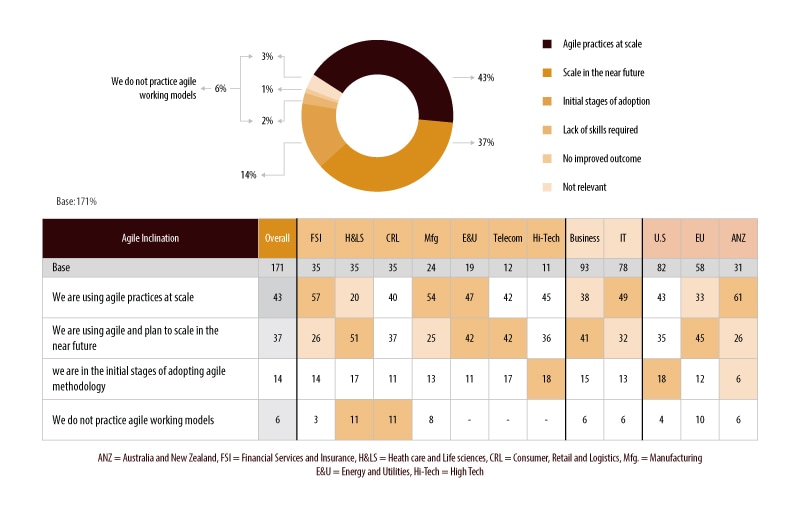 Source: Infosys Knowledge Institute, 2019
Conclusion
Using technology to innovate and develop new products and services is the battleground of the 21st century. Internet of things and sensor-enabled object engineering now play a significant role in the fight for market territory, promising new business models where things "come alive," offer real-time insights and keep customers happy with continuously evolving products and services. In the auto sector alone, 84% of growth in revenues is expected to be from disruptive new offerings such as shared mobility, connectivity and electrification.4
These new "as-a-service" business models are capturing the imagination of every industry. From selling engine power "by the hour" in the aerospace industry to productivity solutions enabled by remote monitoring and connectivity in agriculture, hundreds of new use cases are appearing. These new, tech-enabled business models will increase industry revenue growth by an estimated $132 billion to $382 billion, globally.5
Sensor-enabled engineering services have yet to reach their full maturity and scale. A significant barrier is how to procure the right technologies, like cloud and data analytics, that enable IoT use cases to take effect. Another is a lack of understanding of how to capture the true value of the solution, once implemented. Value is often created by ecosystem partners that offer benefits such as lower transaction costs, fewer defects, innovative business models and other organizational health improvements.
In this research, respondents are keen to partner both for assistance in procuring the right innovation technologies and for ideation on the correct strategy to adopt. Partnering is less sought for devising a clear vision and road map for innovation. Firms leverage engineering expertise when innovating digital products, along with reengineering the product life cycle in-house and adopting new IoT-led solutions. We also see many firms adopting platforms for agile, software-enabled engineering, though some don't have the insight yet to negotiate this route.
Another challenge for firms is archaic legacy systems and processes. Many of the enterprises in our research are solving this problem by using a brownfield approach to innovation: using a gateway connection to the cloud and thereby bringing IoT to life in the enterprise. As noted, if approached carefully, such a transformation can engender quick wins for firms that still want to use their old IT systems.
A further finding in our research is that consumer technology, particularly with regard to ease of use and simple, fast interfaces, is having a high impact on B2B businesses, affecting more than 90% of those surveyed. Firms must disguise highly complex back-end processes with candid, open interfaces that allow individuals using software engineering to truly understand the data captured by the sensors.
Finally, the use of agile is a must for firms looking to innovate the enterprise. Teams must have the full swathe of capabilities, and there must be a focus on the people element to bring new, cost-effective products and services to market faster.
This new connected world will change the way businesses derive value from their information sources. With data analytics, AI and the cloud growing in importance, firms must keep an ear to the ground, think big, start small and walk boldly into the future.
References
Using smart sensors to drive supply chain innovation, Deloitte.
Forces of change, Deloitte Insights.
McKinsey – The Platform Play: How to Operate Like a Tech Company.
McKinsey – Tech-enabled disruption of products and services: The new battleground for industrial companies.
Ibid.
Survey methodology
In March 2019, Infosys commissioned an independent market research firm to conduct a survey that involved 154 interviews with senior leaders from companies with more than $1 billion in revenue. Respondents hailed from Australia, Canada, the EU, New Zealand and the United States of America.