Brilliant Basics Edition Podcasts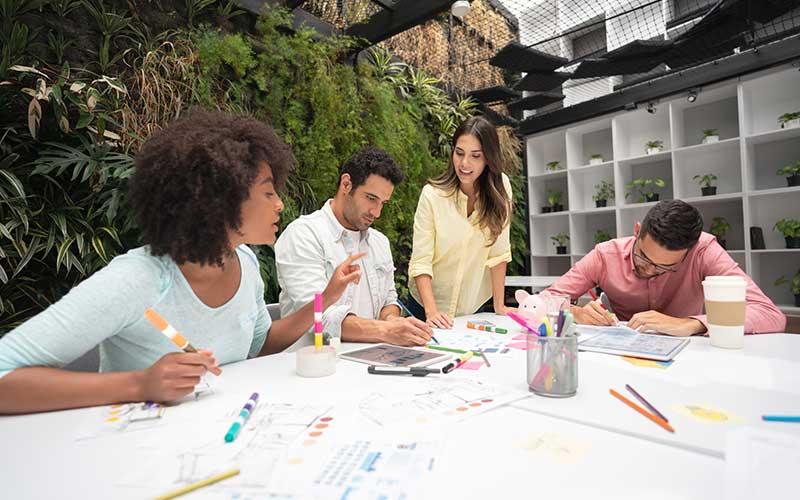 Ben Ingram on Connected Spaces

December 04, 2019
Ben Ingram, Innovation Lead at Brilliant Basics, discusses the symbiotic relationship between physical workspaces and employees. The discussion covers how connected workspaces can help to engage employees, benefit businesses and our environment.

Hosted by Anand Verma, European Head of Digital Services for Infosys and Founder & CEO of Brilliant Basics, Infosys' Design Studios.

"Without people, our clients, these organizations are just a collection of buildings and assets. It's only that when we connect with those people, those employees that we become something living."

- Ben Ingram
Show Notes
00:25

Ben talks about his role in Brilliant Basics

02:32

What is the meaning of connected spaces?

03:31

What does Ben hear from his clients? What are the asks they have with regards to spaces and how it helps them achieve their goals, be it financial or employee engagement?

05:31

What about the idea of IOT and all these spaces are basically plugged in with so much technology, some are old, some are new. Does that create more opportunity for connected spaces in Ben's view?

06:12

What are the specific objectives organizations are asking to be achieved while taking their spaces to the next level in terms of evolution?

09:11

What are some of the misconceptions about the connected spaces?

11:08

Ben shares an example of a truly connected workplace.

12:48

How do you go about creating a business case that allows an organization to take a leap frog in terms of connecting their spaces, which is better for employees' engagement?

13:34

Is there an environmental opportunity impact connected spaces can bring for organizations to think about where they're contributing to the betterment of the society and the environment?

14:39

Anand and Ben talk about remote work and how less people want to work in an office. How it affects organizations' decisions to invest in connected spaces?

16:00

Ben talks about the technology solutions that can be leveraged in making spaces connected to create the impact.

19:29

What's Ben's favorite book and why?

20:11

Ben shares his vision for connected workspaces and final thoughts about this topic.

21:43

How can people find Ben online?

Anand Verma: Welcome to this special edition of The Infosys Knowledge Institute and Brilliant Basics podcasts. I'm happy to be joined by Ben Ingram, who's the innovation lead at Brilliant Basics. The topic today is connected spaces as well as we'll cover a bit about our contribution towards carbon. Welcome Ben to our podcast.

Ben Ingram: Hi, thanks for having me.

Anand Verma: Ben. Before we start, just tell us a little bit about your role at brilliant Basic.

Ben Ingram: So my role Brilliant Basics is to really work with all of our discipline leads to ensure that we're bringing the best of not just our offering, but the entire infosys ecosystem to the challenges and opportunities faced by our clients.

Anand Verma: So the topic today, Ben, is connected spaces, which is absolutely taking a lot of attention from all aspects of various roles, industries, technology is clearly disrupting this space as well. And in addition, there is a lot of excitement about what technology can do within the space of physical space for employees, but as well as for the environment. Do you have anything to add here before we start the topic in further detail?

Ben Ingram: I think has a subject that's been popular ever since Hollywood showed us what our homes could be at the click of a finger or the press of a button. It's only today that we're really starting to understand the true value of a connected space and the relationship between spaces and the people that inhabit them.

Anand Verma: Absolutely, and Hollywood showed a lot of futuristic space a long time ago. Do you believe that some of those things are coming to reality now than what was possible 10 years ago for example?

Ben Ingram: I think we're starting to see some application of things like holograms for entertainment purposes, mixed display units that are making our spaces slightly more interactive and more and more today obviously what mixed reality is allowing us to do to turn previously static spaces into something far more dynamic.

Anand Verma: So Ben, you know we talked about future work in a previous episode and the way we talked about future work is digital, physical and emotional. Today we're going to focus on the physical part of it, right? Where spaces are becoming incredibly important to enable people to do well in their work environment. You call this as connected space. Do you want to just kind of unpack that from a definition perspective for me?

Ben Ingram: Yes, so as you quite rightly said, it trickles down from our definition of the future of work and that paradigm shift whereby we're no longer building organizations and molding people to them. We're structuring our organizations in a way that every single person that works for them can shape their experience in the way they choose to and the way that benefits them and spaces should be no different. We need to adapt to what is a rapidly evolving type of work, whether that be the geographical place people work or the more dynamic roles they're performing throughout their days.

Anand Verma: What are you hearing from the clients? Because I'm pretty sure in your role of innovation lead, you're meeting a number of clients. Given our focus on future work as a practice, what are you really hearing from clients? What are the asks they have with regards to spaces and also if you can elaborate further around how it helps them achieve their goals, be it financial or employee engagement?

Ben Ingram: Yeah, so you made the point just their financial. The conversation often starts with how can we better understand our buildings, our facilities in order to reduce our overheads and in some cases increase the experience of our employees. As soon as we start to investigate that subject a little more, they start to realize that making this a more symbiotic relationship between space and employee and in fact the business, is where the real benefit is. And I think we'll talk later about putting the multiplicity of involving your entire workforce rather than just the physical assets you own.

Anand Verma: And when you say employees, the employees are also changing dramatically, right? So there's a shift in millennial employees coming into workforce. For example, a generation Z is being a big part of the employee acquisition by many brands out there globally. Is there a different ways of working that they want to bring into organizations that lot of organizations are not ready to provide? Are you seeing that as well in terms of your briefs and your conversations with clients?

Ben Ingram: Most definitely. And you know the best example of this doesn't even involve a millennial. I was speaking to a highly reputed university just last week who have lost two of their best lecturers because they don't provide the most basic of digital capabilities in their spaces. Being able to share contents of screens easily, being able to communicate with the students that are sharing the rooms with them.

Anand Verma: That is interesting. So this is not just for commercial organization. This is for educational organizations are going through the shift as well.

Ben Ingram: Yes. We're seeing this across the board. It's big corporates. It's education and of course production and manufacturing based.

Anand Verma: Ben what about the idea of IOT and all these spaces are basically plugged in with so much technology, some are old, some are new. Do you see that creating more opportunity for connected spaces in your view?

Ben Ingram: Yes. That's the foundation of it all. It doesn't matter what we're doing, whether it's connected spaces or a entirely digital product that lives online, we can only act upon the data that we know. There are some unique challenges to a connected workspace. Those of our clients who are building new greenfield facilities, it's fantastic. We can help them define the infrastructure that goes in there, but it doesn't mean that a brownfield site can't work for us as well. The beauty of IOT devices is that the price has been massively driven down. I was talking to someone just yesterday who was worried about their 20 year old HVAC systems. We can very easily connect to those. It's by no means particularly belonging to one of the world's largest systems integrator is no longer a problem.

Anand Verma: Understood and in terms of objectives, because some of these have to be proven to the CFO of the organization in terms of creating tangible value, right? Objectives that we were talking about earlier is from attracting and retaining the best talent to other environmental factors. Can you just shed some lights on what are the specific objectives organizations are asking to be achieved while taking their spaces to the next level in terms of evolution?

Ben Ingram: Yeah, so the first one is always reducing overheads and of course should be. In most cases with connected workspace, reducing overheads will in fact pay for the rest of the project. By understanding how our people use our spaces, which isn't necessarily the simplest of questions to answer, we can better design them as we move forward. When it comes to attracting and retaining talent. I add a third element to that which is enhance that talent. It's not just about giving them the tools they need to do their jobs at a faster rate. It's about giving them the tools and capabilities to develop themselves faster.

Ben Ingram: Then a hot topic for everyone, carbon reduction. Again, this is about having the correct data, being able to act on that, but then what I talk to our clients about is that change ultimately won't come from the organization making a few binary decisions. Yes, you should be choosing an energy supplier who uses low carbon production methods. Yes, you should be cutting down on the amount of carbon that your manufacturing facilities outlay. But ultimately carbon neutrality is going to go carbon zero as we're being targeted to, is going to come from activating every single human who comes in contact with your organization. So when we talk about connected workspaces, it's not just about engaging, it's about educating.

Anand Verma: That's a good point Ben. And in terms of, I'm sure you're not having just a straightforward conversation with clients where they're just saying, "Hey, can you please help me take my existing facility or property into the next generation?" I'm sure there are a lot of misconceptions out there where that may be causing inertia for organizations to move from A to B in a fast way. So what are some of the misconceptions, some of the challenges we you see in conversations with your clients, with analysts, with regards to spaces generally, but also connected spaces?

Anand Verma: And I'll just add a little bit more, kind of a color to that. A lot of my clients ask me, "Hey, we would like the, we work kind of spaces. Can you please help us kind of design something where there is a we work kind of element but also keep the culture and the core purpose of my organization?" And the reason I throw we work in there is because in itself I sometimes find there's a misconception about it in terms of what spaces generally do for employees. So I'll just kind of hand over to you talk about the misconceptions, some of the problem statements that you're seeing from an organization perspective.

Ben Ingram: So the first misconception is that you can buy a connected workspace off the shelf. Unfortunately you can't. We hope to one day be able itself or something similar but it's not quite there yet. What you need to do is first an analysis on what systems do you have in play, and I think anyone listening to this will be able to look at their own organization, compare it to someone they know and even the most similar of companies and quickly be able to identify the different systems that you have in place. It's by no means a end to the game. We're fortunate to live in an age where APIs aren't too much of a problem to come across and we can push and pull the type of data that we need.

Anand Verma: And do you see one of the misconceptions, I was a Property Tech conference yesterday and we talked about some of the technology is also quite archaic. Having a physical technology versus digital technology have different kind of lifespan as well. Do you see a misconception is, we can't use our existing technology investment in terms of buildings and facilities, so we have to kind of change things or do you see that as an unutilized opportunity for someone like us?

Ben Ingram: Most definitely. So when we talk about connected spaces, we talk about adding an experience layer on the top that's driven by a simple amount of data analysis below it. We don't want to be ripping out all the existing infrastructure, whether that be physical or digital. We want to be leveraging the data that you're already creating. We want to be adding to that data pool where we can through the addition of connected devices, crunching that down and working out how can we leverage what you've got. We can always build on it in the future, but let's start with what you have in place already.

Anand Verma: That's interesting. With regards to a Cisco grading the first connected space back in 2013 and I'm sure you'll talk a little bit about that, who is actually doing good connected space thinking and are there any examples that you want to share from your research that might be useful to share with our listeners?ptions about this particular topic that is employee experience or future work and also why do organizations get it wrong?

Ben Ingram: Yes, so we finally have the first, I think what we could call truly connected workspace. And the nice thing with this example is it was created by two of our great partners, Microsoft and Johnson Control. Ben IngramA, who are a great organization out in the UAE, headquartered in Sharjah are one of the world's only companies dedicated to simply improving the quality of human life on earth. They've launched a fantastic building designed by the great Zaha Hadid, that caters to the every need of the people who are going to habitat whilst taking the data from their activities back and using that to forecast its own requirements and then generating its own heating and energy requirements, and shifting in fact its own layout and application of services based on the changing requirements of those people inside it.

Anand Verma: For our listeners, you're listening to the Brilliant Basics and Infosys Knowledge Institute podcast where we're talking about connected spaces as part of our special edition focused on future work and digital disruption. I'm here joined by Ben Ingram who is the innovation lead at Brilliant Basics. Ben let's move on to some of the tangible benefits, right, and this is something that you have shared with me in past, which is connected infrastructure can provide a 30 to 40% reduction in maintenance costs through more accurate monitoring and forecasting. Can you just elaborate on how do you go about creating a business case that allows an organization to take a leap frog in terms of connecting their spaces, which is better for employees' engagement?

Ben Ingram: So there's of course a spectrum of solutions here, but if we look at either end of that. In the short term, it's about forecasting problems before they happen. The more we can know about an asset and its life cycle, the better we can forecast when we need to fix it. This means that in a very simple scenario, rather than wait for two devices to be broken and have to fix them at the same time, we can schedule that in advance and make sure we're making the best use of our facilities team.

Anand Verma: And in terms of there's a lot of discussion going around purpose before profit. How do you create a purposeful company? Do you see there is an environmental opportunity impact connected spaces can bring for organizations to think about where they're contributing to the betterment of the society and the environment?

Ben Ingram: Most definitely. And there are so many ways in the purpose and profit coming together, but simply at a national level, being more green is better for your taxes and the costs you're paying as a business. At the other end of the scale, people are more likely to want to engage with you and work for you. There's such a large awareness now of environmental impact that organizations have on the world that people simply will walk away from roles where they don't feel their company have the best interest of the world at heart.

Anand Verma: Do you mean by, not just for an oil and gas company, this could be applied to any kind of organizations who are using space in such a way that creates a better value and purpose for society generally?

Ben Ingram: Definitely. I think you just need to look at the case studies whereby organizations that historically would fly their executives around the world for every single meeting they need and in some cases travel multiple countries in the space of a day are now being looked at and asked, why do you need to be there in person? We've got such fantastic VC functionality that you don't need to leave your office and you can save on that high carbon emission of that journey.

Anand Verma: Why would organizations invest so much in connected spaces where the lot of people are actually deciding to work from a coffee shop or from home and other remote of places? How do you kind of unpack that if somebody is asking that difficult question about only 50% of the staff in next 10 years will come to the office and other 50% will be working remotely?

Ben Ingram: I think it's because some of the highest value and most specialized work is still being done on a physical premises. If we look at those two things independently. When we talk about highest value work, we talk about the evolution of work and the role of human beings in this compared to robotics and artificial intelligence, is human beings are still being focused on problem solving. It's what we're fantastic at. It's what artificial intelligence hasn't necessarily taken command of just yet. And problem solving means bringing a group of people together and providing an environment that inspires them and enables them to address the challenges that they face. The other case study, highly specialized work. So here we could be talking about science, engineering, manufacturing, where your conducting very complex tasks where you need the assistance of robotics, different computer systems, and you need your space to not only help facilitate that but quite often keep you safe.

Anand Verma: That is interesting. And you kind of delved in the technology area and I just wanted to kind of talk about the type of technology or technologies that can be leveraged in making spaces connected to create the impact that you just kind of alluded to. Can you just elaborate on some of these solutions, some of the technology, some of the use cases where our listeners can actually visualize what connected space can do for them? But also leveraging existing and new technology assets that they might be interested in.

Ben Ingram: So the first solution is the one that's most familiar to all of us. It's in the Palm of our hand and it's our mobile phone and it's very simply connecting all the services we offer to our employees, to them through the most accessible interface, allowing them to book meeting rooms, find one of their colleagues, order lunch ahead of time, or even pick a parking space before they arrive at work all through their mobile phone.

Anand Verma: And if I can paraphrase that Ben, what you're saying is that technology investment is one thing, but the stitching it all together with the employees in mind changes the experience completely. Correct?

Ben Ingram: Yes and this is where we've been investing a lot of our time recently is looking at the user experience design of these applications. You're taking a quite number of disparate use cases from navigation, to booking a parking space, buying lunch, booking meeting rooms, finding your colleagues, and in some cases, emergency situations where we're having to guide people through quite a complex set of instructions to ensure their safety. Our teams have been looking at how do we tie that all together into a single interface that's not confusing and serves up the right content at the right time?

Anand Verma: That is interesting because what you're doing there is giving the power back on employee's hands, which means that with the better experience, they're able to engage with those applications, those features, which in turn makes a huge impact to the outcomes, but it's almost gamifying isn't it Ben? Right? You're gamifying the whole experience and there is a, clearly there is a better safety, better impact on environment, there's a better community impact. Do you see gamification as a big part of making this change at work but also when they leave work they continue to continue that behavior at home?

Ben Ingram: It's core to it. A tool is only as effective as it is used and everything we designed digitally has onboarding, has the marketing of that product in mind. How do we get people to use it and then how do we make it sticky? How do we provide value to people every day so that they come back and engage with it? In a lot of cases, we're actually leveraging carbon for this. It's something that everyone not only cares about but actually should be considering given the effect it's going to have on on their world and their health. So every interaction you have with this application, with your workspace has a point system associated to it, dependent on the amount of carbon that you're saving. So choosing to carpool in with someone, for example, is going to earn your number of points. Picking a meeting room that's on a floor that's already been heated up rather than in another part of the building that we're maybe not using today, it's going to earn your points.

Anand Verma: You don't see this far away. This can be done today.

Ben Ingram: Definitely. We're already working on a number of engagements and developing this front end in space and looking at how we connect to the infrastructure.

Anand Verma: We have a tradition in our podcast to ask the guest about what kind of book they're reading at this point in time and why?

Ben Ingram: So it may be somewhat of an ironic answer for someone who works in innovation, but I think Yuval Noah Harari's thinking is fantastic and it's his assessment of the human race and our reactions to technology through the ages. It's just never been enough. We're always chasing the next thing, whether it be fire or the fact that the internet, this fantastic thing is now considered a basic human right, I think just goes to show how our appetite is not changing. And with all these things we're doing, all these innovation projects we're working on, we can never assume that it's going to be enough. The day after it's installed, it'll start to become habitual. We need to be looking onto the next thing. So for me that means building everything with growth and change in mind.

Anand Verma: That is so interesting and it's completely in line with what we're talking about as well and everything we do at Brilliant Basics and Infosys is about human centricity. So I'm glad that that book is quite relevant even though you think it's not. So it's we're at the end of our conversation, Ben, and I'm going to give you a few moments to talk about the connected space, workspace vision that you can set for our listeners so they can aspire to be that. I'm excited about Brilliant Basics and Infosys teams working together on this to bring the best of our abilities to create a connected space that truly adds value for organization but also for the environment. So over to you Ben, to talk about the vision and any final thoughts you have about this topic.

Ben Ingram: Yes, so take some of your words that you kindly offered up there. Our vision is very much to create a connected workplace experience that educates and continually engages employees whilst benefiting them, our business and our environment. It's that symbiosis, it's that multiplicity of activation that's going to reap rewards for our clients. Without people, our clients, these organizations are just a collection of buildings and assets. It's only that when we connect with those people, those employees that we've become something living, we become something growing that's not only going to ensure the future of that organization, but it's going to develop those people into better versions of themselves and it's going to help them and everyone around them secure the future of our planet.

Anand Verma: That's fantastic and it's a great way to end the conversation as well. As people want to learn more and engage more with you and your practice, how can they find you?

Ben Ingram: They can search me on LinkedIn Ben Ingram of Brilliant Basics and find some of our latest thinking on our medium channel, it's BB_futures.

Anand Verma: You can find the details on our show notes at infosys.com/iki in our podcast section. Ben, thank you for your time and a great discussion.

Ben Ingram: Thank you very much for having me.

Anand Verma: Everyone. You're listening to the Brilliant Basics and Infosys Knowledge Institute podcast where we just talked about connected spaces. Thanks to our producer Yulia De Bari and the entire Knowledge Institute and Brilliant Basics team and until the next time, keep learning and keep sharing.
About Ben Ingram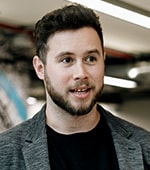 After training as an Engineer Ben began work in the creative industry, designing customer and employee experiences for clients including major automotive, retail and property brands. As Innovation Lead he is responsible for shaping opportunities and leveraging emerging technologies and insights to deliver future-facing solutions. Having delivered work across Europe, the Middle East and Asia he has great insight into working with diverse audiences.
Selected Links from the episode:

Connect with Ben Ingram: LinkedIn
Medium - @bb Futures



Read this: