Brilliant Basics Edition Podcasts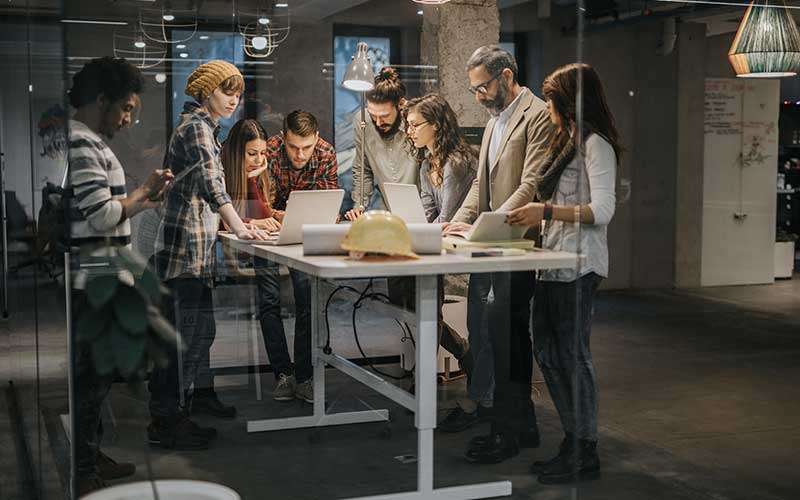 Christian Contemori on the Meaning of Innovation

December 20, 2019
Christian Contemori, UX Lead at Brilliant Basics discusses the meaning of innovation and how innovation can be built inside culture. The discussion covers the story of the first companywide hackathon, creativity, randomness and how to build sustainability inside innovation.

Hosted by Anand Verma, European Head of Digital Services for Infosys and Founder & CEO of Brilliant Basics, Infosys' Design Studios.

"Sometimes innovation just comes into being, it just emerges without too much previous or prior planning, but that is more like a serendipitous innovation that's harder to plan. If you discover things then you should be quick at bringing that knowledge in."

- Christian Contemori
Show Notes
00:48

Christian shares his background

06:05

What is the meaning of innovation in Christian's mind?

08:58

Christian shares his thoughts on innovation as a service.

13:17

Christian is talking about a recent large-scale hackathon that he organized in the company.

20:33

Anand and Christian talk about "randomness" in innovation.

23:12

Christian shares his key takeaways from the hackathon experience

25:56

What are some of the misconceptions about the innovation and the reasons why it can fail?

26:51

What is the metrics to measure success?

29:35

Anand and Christian talk about the concept called "T-shaped people." Which skills are important?

32:40

Anand and Christian talk about sustainability and how to build it inside innovation.

35:41

What's Christian's favorite book and why?

Music by Ruhan Verma, 13-year-old upcoming Drummer and Producer

Anand Verma: Welcome to this episode of the Infosys Knowledge Institute Podcast, Brilliant Basics Edition, where we talk about the future of work and digital dissruption. And what is digital disruption without innovation? We'll talk more about the topic in a second. My name is Anand Verma, and today I'm happy to be joined by Christian Contemori who is one of our UX Leads at Brilliant Basics based in London. The topic today is Innovation, Mindset and Approach. Welcome Christian.

Christian Contemori: Great, thank you for having me.

Anand Verma: Pleasure. Christian, before we start the conversation about Innovation, Mindset and Approach both outside as well as in Brilliant Basics, our listeners would love to know more about you, where your background, where have you come from.

Christian Contemori: Yeah, sure. I think my surname gives it away a little bit, so yeah, I'm originally from Italy and I moved to London six years ago for a completely different reason than UX. I actually moved after my degree, which was in finance, interestingly. The reason I moved to London was to seek a career in the music industry. I'd say that went quite well because I was quite acquainted with intellectual property and industrial law, so I wanted to work in the management side of the music industry. But in order to start you need to know someone, as it happens. So I started as a sound engineer because back in Italy I was a music producer so I knew I had to move faders up and down basically.

Anand Verma: You knew the tricks.

Christian Contemori: I knew the tricks of the trade and that got me in touch with some people in the music industry that owned record labels and I started. And at that point I worked for a music startup in a startup accelerator. I think there was a connection with the theme as well and that's where I came in contact with the topic of UX. That was about four years ago.

Christian Contemori: I was so fascinated by how impactful it is, product for a service, and the passion of the UX leader was at that time leading the UX of the startup and he was my mentor and from there I started and then I decided to take on a master's degree, which was in the human computer interaction which is the academic more theoretical background behind user experience. So you study everything from computer science to cognitive science, data visualization, other topics like interaction design or inclusive design. Basically my career just had a massive acceleration and that was about that time that I joined BB. So now I be part of the staff at BB for two years, but longer than that, maybe two years three months and very happy to be here. Very happy to be part of it.

Anand Verma: Amazing! Christian, every day it surprises me things I learn about people. We have 150 people in the company and I always believe that our 150 people are somebody's 1500 people because the way we are, the dynamic skills that we have grown up with and learned as well, things we learn here, the opportunity it gives us every day here as well, including myself. I really admire your shift from being part of your parents' restaurant and helping out since you were a six year old like you said just before the podcast started, to doing finance, and then sound engineering and production to going and working for a music company, to study. How old are you?

Christian Contemori: It sounds like I don't know what I'm trying to do.

Anand Verma: I think it sounds like you know what you're doing and you've decided to kind of take a path that is very much proactive path-taking from what I hear from you.

Christian Contemori: Yeah, absolutely. Just to answer your question, just turned 30 last month.


Christian Contemori: Yeah. Moving on swiftly because I'm not going to talk about my age at this point.

Anand Verma: But it's a remarkable journey and I'm sure all of these things you've learned actually helps you everyday in some shape or form in terms of the projects you work on, in terms of people's reliance on you to help them kind of come up with an answer and what have you. So all of these are additive kind of skills and I always believe that, especially the world we're living in where one skill sets are not good enough, changing swim lanes constantly is the way forward for everyone and that's what digital natives are all about. Would you do you agree?

Christian Contemori: Absolutely. I think one of the most important words, or verbs, that I learned through my experience in the digital world was, pivoting, not just because it wasn't a startup world, but also pivoting from on a personal level, which is exactly what you said. I think that's really important to understand where you want to go and how you can move without the fear of not knowing where you're going. I think the definition of pivoting is you always have solid stake in the ground and you just turning around that sort of stake and that is what people should aspire to be. Having a solid grounding of knowing where your knowledge sets and then you can swivel around that knowledge. And that's how I normally do things and that's how you reduce uncertainty sometimes because you being an entrepreneur you may not as averse the risk as other people, but that's how you may manage risk and how you manage uncertainty.

Anand Verma: Yes, I agree with you and I think that's a nice pivot into our topic as well. The topic today is Innovation, Mindset and Approach and before we go into the topic itself I think I'd be good to just spend a few minutes talking about what innovation actually means. Recently, what we have seen is a lot of companies going out of business, if you look at Thomas Cook went out of business few months ago, we have had Kodak storey, we have had storeys from Blockbuster and all of these companies were innovative companies but they forgot how to innovate fast enough with the customer focus and customer centricity. And then we are positive stories like Apple which is a company started in its seventies or early eighties to what it has become as a company from innovation perspective and it just created an innovation industry around Apple products for example. I would love to hear your thoughts around what innovation in your mind means. Just from micro perspective and then we'll come down to you know how we kind of a dig this idea forward in a company like BB but also for our clients.

Christian Contemori: Yeah, sure. I think innovation for me is about taking that idea onto a certain degree of visibility and then get available to people so that they can understand that there is a new thing that is happening in the world at that point in time and obviously there are different degrees of innovation. I think what we're talking about here is more the kind of disruptive one as opposed to the incremental one. I definitely agree on what you said, that if you don't know how to leverage that as a company you're doomed. Also is it's the whole system we live in. I don't want to say companies are forced to do innovation because if I was to say that then it would feel like there is no motivational passion just because, "Oh, that's the force of the market that is driving the need for that."

Christian Contemori: And I believe innovation stems from the people you have inside a business and not necessarily from just how a business is organized. I think those two things need to come together and hopefully we can talk about that a bit more later, but innovation in my opinion, because it's just not an idea, the important aspect of innovation is how to bring the idea to implementation and how you deploy in the real world, which a lot of companies don't know how to do. A lot of companies know how to maybe build on top of an idea but don't know how to leverage and scale. And I think that is where the trick is. You just need to understand the forces as opposed to just going into one single direction.

Christian Contemori: And that's where the force of collaboration, having a right team of people that can share that attitude of... It's just the idea creation, but how do you critically look at yourself and how much of a problem solver you are. Everyone should be equipped with the idea of being a problem solver and not just a designer. So that's my idea, how do you distribute that inside a business? How do you make innovation part of the DNA of every single person and the DNA of your business?

Anand Verma: I completely agree. And you mentioned something about incremental innovation and the more and more we talk to our clients and the way we think about it is it's something that organizations should have as part of their DNA, but that doesn't mean they're going to be creating disruptive innovation in their organization. You also mentioned things about the mindset shift. So innovation has to be outcome-driven, but it can be fail-proof so you've got to have the mindset of allowing people to fail fast and I'm hearing a lot of this terminology learn fast rather than fail fast because fail in some countries and some regions are negative connotation rather than positive. Then the idea of breakthrough innovation or disruptive innovation is what we're going to focus on today. One thing I'm really interested in is, a lot of companies, consultancy companies, go and provide innovation services to end clients, but they themselves haven't innovated their own ideas on ways of working. And one thing I'm really proud of is whatever we preach to our clients we actually practice at BB first.

Anand Verma: So how do you create innovation culture within the company that's providing innovation services to its client is one of our bigger objectives or challenges. And before we get into the nitty gritty of this, I've always considered Brilliant Basics as a product which means that it's got to iterate every year or two years so that we are market-ready and market-relevant. So I would love to hear your thoughts Christian, how you are thinking about innovation as a service, as an offering for our own employees, our own people first, and then what it does is kind of creates this cadence of innovation for our clients.

Christian Contemori: Absolutely. Because I'm in the business of experience what I have seen in many cases that companies that offer a service are so detached from their customers sometimes that internally you could go and ask someone to tell you how the life of their customers is and they wouldn't be able to answer that question because they're detached from the end side of things. Whereas we as Brilliant Basics, one of our pillars is the future of work therefore we need to live and breathe future of work here in our very business to be able to then bring it out and, I don't want to say praise it, but obviously show it to clients, "That this is how we're doing it." And I've been part of pitches that started with a very interesting footing which was, "Here is your problem. This is what we're trying to solve, but listen about our story. Here's our story." And this is how we did it in our company which is an interesting take over a pitch as opposed to just telling you what we're going to sell to you or what we're going to do for you.

Christian Contemori: This is something that we've applied in our business. So absolutely, I second what you said there and I think you need to know how to increase awareness, you need to know to know how to empower people to make decisions and as you said, to feel free to fail or learn, that there has to be a community or a sense of freedom in the sense that, "I can fail or I can try things without fear of repercussions over me." And I know of multiple businesses that do that, Google being one of those, that try to give their employees tools and the time that they need to try and iterate on things and even fail.

Christian Contemori: But you can actually measure that, you can actually measure how people feel, how free they feel to to be capable of doing that within a business. I think in one of my courses in my master was exactly about that. How do you measure the creative environment? And one of the metrics in the creative environment you can measure is exactly that. What is the advocacy to trial and error, and what is the perceived sense of risk, right? You can measure those things and then you can give your company a score on how creative your people are based on that. There's more at the metrics I'm not going to go through all of them.

Anand Verma: That makes a lot of sense. What I like about what you're saying is that we have the responsibility to define the future of work ourselves first before we define it for our clients and our partners. That kind of clearly comes out, which means that we have to be experimental ourselves, but experimentation within parameters built in there and that those are the KPIs you're mentioning that we should keep in mind. Some of those KPIs might not exist already so you kind of define those new KPIs with the team members of the company. But I think creating the MVP of what we'll share with our clients is a big part of us innovating as a company. That's a takeaway-

Christian Contemori: Absolutely.

Anand Verma: ... that getting from you and just to bring that to life a little bit Christian for us, the way we have designed this space, ensure the way we have implemented the future of work ideas, none of them existed as a template before so we have trialed here and some have worked really well at least we're reiterating. And one of the things you have been leading at Brilliant Basics is this whole concept of how to make our lives better in the company where the problems and solutions identification happens by ourselves. And these problems could be a digital problem, it could be a physical design problem, it could be an emotional and wellness problem. So you recently led pretty large scale hackathon in the company. I would love for listeners to learn or listen to you about how you went about it.

Christian Contemori: I'll start from the inception. So I started a champion, this UX meeting within the company that we do on a biweekly basis, and we started talking about hackathons and how we'll stir creativity in the business and it was at that point where we started thinking about themes and potential ideas to bring to the hackathon, how we do it, how we organize and all that. But I think the turning point happened when I then came to you and said, "Oh, this is what we would like to do." And your first thought was, "Why don't we open this to the entire business?" Right? "Why don't we take ideas from all around us and not just the UX team." And I absolutely thought like, "Yeah, exactly. That's right. We need to think about everyone." Otherwise, what you have as a consequences that if you were to advertise that within the company, the UX team has thought about doing a hackathon, it's very likely for the UX people to be that, but maybe you're not going to have other departments that are so involved in it. So that was a great idea.

Anand Verma: And just to kind of add to that Christian, as well, that UX leading this meant that it was user-driven and going across domains meaning that everybody's part of and that the users life's kind of better from your point of view, right?

Christian Contemori: Yeah. So that was exactly the point. And what we did, we use one of our town halls, one of our quarterly town halls, to do a company-wide workshop in which we gathered people, challenges pain points, and even opportunities within the business around some key themes. Some of them being empowering the workforce, or how do we make sure that the DNA of Brilliant Basic is weaved all around what we do. Well, digital wellbeing or physical wellbeing were some of the themes. And then once we've gathered all these inputs then we've done some Affinity Diagram Analysis and we came up with three core concepts that we could bring on to the actual hackathon on the day.

Christian Contemori: And those were around empowering the workforce, so how do you make sure that there is a communication going on between the people within the business, but also giving a constraint because a hackathon, you want it to be really creative and pushing ideas, right? So basically one of the constraints in the theme was try not to use too much of a digital platform or technical support to bring your idea to life. So we have to think lateral, a bit outside of the box. Barriers-

Anand Verma: Barriers yeah.

Christian Contemori: ... basically. It could be anything, it could be physical or it could be a new way of communicating with the people. Another one was wellbeing. So how do you support digital, sorry, mental and physical wellbeing within the company, which was a great topic that a lot of people actually mentioned. Another one was around the DNA so how do we tell the BB story not necessarily just using our digital supports and decks or presentations or website. How do we do that in a different way? Which I think is really connected with what we were talking about earlier which is, how do you then communicate that externally? How do you communicate this story of BB to your clients and to the people that want to interact? So that led to the hackathon, I think 40 people took part, which is good. Obviously, it was the first one we were doing we called it, Hack to The Future, with a really nice kind of retro feel to it. Did all the poster, obviously everything was, back to the future related, but it was a nice punt.

Christian Contemori: So we divided in three main groups. Even someone external came in and someone who hadn't known about the hackathon they said, "I just want to be there."

Anand Verma: Yeah, this story is a good one and sorry to interject Christian but just before the hackathon, we had our Diwali party and we had invited a lot of clients and clients' families and our own kind of families and partners and quite a few people saw the poster on the wall that you had put, which is Back to the Future One, and one I would say teenager, who is actually doing his A levels right now in London, said to his dad, who is one of our clients, "Would you mind asking Christian and about if I can be part of this hackathon." Right? And he's like 17 year old kid. And we said, "Hell, yeah right. That's what we want this to be for." So we're not just inspiring our own people, the other people who are actually being part of this journey and we opened the doors to him to be part of the hackathon.

Christian Contemori: Yeah, I was so pleased when I heard about that, I was took by surprise. And he collaborated with one of the team, probably was the biggest team, and he learned about how we do things and how we go from understanding the problem and deconstructing that problem all the way to implementation. We had one day, we hope in the future we could have maybe a bit more so that there can be that follow up on the execution. One of the team actually tried to build something that kind of worked and that was constructed all around the idea of wellbeing and creating a digital garden within Brilliant Basics. The winning idea was that if you could, at the end of each day, write down three positive things that happened to you and so reflect back on your day. There are studies that actually confirmed that that is a trigger for more positive thinking and for wellbeing.

Christian Contemori: So what we did was connect that to the wider company so that if people do and enter three positive things every day, then they'll be contributing to a digital garden that grows and this digital garden is really beautifully designed with out brand colors and really nice plants. The developer in that team tried to hack it like, "How can we do this garden that grows?" Luckily they did something really interesting and what that does then it creates this community of understanding, right? That you can actually share the community garden, so to speak, so where all the different people's gardens can be merged together and you can see, "Oh this week actually not many people wrote a lot of positive things." Or, "This is a really good week, look at the garden." Right?

Christian Contemori: And it doesn't have to say which one or who did that. It just have this indirect feeling or subconscious idea of, "Everything's going good," Or, "It's not great. It's not that good today." Which is also important for management, right? To understand. What is the mental state of your office.

Anand Verma: Yes. And I would even take a step forward, one of the things that's really getting me excited to be part of a group, like Brilliant Basics and Infosys is, how our actions actually help communities and environment and other volatility issues that's outside our influence, right? And what I liked about that idea was, this is not just about that team, this is about everybody. And somebody said in that team that there's a digital garden that's growing at Brilliant Basics, but potentially we can apply this to all of Infosys as well. But every time there's a garden grown and it's a good week, let's ask the real garden to be planted in places with needs most. So having a bit of a purpose in our work I think makes people's lives simply better not just from a B to C client perspective, but also communities which kind of needs our help and need our skills.

Anand Verma: We're not giving our skills away actually were using our skills to make things better outside. So I was quite pleased to see that actually as part of the idea. And the other thing I wanted to share my perspective on, I was on the judging panel so I can kind of see from the other side, they didn't just randomly come up with the idea, right? They did the research, they presented the Cambridge University Research, they had a lot of data and insight. Then they went into kind of prototyping rapidly, based on that research, and then the idea was emerged. If we use that as an example, it shows that this randomness to innovation, actually there is a structured innovation which sure you'll talk about it, in terms of what are the takeaways. I felt that was the winning component of that idea.

Christian Contemori: Yeah. It's interesting that you mentioned the word randomness because I was actually going to mention this guy, Chris Noessel, who's written quite extensively around randomness and how it helps design, how it helps creativity. He's written about semiotics and the power of symbols, the power of unspoken connections. And I think the sweet spot is how do you connect the ability to generate ideas, even through a random approach, because there are ways that you can actually stir and improve on creativity by, for example, applying random connections.

Christian Contemori: So if you take for example, I'm an ontology or a network of properties, you can then readjust these properties. If you take a chair and you just draw out the properties of a chair, but then you remove the chair and then you just have the properties and you reassemble them, what do you have in the end. Is it a chair still? So that randomness can actually be baked into creativity and I think it has to have a process, right? You have to then understand how you take that onto the next step it can't just be the randomness throughout, right? It will be chaos.

Anand Verma: So there is a different definition of randomness, right? There's randomness in design you're talking about, which is absolutely important and there's focus that should be around the problem solving, I guess.

Christian Contemori: Yeah, absolutely. As you said, how do you connect that and make it into an innovation process? There has to be structure and I think you understand those structures when you do things, when you have you the ability to learn from what you're doing and having hands-on approaches. And that's exactly the ethos of a hackathon that's let's try and do things and that we know how to encapsulate and how to bring that to life through a more structured process, right? So that is just the inception phase and get people excited about things. And then how do you maintain the same level of excitement throughout.

Anand Verma: Christian, from hackathon perspective at BB, what are some of the key takeaways that you'd love to share with our listeners?

Christian Contemori: First one is, it's hard to organize things. As everything I guess, it's important that you keep people motivated and then you give well-defined roles for people to then take ownership of things and organization. And then making sure that you can acknowledge those people afterwards. There's so many useful helping hands that I received and Lorenzo for example, being one of the guys that helped me a lot on the hackathon, but all the UX team really from the initial phases. So that is one key takeaway. Another key takeaway is, how do you tell that this is not a one off? How do you follow up on that? How do you create a culture of beatable success creation? And that is actually probably the most challenging one because it feels like everything builds up to this moment where the ideas are revealed, "Oh, yeah." And everyone's hyped but then it goes down as it normally does in things, you reveal a plot in a movie and then its kind of, "Now I understand the movie or I've seen the movie now I can go home and sleep."

Christian Contemori: So how do you bring that one up again? So it takes constant effort but I really liked the fact that some people came around to me and said, "What do we do now?" And I was like, "Oh yeah, you're right. I need and think of it like we need to get going." Because you tend to get, obviously you're busy with your other project activities and tend to get absorbed by that as opposed to the other work, the other lateral activities and I think having a conversation with you right now and talking to people, what we're going to be doing next week is considering how we bring that idea forward or other ideas that were explored in the hackathon? How do we bring it forward? And also when's the next hackathon?

Anand Verma: Makes sense and repeatability, momentum, consistency, cross domain, all the things that you're sharing is a big part of it. Once again, you're listening to the Brilliant Basics, special series of the Knowledge Institute Podcast where we talk about future of work and digital disruption. We're here with Christian Contemori, one of our UX leads at Brilliant Basics and we're talking about Innovation, Mindset and Approach. The next area that we wanted to explore a little bit more Christian, is the misconceptions about innovation. So I've been in many meetings with many clients throughout my career and they have innovation as one of their core values, but their behavior doesn't show the core value coming to life every day because they're busy with other priorities and what have you but also what innovation actually means. The way they go about it either in their ventures unit or the way the company is themselves. I would love to hear your thoughts on what are some of the misconceptions and also why innovation generally going to fail.

Christian Contemori: So I think there are reasons. The ones that I believe is impactful is lack of alignment with the business. So what you see sometimes is this innovation theater where you have the people within any of innovation lab and they don't know if they should help the business being disruptive or if they should disrupt the business. So they don't know if they should follow, if they should disrupt and what that causes is then obviously a big fracture.

Anand Verma: Do they run a museum or do they want to build things that'll go into a museum? Just to describe that.

Christian Contemori: Right, yeah. That's a good one. And that's what I've seen in the past where big companies try to set up their innovation labs and there's a lot of literature out there on why they fail. So lack of alignment with the business is definitely one. I think lack of metrics to track success is another one. How do you measure success and how you define those metrics and why should they be relevant.

Anand Verma: Do you have a view in your mind as to what those initial metrics could be?

Christian Contemori: I think there has to be some sense of urgency at some point. So how fast you are at kind of breaking the mold. That could be one but shouldn't be seen as an obstacle to innovation. Sometimes innovation just comes into being, it just emerges without too much previous or prior planning, but that is more like a serendipitous innovation that's harder to plan. Definitely without creating that sense of urgency, knowing how fast you are at building upon your discoveries. If you discover things then you should be quick at bringing that knowledge in. So you need to become a designer and a business strategist at the same time.

Anand Verma: Basically you might have tens of ideas, knowing which idea to focus on is also a KPI for innovation

Christian Contemori: Yeah, absolutely. How do you make sense? How do you order and prioritize is another one. Which framework do you use to prioritize even? That's a big one because I think the biggest chicken and egg problem in innovation is, well you don't know if that is going to be innovative until you put it out in the market. You need to have that initial level of investment, and belief, and hope sometimes that that is actually going to make a difference. How do you make sure that you can contain what we were saying before, the level of uncertainty. How do you welcome uncertainty I think it's a big part of it and it goes into the sustainability aspect of innovation, how do you make sure that you're not shaking completely off your trajectory when something unexpected happens?

Christian Contemori: So you have to bake that in at the beginning and that could be a KPI. That could be a metric. I think also lack of balance in the team is another one. When don't empower people strongly enough to make them all problem solvers, where there's someone coming in acting and maybe wanting to kind of lead the conversation all the times, but then leading it in the wrong direction as opposed to collaborating with the team.

Christian Contemori: And what we're seeing, you were discussing Agile in one of the previous podcasts, is exactly that. How do you make the team one team.

Anand Verma: We talked a lot about trust and reliability. So that there is implicit trust between teams to actually deliver value and one person should not let everybody else down. And that trust comes with clear responsibility but also relying on each other.

Christian Contemori: Yeah, absolutely.

Anand Verma: I'm sure our listeners would be interested to know more about the culture part of innovation. So this is where you become an innovation-led company as part of the core DNA. The way you bring people in, the way they operating in the company, the management support in making sure they're successful. One of the key concept of BB from the very beginning is this concept of T-shaped people. So T-shaped for our listeners is, the vertical line of the T is all about the depth of their skills they have and they want to build and the horizontal line is some of the soft skills that makes them connect with other people in the organization.

Anand Verma: So things like critical thinking, things like empathy, things like appreciation of others domains. All those are big part of creating an innovative organizations. Christian, from your experience and having worked in a startup, how do you build this culture of innovation where it's all about learning, right? Rather than, "Oh my God, I don't want to touch it because somebody will tell me off." And that kind of stuff.

Christian Contemori: Kind of big fan of the doctrine that sees culture as conveyed by the behaviors of people as opposed to what people may believe in or what is the culture the business wants to create. Being a line manager myself, I can see how I can support the people and actually create that connection between the business and how processes brought onto the more generic way of doing things and how people actually are. And then injecting that innovation in but leaving people and letting them be proactive.

Christian Contemori: I think being proactive is really important and being a line manager, I'm aware that. The new person can come in and see me and I'm, "Oh, that guy you should be compliant or you should just do as I think he wants me to do things." But actually leaving enough room for everyone that works to be proactive enough and to show where their intuition resides and being able to understand what that intuition is and then empower it with the notion of, "You can bring that forward. You can create using that intuition, you can be innovative." And that's how I'm trying to do things and connect the two planes and the two layers.

Anand Verma: I absolutely love it. And I can underline that further with the Brilliant Basics culture is to be flat, have processes but processes should not define the culture of the company as such. Everyone should have access to everything and everyone should be able to come forward if they have an idea without feeling that, "Oh my God, people will know rip it apart or laugh at it." And I think having that mindset of learning fast and failing fast is part of our culture. Now we are in the business of people and if we don't empower our people then they can't be empowering the clients that we work with as well. So I'm really excited to talk about this. We're coming towards the last section of the discussion Christian and one of the things that's really driving me forward in the digital world that we are in is the sustainability at X environment.

Anand Verma: I really think that innovation can play a major role in making environments, communities better. That doesn't mean that you have to go and plant thousands of trees ourselves, but we can use our skillsets to make things better. And recently in one of our previous podcasts we talked about Connected Spaces with Ben Ingram and how having connected spaces in a Smart way leads to lower carbon emission and then leads to a better environment. How do you stitch the sustainability and all of these great community initiatives in the work we do?

Christian Contemori: Yeah, I think that's very interesting because you can see it as a intention to be sustainable that is driving the push to innovate or is innovation itself that should be sustainable. So obviously you can see sustainability on different levels using social sustainability, environmental sustainability, economic sustainability. I believe here what we're talking about is more like all encompassing sustainability. The way I think the two are connected is, definitely right now what we're seeing is that sustainability, mainly environmental sustainability, is being kind of the driver of innovation and is there also a creativity driver?

Christian Contemori: So if you want to be greener, what do you need to change to achieve that as a success? And I think it's really interesting because it's now part of the practice. What I've seen and what I've picked up is that the intention to be greener sometimes is the very trigger that moves that sequence of events that then bring creativity into being. So they generate creativity and just by thinking about that as a constraint, because sustainability in a sense is a constraint, is a hard thing to achieve. So when you innovate then you need to know how it's going to impact it, right? The social fabric as well. And those externalities are very hard to pick. Very, very hard to pick. Ethics is one of those. Are you aware or how much do you know that your product once it's going to be released, is not going to create negative ripples or it's going to break, some of the major contractual agreements that you have with your customers so, for example, privacy being one of those, are not broken, right?

Christian Contemori: And what I try to do is understand what those externalities can be so that you're working with a product that is innovative for the business or is innovative for the community then you know and you have trust that you can control, to a certain extent, because there's something, there's always something that you haven't foreshadowed, but you can analyze how much of an impact it's going to be that you haven't initially thought through. And that kind of goes back to system design and understanding how systems talk to each other. You need to have that system map and a system notion in your head when you apply innovation because there's always consequences to that.

Anand Verma: Love it. And sustainability comes as a byproduct of that. So Christian, thank you so much for your time.

Christian Contemori: Thank you.

Anand Verma: We have a tradition on our podcast for our guests to talk about a book they like or they're reading at the moment and why.

Christian Contemori: So the book I'm reading at the moment is a book about ethics. Simon Blackburn, How to be Good, but it's a book around the principles of ethics and what ethics mean in the visual world.

Anand Verma: Christian, how can people find you online?

Christian Contemori: If you type, Christian Contemori on Google, I believe I'll come out in the result page. Again, LinkedIn and Twitter, I try to be quite active on Twitter. I'm going to start writing a bit more medium around UX topics. An article that I'm writing at the moment is about mapping and importance of mapping in UX and how you use that to connect business and design.

Anand Verma: Right and also we'll be releasing the blog article for this particular topic we've just talked about. That is Innovation Mindset and Approach. Christian, thank you again and for our listeners you can find the details and our short notes at infosys.com/iki in our podcast section. Everyone you're listening to the Brilliant Basics Edition of the Infosys Knowledge Institute where we talk about future work and digital disruption. Thanks to our lovely producer, Yulia De Bari and the entire Knowledge Institute and Brilliant Basics team. And until next time, keep learning and keep sharing.
About Christian Contemori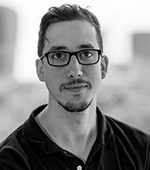 Christian is UX Lead at Brilliant Basics. He has an MSc Human Computer Interaction with specialisation in cognitive science, information architecture, interaction design and usability engineering. He started his UX career in 2015 in digital start-ups and innovation incubators and has consolidated his practice in the digital agency realm and delivered solutions spanning from areas of great systemic complexity such as software enterprise and digital employee experience to the most customer centric implementations of blue-chip financial entities.
In his UX leadership position he has been guiding clients through intensive weeks of workshops as well as defining operational strategy and business transformation. Via design, he has enabled successful deliveries to an overall cumulative project worth and profitability value exceeding £20 million.