Brilliant Basics Edition Podcasts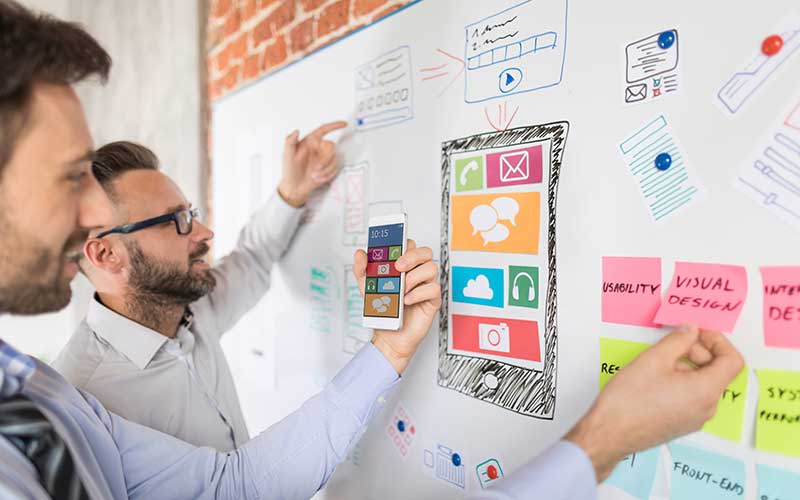 Jessica Andrich on the Role of Research in User Experience Design

March 17, 2020
Jessica Andrich, UX researcher at Brilliant Basics, discusses the role research plays in user experience design. The discussion covers consumer behavior and motivations as well as different research methodologies.

Hosted by Anand Verma, European Head of Digital Services for Infosys and Founder & CEO of Brilliant Basics, Infosys' Design Studios.

"A lot of the time, it's really having to listen during our conversations, making sure that the researcher isn't the one speaking most of the time, but the one listening and absorbing the information, and encouraging participants to know that they're in a safe space and an open space."

- Jessica Andrich
Show Notes
00:51

Jessica shares her background.

02:05

What is research and what are some of the misconceptions that people have about research activity?

02:16

Jessica shares her view on the old way of doing research, and what are some of the new ways that make research an integral part of design?

03:41

How did Jessica get herself into the research domain?

06:57

Design research. So, who are the users and what are the problems that they are facing? How does Jessica go about kick starting a research activity on a project at BB?

08:17

How does Jessica go about applying some of the research methodologies in a completely different jurisdiction? Completely different geographical location?

09:18

Jessica talks about different research methodologies.

11:29

Jessica talks about quantitative and qualitative analysis coming together and giving some insights to how the navigation methodology should be on a website, for example.

12:06

Anand and Jessica talk about strategy.

13:56

Jessica shares her view on where do the research folks sit, with regards to different domains in a design company like Brilliant Basics?

15:21

Jessica talks about the BB London-based usability lab and what are the things that they will be doing in the lab itself?

16:04

Jessica talks about bringing empathy into your research thinking.

18:32

Anand and Jessica sum up the podcast, giving the recommendations to the listeners who are working on a new idea about when to apply research.

20:23

Jessica shares her favorite book and explain why she likes it.

Music by Ruhan Verma, 13-year-old upcoming Drummer and Producer

Anand Verma: Welcome to the Knowledge Institute Podcast, the Brilliant Basics edition where we talk about digital disruption, design and future work. My name is Anand Verma. I'm European Head of Digital Services for Emphasis and also founder and CEO. Brilliant Basics. I'm absolutely delighted to have Jessica Andrich, or, "Andrich," as she told me that I should say in German, who is a UX researcher as Brilliant Basics and amazing soul, amazing person, amazing professional. She joined us today to talk about the importance of research in design activities that we do for our clients and also for ourselves at Brilliant Basics so Jess, welcome to our podcast.

Jessica Andrich: Thanks for having me, AV

Anand Verma: Most welcome. Just before we kick off, the audience would love to hear more about your background. We've come from, you're very well traveled as an individual, so please share.

Jessica Andrich: Yeah, I come from a rather multicultural background. I was originally from Germany, born there, lived there for a few years and lived abroad than in Malaysia, back in Germany, then in the US, which explains the American accent. And I lived in New Jersey and California for a couple of years, did my university degree in California and then moved back to Germany, lived there for a few years, went to study in the United Kingdom, did my grad school there, and stayed.

Anand Verma: That's amazing. That's so cool. You know, it seems that you're very well traveled, you have understanding of various cultures, which is a big part of understanding research as an activity as well. And you know, we are blessed to have you at BB, so thanks for being here. Just you know, topic today is about the role of research, how it has evolved over a period of last 20, 30 years. There's an abundance of data nowadays because of the web and internet and mobile that wasn't there before. The design itself has evolved dramatically in last 10 years in, at least in my career span in last 20 years. And also I believe the role of research has also evolved massively. So, we create beautiful design, get stakeholder buy in, launch ahead of schedule, and it falls flat with your customers and why? Right? Well did you stop and take time to see what they thought about it? Right? And customer is a big part of the research activity.

Anand Verma: Brilliant Basics and Infosys strategy is to put customer at the heart of everything that we do. So I'm so delighted to have you talk about this important topic, which is kind of forgotten by people, and our clients in certain cases. So why did we kick start with what is research first and what are some of the misconceptions that people have about research activity?

Jessica Andrich: So research in the digital context is looking at our users, their behaviors, their mental models, their needs, in terms of the designs that we're trying to create. And some of the misconceptions around research, and there are many, is that it's very academic, that it's slow and it takes a lot of time. It's difficult sometimes to get your users, maybe they're remote and far away, or difficult to access, or vulnerable. There's so many things to consider when you're conducting your research. Other times you want to push a product out very quickly and people see research as is 10 week long activity that they need to do before they can even design anything. But actually research is something continuous. It's something that measures how much of an impact your decisions have made in the project.

Anand Verma: I sat on a board of a research company almost 10 years ago and their business was, once somebody designed something, be it a mobile app or a website, it'll go to a panel of eight to 10 people, they'll give their critique and feedback, the website will be redesigned or changed or in a modified on that basis. And I believe that just like design has evolved, research has also evolved to be an integral part of the design process. Right? What's your view on the old way of doing research in some cases, and also what are some of the new ways that Brilliant Basics and you are thinking about research being an integral part of design?

Jessica Andrich: I'd say the old way of doing research was very waterfall, very linear, right? As I mentioned before, people would spend weeks conducting research in the field in situ, or doing desk research, looking at lots of papers and data and analytics, which is great because it creates a very strong foundation. However, it's not very agile, and that's what we're trying to do today is working directly with the designers, so as we go through our research journey, they can learn from us simultaneously and see how that inspires their designs and their decision making and help structure a more focused approach to solving the pain points that we want to solve for the users. So nowadays, rather than doing just traditional user research, traditional user interviews, we'll use guerrilla tactics. We'll go out in the field and just talk to whoever that we can get to as soon as possible. And it's a creative process as well; we're always trying to challenge how we can change the research methodologies that we use, especially with up and coming technology, it definitely has helped speed up our processes. Eye tracking used to be a thing that we used to do, but it takes a lot of time to analyze that data. And now with the amount of data that we have coming from crowdsource data analytics, we're able to use machine learning to actually predict what the eye tracking results will look like.

Anand Verma: Understood. And what you're saying is, design research is absolutely critical, but in some cases, like we talked about ignored as well, but it's such an important part of creating optimal user experience, right? It allows you to understand complex human behavior. It allows you to create actionable insights to improve your design. It's an iterative experiment or experience if in many ways. And you mentioned that it's very academic, right? And you've studied in California, it started in the UK. I'm sure before we jump into the next kind of research topic, people would love to know what got yourself into the research domain.

Jessica Andrich: Oh, right. So I initially started as a molecular cell biology major.


Jessica Andrich: Totally different. But I loved this component of studying the mind, studying behaviors. And I was very attracted to this different course called Cognitive Science where you combine Psychology and Neuroscience and Computer Science together, and it just so happened that my university that year also opened an innovation studio, and I got to see how you can apply this in the real world ,and in industries. So when I graduated, I wanted to learn more about it and that's why I did a graduate degree in Human Computer Interaction, and that was very research focused. That was very much looking at, how do we push the boundaries of innovation in all different sectors?

Anand Verma: Wow. I feel really small right now because from molecular biology to psychology to research, I think it's a pretty scary stuff. That's kind of allows me to think about, "Oh my God, why didn't I study some of these things when I was a lead my education?" But I'll leave this to you from your expertise perspective. Going to the next topic, let's talk about what is design research? So who are the users, what problem they are facing, how are they going to use this product or the app? How do you go about kick starting a research activity on a project at BB?

Jessica Andrich: It always depends on what the ultimate objective of that project is. The user is definitely at the core of what we do, but so is our client, and we need to navigate these two spaces to make sure that we first identify: what are the objectives? What are the challenges that we're facing? and work backwards from there. So the objectives will help frame exactly the questions that we need to ask, because you always want to be asking the right questions early on. And from that we also understand who are the users that we need to ask those questions to. And working further backwards from that, then we understand the framework in which we're working, in the limitations that we have, which will ultimately determine the methods that we need to apply to get to those objectives that we ultimately have. So it keeps us very focused, very on track, keeps us moving quickly.

Anand Verma: And you're working on a project right now for a Saudi Arabian company. How are you going about applying some of the research methodologies in a completely different jurisdiction? Completely different geographical location?

Jessica Andrich: Right. That's a great question. So we're working with a FinTech startup that's looking to disrupt the market in Saudi Arabia. And the way we've approached it is again, looking at the challenge that they're facing, the vision that is set for 2030 which is far away, but we're looking at the roadmap of how do we get to that space and working backwards from there. So some of the things that we have to keep in mind is, market research, user experience, research, cultural differences as well. There's a lot of different variables to think about and navigate in this space and business needs as well. Within that, we've developed our approach. So we're combining digital strategy with user research with our UI designer, who's looking at brand identity, all at the same time, all in parallel.

Anand Verma: So it's very iterative. Right?


Anand Verma: Are you following any particular kind of research methodology at all?

Jessica Andrich: Yes. Right now we are conducting stakeholder interviews to first gain an understanding of what the stakeholder needs are, what the business needs are, what they've learned so far, and what they hope for in the future. And hopefully that will set an initial understanding of how we would approach the users, ultimately.

Anand Verma: When you look at the research itself, there are many research techniques, right? So you just mentioned guerrilla research techniques, I met with a client this week who talk about mystery shopping as a research technique [inaudible 00:09:53]. First of all, what are the techniques that an audience would love to kind of know about? And then you need to understand what is the problem you're trying to solve and connect the right technique to the right research processes. How would you kind of describe the various research methodologies that are out there?

Jessica Andrich: I would say very basically, there are qualitative techniques and there are quantitative techniques. So qualitative techniques could be anywhere from user interviews, from observations to contextual inquiries. These are largely rather subjective measurements of people's perceptions and experiences, but they give you a lot of in depth knowledge and information. It's very rich data that you extract. And we always try our best to make subjective data more objective.

Jessica Andrich: Now on the other side, you have quantitative data and quantitative research and that could be looking at Google analytics, it could be sending out surveys, et cetera. And what we ultimately want to do to gather the most supported insights is, to triangulate both of these tracks together to formulate something very strong.

Anand Verma: Okay. Now with regards to quantitative data techniques, do you see the role for quantitative and qualitative analysis to come together and give some insights to how the navigation methodology should be on a website, for example? Because analysis must be a complex task that you're doing to leverage the data scientists and data analysts into the mix, right? So how would you go about connecting all this data coming towards your way, both from qualitative and quantitative perspective and bringing some insights that allows us to create beautiful design and experiences?

Jessica Andrich: That's a tough question. In the realm of, if we're talking about navigation, the way I would approach it is, you would use your qualitative data to really understand your users, understand their journey, what their mental model is. Because that's going to give you very rich insight into understanding how you're going to structure or create this information architecture on your platform. On the other hand though, you can quantitative data to identify what's happening within your navigation, so then you can combine the why and the what and really define exactly your strategy moving forward.

Anand Verma: And with regards to the strategy, that strategy could be creation of a new product or a new service. So research is not just about solving the problem that client gives us a client's customer pose at us, but it's also about creating the new innovation areas that you think that doesn't exist, but it does exist because the insight gives you that data point, which allows clients like the Saudi one for example, to create new products and services as well. So it's the innovation methodology from your perspective.

Jessica Andrich: Absolutely. Whenever we create or do research projects, we always find out these gaps that no one actually really thought about. Or maybe we'll even challenge them to think, "Well maybe we're not solving for the right problem? Maybe we need to think about it differently and come from a different perspective?" And a lot of the times this also translates to BB as well as a company. You know, there are gaps in the markets right now; what do we need to research on the side as a side project, to really push those boundaries, so the next time we have a project we can propose these new ideas and help our clients always be at the forefront.

Anand Verma: That's brilliant. Once again, you're listening to the Knowledge Institute, the Brilliant Basics edition. We'll talk about research and design and how they integrated together. We are here with Jessica Andrich, UX researcher at Brilliant Basics. Just thanks for that. We have variety of domains in this company. We have got, strategy team. We have got, user experience designers. We have got visual designers, project managers, technologists, and we have got researchers. So there is a lot of misconception about what title researchers should have, in the context of digital business or digital studios. And we had a brief conversation about this early in the week as well. What's your view on where do the research folks sit, with regards to different domains in a company like Brilliant Basics?

Jessica Andrich: That is an excellent question. Yes, historically researchers have been given all kinds of names from, "Design Researcher," to, "User Researcher," to, "UX Researcher" to, "Consultant" and so on. The way I see a researcher fitting in at Brilliant Basics is at the intersection between your data analysts and your UX designers and your UI designers, and they're the ones who are continuously present and who continuously pull together the different threads to make a project work, to create a strong foundation, to keep validating what everybody is doing at all times, and ultimately to create benchmarking measurements, so that we can really see the impact from the start of the project to the end of the project.

Anand Verma: Ah, this is a good one actually because it's almost like defining a horizontal domain rather than a vertical one. Right? It's impacting in the company and one of the big things that we are investing in Emphasis and Brilliant Basics is investing, in is the usability lab in London. Right? Which will be one of the world-class labs that we are planning to build under your leadership. I want to talk about some of the vision that you have in terms of the future of the usability lab as part of a research activity or domain, if I may. Can you talk more about what you're thinking about the usability lab, how this will be conceived and what are the things that we'll be doing in the lab itself?

Jessica Andrich: Right. So we currently have a physical usability lab, which we're looking to expand into a larger space, and hopefully this larger space will allow us not only to do a user testing and interviews, but it would also be a space to conduct focus groups to maybe do some VR AR testing, concept testing, right. Especially with VR & AR becoming much bigger in the market; we really need to think about having spaces where we can test these technologies. Additionally, we want to have a best practices framework so that not only user researchers but UX designers can use, and move quickly through the design process as they design and create.

Anand Verma: That is fantastic, and I think the physical space will allow us to use emerging technologies to drive research as a topic forward as well, which we're really excited about. Let's talk about empathy a little bit. So we talked about quantitative data. We talked about data driven world that we live in, but what makes an experience customer centric is being empathetic towards the customer, or the user, or the human itself because end of the day we're creating this for the humans. Right? What's your view on fostering empathy with the customer through research activities? Especially because your psychology expertise and your understanding of the psychology of the human being, I would love to know how you bring empathy into your research thinking.

Jessica Andrich: That's always difficult because as a researcher, one of our challenges is to be nonjudgmental when we're researching, to be almost a fly on the wall and to be objective to everything that we hear. Otherwise, we bring in a lot of biases into what we do, and the challenge is to be empathetic at the same time, right? Because the user is at the center of what we do, and our clients are at the center of what we do. A lot of the time, it's really having to listen during our conversations, making sure that the researcher isn't the one speaking most of the time, but the one listening and absorbing the information, and encouraging participants to know that they're in a safe space and an open space and that's why GDPR is at the core of what we do. We guarantee and amenity when we interview our users and our clients.

Anand Verma: That's a good one because the other thing I'm going to kind of focus on the word, "Empathy," a little bit more because spending so much time with the customers, or the users, that you build a relationship with them in a way that is non-biased clearly, but also you start to understand what allows them to feel, think, do, with regards to an experience, be it an application or whatever that happens to be. Do you have a view that the more time spent with the end customer, the more empathy we bring in the solution that we create, or is that a misnomer?

Jessica Andrich: I absolutely believe that the more time we spent with the end customer, the more empathy we get, because basically what we're doing is having a greater and deeper and richer understanding of where they're coming from, what their experiences are like, what their context is on a daily basis. It's creating this entire ecosystem where, as a researcher, I can really start to imagine who the user is, and even put myself in their shoes. Absolutely.

Anand Verma: Great. Now, let's talk about how we can give some recommendations to our listeners in terms of when to apply research. You know, what stage of the project or program they're working on, be it a large digital transformation or a startup is working on their new idea, and what will be your two or three recommendations from them, or a summary of this podcast from your perspective?

Jessica Andrich: I would say from, what I said before as well, research is continuous, and the earlier you bring it in, the stronger of a foundation you're going to have and the better it is, because you're going to have a framework from the very beginning where you're benchmarking several different KPIs that you're looking at, and you're looking at what an impact, what you've been doing, what your actions and your directions have made to solving the challenges that you're trying to solve, and that you know you are developing a close relationship to your end users from the get go, from the beginning, and you keep validating that and you keep iterating on what you're building all the time.

Anand Verma: That is fabulous. Jess thank you, if I can summarize in my own words in terms of what I learned. Design can be based on facts, not assumptions and research is a big part of that. Second, which I heard from you is: research is a big part of innovating into white spaces that the client or the customer did not know about before, and it helps with the focus and prioritization of features and you know areas to focus on as well. We talked about empathy, it fosters more empathy with your users and customers as well. And lastly, overall we are in the business of making our customers and users happy and I think research is an integral agile activity that makes it happen. So I'm delighted that we went through this topic. We have a tradition on our podcast to talk about what is a recent book that has influenced you or you reading, and why?

Jessica Andrich: I do have a book here in the office on my desk that I keep going back to. It's called Gamestorming, and it's got a lot of different workshop ideas, and how to creatively work with stakeholders or users to try to answer challenging questions, and there are loads of fun activities that you can do and that you can adapt to your needs. So I keep going back to that book because it really inspires me, and keeps the work fun.

Anand Verma: So Gamestorming is the book?

Jessica Andrich: Yes Gamestorming.

Anand Verma: And I will go and find it on Amazon. And Jess, we're going to publish a blog post as well on Medium, Brilliant Basics Medium blog, before we let you go, how can people find you online?

Jessica Andrich: I would say you can connect with me on LinkedIn, under the name Jessica Andrich, as well as Medium. I'll have an account and when we publish the post, I'm sure you'll be able to find me.

Anand Verma: Thank you Jessica. I should say, "Danke schön," for your time and highly interesting discussion. I'm absolutely delighted that you're able to join us. Everyone, you have been listening to the Knowledge Institute and Brilliant Basics podcast, where we talked about research and design working together. Thanks to our great producer, Yulia De Bari, and the entire Knowledge Institute and Brilliant Basics team. Until next time, keep learning and keep sharing.
About Jessica Andrich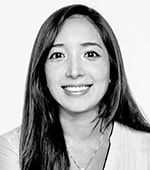 Jessica is a Senior Associate User Researcher at Brilliant Basics. She works closely with clients and users in order to discover meaningful insights and creative solutions that meet both user needs and business requirements. Jessica is currently working on building a research department within BB to continue to foster user-centered research and design practices.
Jessica is an alum of UC Berkeley and UCL, and holds degrees in both Cognitive Science and Human-Computer Interaction.