Resurrecting the Physical Store Through Harmonized Retail
By
Yogesh Vijayan,
Vyom Krishna,
Vishwas Anand
June 2019 | Article | 9 min read |
Email this article
|
Download
Today's customers are omnichannel omnivores, adapting to any retail location, whether physical or digital. An obsession with one over the other is a customer's choice, not a retailer's prerogative. We believe physical stores that are harmonized with the strategy of their digital counterparts can capture new revenue. But how can physical stores better complement digital retail?

Physical retail is facing an existential crisis, with 2.6 times more stores closing than opening.1 At the current rate of store closures, it's estimated that by the end of 2019, in the U.S. alone, store closures could touch 12,000.
What can be done to revive the physical store? The focus should be on where digital is dropping the ball — namely, the large number of missed opportunities in abandoned carts and the high level of returns faced by online retail channels. Physical stores that have well-designed integration with the customer's digital journey could turn some of these missed opportunities into revenue. Yet currently, physical stores are not providing an offering that's compelling or complementary to their digital counterparts' similar initiatives. According to our research, retail stores have the following drawbacks: 2
Underwhelming physical spaces: Footfall is declining, with 31% of shoppers going to a store less frequently than they did five years ago.
Deficient in-store technologies: Retailer mobile apps are underutilized, with only 18% of shoppers using a retailer's mobile app most of the time they are in the store, down from 34% the year previous.
Disappointing human experiences: Retailers don't understand their shoppers' likes, wants and needs, and therefore they struggle to design compelling offers and experiences in stores.
What can retailers do to change this harsh reality?
Enter harmonized retail
Steve Dennis, president and founder of SageBerry Consulting as well as a senior Forbes contributor coined the term harmonized retail in 2015. Harmonized retail works at the intersection of physical layouts, digital technologies and human experiences. In the physical retail store context, it is the sweet spot (Figure 1) where all three get it right at the same time in order to amplify the in store experience.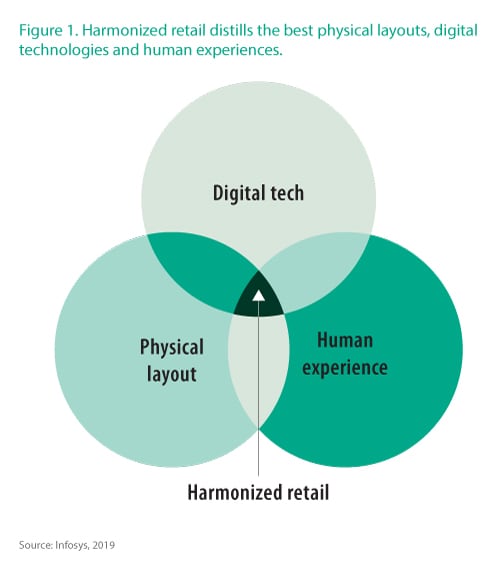 "Harmonized retail is really the blend of digital, physical and human experience design. It is never tech for tech's sake," notes Chris Walton, CEO and co-founder of Red Archer Retail as well as a regular Forbes contributor, in a recent conversation with the Infosys Knowledge Institute. "All three need to be woven together, like a fabric, to bring to life experiences that live up to a brand's promise and that meet the consumer in his or her right context at all times."
The ideal harmonized retail environment enables digital and physical channels to share customer data and journeys, feeding each other sales opportunities and insights that enable them to better target individuals. From the experience point of view, the connection between both should be seamless, consistent and attractive to the consumer.