ESG has entered a tumultuous phase — a slow economy hampering and even potentially halting future progress, while regulators around the world crack down on ESG greenwashing. In 2022, Morningstar stripped $1 trillion worth of funds of their ESG tags. And the World Economic Forum reported that seven out of 10 economists expect a global recession in 2023, which will likely land ESG initiatives on the corporate budgetary chopping block.
This is a setback after good progress was made on ESG standards and reporting, thanks to pressure from both consumers and investors. These stakeholders demand a swift and emphatic commitment to ESG measures, driving organizations to shift from voluntary adoption to an enterprise imperative.
ESG is on the radar: Companies that fail to meet more demanding ESG standards or misrepresent their metrics risk losing their social license and consequently, financial opportunities. The risks are heightened as businesses now approach a pivotal and potentially costly moment.
For the most part, companies have responded positively to this pressure. Ninety-six percent of the S&P 500 and 81% of companies in the Russell 1000 published sustainability reports in 2021. ESG business services revenue is expected to grow from $39 billion in 2021 to $158 billion by 2025, according to IDC. At the same time, ESG is proving to be a financial driver, rather than a burden to the bottom line, recent Infosys research found.
Today, companies face a polarized environment that complicates efforts to comply with ESG standards and report relevant data. ESG has made positive progress in the corporate world and can continue to be a value creator. While this environment may discourage, it is possible for companies to continue to advance if they can navigate ESG materiality, overcome ESG data complexity, and establish ESG as a core value.
Navigate the ESG materiality challenge
Companies must approach ESG reporting in a way that makes sense for their organization and the needs of their stakeholders. In simple terms, leaders must understand which ESG areas are material to their business before they adopt standards. The ESG challenges and risks of the insurance industry aren't the same as the issues faced by the automotive and energy sectors. The ESG materiality challenge comes from the difficulty companies experience when they assess how ESG impacts their business performance from financial and reputational perspectives.
Firms should prioritize or rank ESG issues across a matrix, with stakeholder impact along one axis and business performance along the other axis. An important note: Stakeholder impact is not confined to just regulatory and investor personas that have well-defined demands. Companies also must account for the impact of their ESG objectives on employees, consumers, and communities, which are unique across industries and geographies. As an example, the below figure shows the materiality matrix used by Infosys in 2020 to craft our ESG Vision 2030 (Figure 1).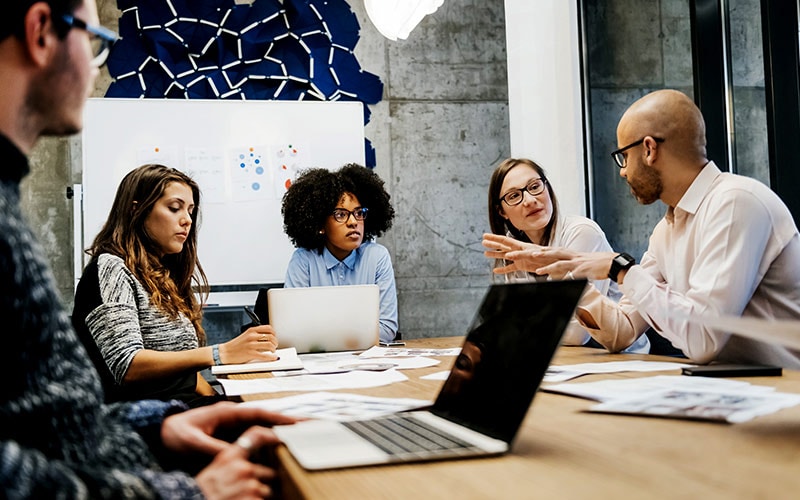 An effective ESG materiality matrix is a guide to what ESG objectives matter most to the business and its stakeholders, based on impact to business performance and the influence on stakeholder sentiment. The higher the impact of an item on stakeholder and business performance, the higher its priority to address and report to stakeholders.
Figure 1. A materiality matrix illustrates which ESG areas are most important
Overcome ESG data complexity
ESG data is often siloed across enterprise resource planning (ERP), human resources, facilities, and many other systems. However, the reporting responsibility is disconnected from these systems, often relegated to a central report preparation team. This makes collecting and reporting the data a complex issue.
Companies need diverse, timely, and accurate data to fully report on their ESG progress. Data must be accessible across the organization to report on each element of ESG. An organization can begin to collect and make sense of ESG data by focusing on the actions below.
These steps enable companies to build a complete data collection strategy — one that will provide the backbone of their ESG reporting and decision needs.
At Infosys, we wanted to realign our organization with the triple bottom line (TBL), a business framework that insists companies measure their impact on people and planet in addition to profit. We created a data collection and reporting platform called Infosys Ecowatch to track and measure ESG data and account for how it affects the TBL. This application uses a standard tool-based strategy with quantifiable attributes. Ecowatch captures people, planet, and prosperity metrics and integrates this data into ERP systems and measurable scorecards.
ESG as a core value
ESG will only be successful if it permeates a company's culture and becomes its ethos. Culture is the connective tissue that aligns individual business functions to enterprise objectives. ESG objectives are cross-domain, touching all aspects of a company, from IT emissions to board diversity and water usage to LGBTQIA+ inclusion. This is not the job of just one person; it is an enterprisewide responsibility.
However, a company can only achieve this culture if it is reinforced over time through consistency of vision and action. In other words, it cannot be changed overnight. Companies need strong ESG practices and governance to be considered sustainable and a long-term wealth creator, according to Harvard Business Review. Our research goes a step further and suggests that ESG will not be successful unless it becomes the way enterprises do business.
Senior leadership must guide ESG strategy. Recent Infosys research found that ESG responsibility is focused everywhere but the C-suite and board. But companies perform better when way enterprises do business. ESG-centric roles embedded in the highest levels ensure that leaders are responsible for progress on ESG objectives. In a practical sense, leadership should drive the influence of ESG on enterprise decision-making and governance. This converts ESG from a vague noble purpose and regulatory compliance to a compass for the entire enterprise.
Figure 2. Actions to mobilize an ESG data collection strategy
At Infosys, our board established an ESG committee to oversee organization wide ESG initiatives, priorities and best practices. Infosys's ESG committee includes senior leadership, including the CEO, CFO, chief revenue officer, group head of HR, general counsel, and head of ESG. The ESG council executes programs and plans of the ESG committee aligned to commitments in our 2030 ESG vision.
Own the impact you want to create. Get involved and deliver results. This approach has helped us a long way in progressing toward our ESG goals more effectively.
Aruna Newton
Vice president of ESG governance and reporting, Infosys.
This approach articulates the company's ESG vision, sets clear and measurable ESG performance goals, and integrates them into ESG and financial reporting. The multifunctional council ensures that the perspectives of each stakeholder group, whether customer, employee, or investor, is accounted for in the ESG reporting.
Responsible business goes beyond the guardrails of frameworks and checklists. Responsible business is a part of the ethos of a sustainable organization. Leaders must provide vision that leverages this attitude to set clear goals and governance on the ESG vision to deliver for people, planet, and prosperity.