Ahead in the Cloud Podcast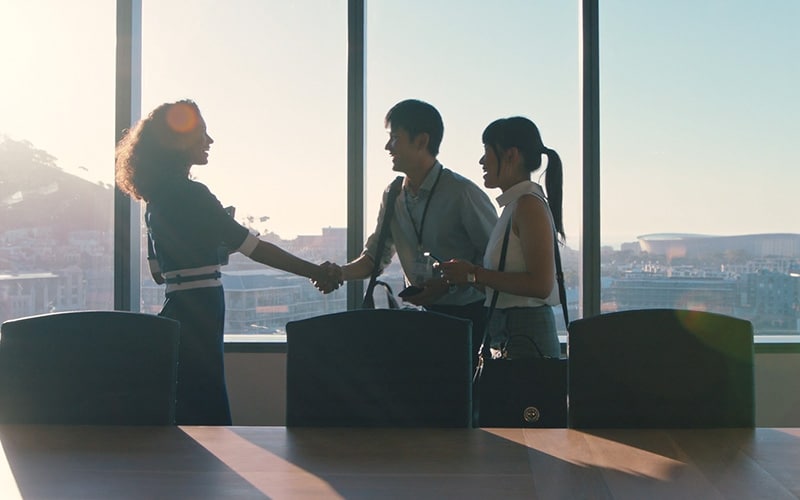 C-Suite Teamwork with JG Summit

November 01, 2021
Carlos "Caloi" Santos, Vice President, Corporate Services and Chief Information Officer of JG Summit Holdings, Inc., explains how he used risk planning (Plan A, Plan B & Plan C) and C-Suite team work (CIO, CFO & CPO) to smoothly move JG Summit to the cloud.

Hosted by Chad Watt, Infosys Knowledge Institute researcher and writer.

Music by Mixaund.

"Do not ever assume that your plan will work, always assume it can go wrong and do a lot of diligence to plan for what can go wrong."

"Make sure you have the support of your board. Because something can go wrong and if they have your back, they're not going to blame you for it because they were part of the decision."

"You're closing the data center and moving everything to the cloud. How are you going to go about doing that? We had to make sure, we knew what we can do and what help we needed from a capable partner, both from a cloud provider and SI to be able to achieve that. So that's why we talked to six or seven vendors. We wanted to engage deeper, to understand and use that to evaluate this type of work. That's basically the journey we took. The challenge to me is how to make sure it's done right, given you can imagine the impact if it goes wrong in any part of the journey."

- Carlos "Caloi" Santos
Insights
Make the cloud proposal to the board a collective effort between three C level executives, the CIO, CFO and CPO endorsing it together. Moving to the cloud is not just an IT project.
When talking to a board about moving to the cloud, be sure to educate them about what cloud is. They've heard of cloud, but they may not understand the complete picture.
Make sure the move to the cloud is aligned with business strategy and understand cost will be a factor because it's a huge investment.
The cloud provides higher reliability, the ability to create new applications faster and save money that can be reinvested back into innovation.
Use public cloud when possible. In a public cloud setup, the people managing it have more expertise. With a private cloud setup, you have to govern, maintain and work the details of the setup. Even if you use a vendor, you must do some governance over private cloud.
Show Notes
00:44

Sir Caloi talks about the first time he saw a computer and his introduction to computer programming.

02:35

Chad asks Sir Caloi where the vision came from to shift all of JG Summit's digital assets to the cloud.

05:55

Sir Caloi explains why risk planning is such an important part of moving to the cloud.

07:15

Public vs. Private Cloud: Sir Caloi explains why he picks public cloud first.

11:00

Sir Caloi explains why it's so important to have the support of your board when starting to move a company to the cloud.

11:30

Chad asks Sir Caloi to recommend how to persuade a board to move digital assets to the cloud.

06:37

What are [the] capabilities that allow companies exceptional performance to achieve these great things?

13:58

The three benefits Sir Caloi says JG Summit customers receive from the company's move to the cloud.

15:59

Chad asks Sir Caloi to tell a story of a new innovation JG Summit has rolled out recently for customers.

Chad Watt: Welcome to Ahead in the Cloud, where business leaders share what they've learned on their cloud journey. I'm Chad Watt, Infosys Knowledge Institute researcher and writer. Here today with Carlos Santos, known to his friends as Sir Caloi. He's the Chief Information Officer of JG Summit Holdings, a diverse Philippines based conglomerate with holdings in CPG, airlines, petrochemicals, banking and more. Sir Caloi, welcome.

Carlos Santos: Thank you very much, Chad.

Chad Watt: So for many CIOs and technology executives their love of technology started with their first computer. Do you recall what your first computer was?

Carlos Santos: Yep, I remember vividly my first interaction, I was in grade five, in elementary, and I was waiting for my grandfather to pick me up and there was a notice saying, computer programming classes after class. I said, what's that? So I entered that room and I saw a monitor and a big keyboard, green one , and they were teaching Logo programming and I said, what's that? It aroused my interest at the time and from there on I asked my grandfather to enroll me. Then I bought my first green screen monitor, probably I don't know if the processor was 8080, probably even before that and that really started my love for computers because it showed to me that I think like one, logically, and it really allowed me to really explore that side of me of being very logical and analytical.

Chad Watt: Tell us a little bit about JG Summit. This company does many different things.

Carlos Santos: So, JG Summit is a, one of the biggest conglomerates in the Southeast Asia region. It a family owned corporation and we have investments in food manufacturing, we have airline, we have a bank, we have real estate, we have retail, we have digital publications now, for really before visual publications, we have our venture capital ARM, we also have analytics ARM as well and also a petrochemical corporation, among the few that we are listed in terms of the stock exchange or have investments on. And this is basically how the conglomerate works, we have presence as well for the food manufacturing business in the Southeast Asia region. So URC, which is our flagship food manufacturing, is also presence in countries like Thailand, Vietnam, Malaysia, Singapore, Myanmar. So that's basically the footprint that we have from a conglomerate point of view and it's a huge company from a size and also scope and diversity of investments.

Chad Watt: I know that the vision of JG Summit was to shift your digital assets to the cloud. Where did that come from? And how did you start that process?

Carlos Santos: So it was actually, I would say started with first our SAP workloads. I knew that I would be going into S/4HANA again, overlooking already the timing when it'll be end of support. So I was already experimenting and saying because it came into the formal role, as I mentioned, probably in early 2018. So I was saying, OK let's move to the cloud but I was a little bit conservative and just move my SAP workload. So I went to the board, chairman and CEO, was at that time, talking to us and said, it's a nice idea but why are you only limiting yourself to the SAP workload? We have your physical data center that I heard you have to renovate. Why not everything there? So it was actually that challenge to me and said, if I'm getting the support from my own chairman and CEO, pushing me to the boundaries of actually going beyond SAP, this might be a good time to actually be more aggressive. So that's when I said, okay, let's do this. So let's cover everything on our workload, on the data center and move forward and actually be able to move everything in the cloud.

Chad Watt: When did you begin the journey to cloud? When did you guys start that transformation?

Carlos Santos: We got approval in June 2019, around that time. So it was a one year study. I started the study in July 2018, and got the final board approval in 2019, around June. And the reason why it took so long is as you will probably imagine, we want to make sure we have an exhaustive building process, across all different cloud providers together with the system integrators and the involvement to get everything in the process of doing some levels, management and getting the final discussions with chairman to chairman discussions, CEO to CEO discussions, to the SI partners and also that of the cloud providers took the time.

Chad Watt: So you spent more time on the "who" and "why"" and how of cloud rather than the "if" of cloud, the "if" was the quicker decision?

Carlos Santos: Yes, that's a good point, Chad, meaning it was already a giveaway, it's a challenge to me, can you move everything? So now the challenge to me as an IT practitioner is yes, you're being challenged, now you have to do it right. And how do you do it right? You can imagine, we don't have the people yet at the time. So you're on an on-prem thinking. So how do you go about now doing this challenge with very limited people? We only had at that time, even until now, probably about six or seven organic infrastructure and network guys. So you're closing data center and moving everything to the cloud.
How are you going to go about doing that? So we had to make sure we knew what we can do and what is the help we needed from a capable partner, both from a cloud provider and SI to be able to achieve that. So that's why we talk, documenting everything, and then being able to have very good discussions, with at least I believe at the start six to seven vendors, that we wanted to actually engage deeper, to understand and use that also to evaluate this type of work. That's basically the journey we took it's not that "if" question but the challenge to me is how to make sure it's actually done right, given you can imagine the impact if it actually goes wrong in any part of the journey.

Chad Watt: What's one thing you learned in this process?

Carlos Santos: One key thing that I would tell people is do not underestimate risk planning. You can plan all you want, every little detail but at a certain point you always have to be as a leader, challenge your team, what's your "what if, what if, what if?" And they always get me because I do up to plan C. You have a plan A, plan B, plan C and unfortunately, in some cases they were also telling me, I hate you sir because you technically force us to do plan C that we never thought of and it happens, that you have not to do plan C. So if there's one quick learning, do not ever assume that your plan will work, always assume it can go wrong and do a lot of diligence, from a leadership to plan for what can go wrong because it may not be used, but when you plan as deep as you can in plan B, plan C, you will have more confidence as you go week by week, evening by evening, to do the migration.

Chad Watt: Let's do a little bit more technical, related to data and cloud and your use of kind of what I would describe as a hybrid model. You're using the public cloud for many things but given the nature of your business, you also chose to use private cloud in some instances. How did you go about deciding what workloads go to the public cloud? What workloads or assets go to the private cloud?

Carlos Santos: My first principle was public cloud first. I think people have to be very clear that you have to have your guidelines or principles. To your question, Chad, why do we still have the private cloud set up? And it's a good question because when we now peel the onion on how to move the whole workload in the data center, we realized that as we do the planning, there were workloads that are not cloud ready, public cloud ready. These are systems that are for some of our two biggest, businesses in banking, in retail that their systems are not yet ready in such quick of time, to migrate a public cloud. Either the public cloud setup is not ready yet or not readily available or they would need massive transformation to modernize their application, to go to the public cloud as everyone, where it's not like cut, copy paste to the cloud.
And these were critical systems that we knew that if we put to the public cloud first, there's bigger risk. Secondly, it's not only risk for IT but more important in the business. And we had a discussion on we move or not up to at least even when we're adjusting the plan as for as late as this year. But we said, given the risk, given your plans, let's go private cloud setup, for those areas. But majority of my workload is actually now on public cloud and I foresee that my private cloud footprint, we have plans now for those business units, to potentially also go to the public cloud setup, once the applications are also ready, once the business is ready, which I think will happen in the next two or three, five years, depending on the readiness, also to the public cloud setup. So that's the thinking we had when we created that hybrid model.

Chad Watt: Your preferences for public cloud, what persuaded you that is your first and best choice? Why is that your preference?

Carlos Santos: I think there are two. One, I know that if I do a private cloud setup, there's still such a way that you also have to still govern, maintain and work the details of your private cloud setup. Even if it's actually a vendor, you still have to more or less still do some governance to it. In a public cloud setup, you do some level of governance but at least you know that the people managing it, the big providers we have, have more expertise than you. So you leverage on their expertise, they've done this. They know how to do it well, they know how to optimize it. It's their living, it's their bread and butter and I'm at a tech company.
I'm an enabler of tech in the conglomerate, in the company and therefore I should rely on their expertise. The second is well, which people first gravitate to, is actually cost but I didn't go there because of that fact. First one, we should be more in expertise and the second is the cost. And when we do the costing to this, it actually becomes now more practical, given that you have in public cloud, the flexibility. In private cloud, you still have those, but at least arrangement wise, you still have some time period. You cannot just shut down, one month, two months because you have rentals and stuff that you have to figure out with your provider. There is some flexibility, since subscription mode, but it's not as super flexible as in a public cloud, I can shut it down tonight if I wanted to and that's the cost in-flexibility you have, when you go to the public cloud setup that compared to private cloud, you may have but not as flexible and also not probably from a cost point of view, as good as doing a public outside.

Chad Watt: Let's say you have a fellow CIO, a friend of yours, who's about to embark on his own journey, or her own journey, in migrating a data center, the nerve center, the hub of technology for their company to cloud. What's the first piece of advice you give that person?

Carlos Santos: Make sure you have the support of your board.


Carlos Santos: Because something can go wrong. Something can go wrong, and if they have your back, they're not going to blame you for it because they were part of the decision. The challenge is when it becomes an IT decision alone, then it becomes like you're forcing me to do it, you said it's going to work. But if you have the support of your business as high as you can, then you work it as partnership and you work your problem out, rather than actually giving the problem to you only and fix it. That's the first one.

Chad Watt: How do you recommend persuading a board? Sounds like you had a fairly savvy board that had already grasped the concept and this power of cloud. How do you persuade business people that this is the proper path for IT reasons and business strategy reasons?

Carlos Santos: I would suggest, two or three things. One, is you still have to educate your board, what cloud is. In my case at that time, they knew it but they were probably, I always used the leveling, probably level one, cloud is what they heard about, different cloud provider, they've seen it, they have their… we started with our Microsoft cloud version for our email system or 365. So they had an idea. So the first, to educate them because not everyone would probably ground with cloud this even now. The second is, if you want to get to the board, they always look at, first and foremost, are you aligned with my business strategy? Why are you doing it? So what's your business rationale. Is this because of the flexibility that you know, that you will need as a company, or is because of cost? And last but not the least, the cost would always be a factor in the board because this is a huge investment.
I worked, with my CFO, at the group and my Chief Procurement Officer, at the group level, similar to me and we were the one, that worked together for that one year, at every stage, to be able to create that proposal back to the board. So it was not an IT project, they will look at this finance guy saying, is he crazy giving me this amount of savings? Then the finance guy will tell me no, we validated it, it's correct. Are you sure you got the best deal? Yes. I will not answer that, the procurement guy will answer that saying, yes, sir, we've done three levels, this is basically what's the best deal. So it's up to you, sir, based on our recommendation, even if we score everyone, it's up to you, but it's actually a collective effort between three C-level executives proposing this. And for me, if those were not there, I would have a longer discussion. It might still go through but it'll have been a longer discussion convincing them. But having that, I would say three people, myself, the CIO, CFO, and CPO in a discussion endorsing it collectively really helps.

Chad Watt: So let me ask you about your customers. How have customers of JG Summit and your many businesses, how have they benefited from this move to cloud? How has this allowed your business units to be more customer focused?

Carlos Santos: So I think there are technically three things. One because of your higher reliability, you don't even have to think about down times and up time. Your systems are now higher reliability compared to before and again have numbers and where we were against now because now it's cloud's higher ability. So from your customers, they see less downtime, right? So they see the fact that distributors, connecting to us or consumers see that we're always up. It's higher reliability. Second, is in terms of being able to spin up new applications. As I mentioned, people are going digital. In the old days, OK I have to spin up something and you have to buy a hardware, you have now to set it up, lead time of now given the situation even nice, even worse, probably longer now, right? Because the chip shortage, we have probably takes you about six to eight months.
So now I can spin off an environment, can we test it together? We're doing agile a lot. So can we do customer journey with you and see how it works? And let's use the cloud because you can have a development environment spinoff in ours. So even customer part of either ideation and/or creating new applications, are actually able to get it faster, much faster than we had before because we were no longer stumbling block tool, sorry, no workload, sorry no CPU, no storage. The third thing, is also cost because if you save huge amounts of money, that is reinvested back to innovation, R and D, which can now actually be used, to delight the customers. If I was the business, do I protect my operations to make sure it's actually working? Of course, I will do that first but now I don't have to mind that and have lower cost on that. I can reinvest that money, back into experimenting new ideas, new solutions, new thinking, new insights, driven by customers, and they will feel it. And we've seen it because we're not able to spin off very critical, time sensitive applications in this pandemic that probably couldn't have not done, not having a cloud strategy in mind.

Chad Watt: Can you tell a story of some new innovation you guys have been able to roll out for your customers recently?

Carlos Santos: From an E-commerce point of view, this is one thing that we were lagging behind because with the retail group but it was actually more still brick and mortar and everyone knows that during the pandemic, especially in the Philippines, everyone shifted to E-Commerce because of safety invest. They were able to spin up very quickly on this one, they were able to experiment, they actually launched it, they still don't have all, of course the massive investments, in terms of getting all the customer base there but they were able to spin this up very quickly and get support because they now have that in the cloud setup, both in private and public to be able to actually have that spinoff.
The other thing, an example is also in our banking where we also getting very much digital. They were very aggressive in doing their portion of banking, the online banking and it was one of their main pillars. And with this cloud strategy, they're able to spin off very quickly having their environments up and running and having new features added, as they would want to because they're no longer limited with the technology but more limited in terms of moving the actual process of testing, ideation and in-sight. So that's only probably two of examples that we can think of, the flexibility now are capable to be able to support them.

Chad Watt: Well, Thank you for your time today, Sir Caloi and thank you for your plan A, plan B and your plan C.

Carlos Santos: Thank you as well, Chad. It was a good conversation and for people listening in hopefully, they got some tid bits that might be useful as they also go into this journey either now or in the future, which is a great thing to do.

Chad Watt: This podcast, as part of our collaboration with MIT, tech review in partnership with Infosys Cobalt. Visit our content hub on technologyreview.com to learn more about how businesses across the globe are moving from cloud chaos to cloud clarity. Be sure to follow Ahead in the Cloud wherever you get your podcasts. You can find more details about this show in our show notes and transcripts at Infosys.com/IKI, in our podcast section. Thanks to our producers, Catherine Burdette, Christine Calhoun and Dode Bigley. As we like to say, at the Knowledge Institute, until next time, keep learning and keep sharing.
About Carlos "Caloi" Santos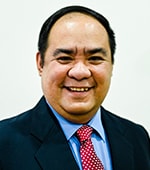 Carlos "Caloi" Santos is the Vice President, Corporate Services and Chief Information Officer of JG Summit Holdings, Inc., Philippines since July 2017, and leads the overall strategy, implementation, and operations of the Corporate IT group.
JG Summit is one of the largest and most diversified Filipino conglomerates, engaged primarily in businesses that serve a growing middle class with rising disposable incomes in the Philippines, Southeast Asia, and Australasia.
Caloi is driving the "digital vision of transformation" for the conglomerate that began with the adoption and migration to a hybrid cloud platform and the implementation of cloud-based collaboration, productivity, and S/4 HANA enterprise resource planning solutions across business units.