Brilliant Basics Edition Podcasts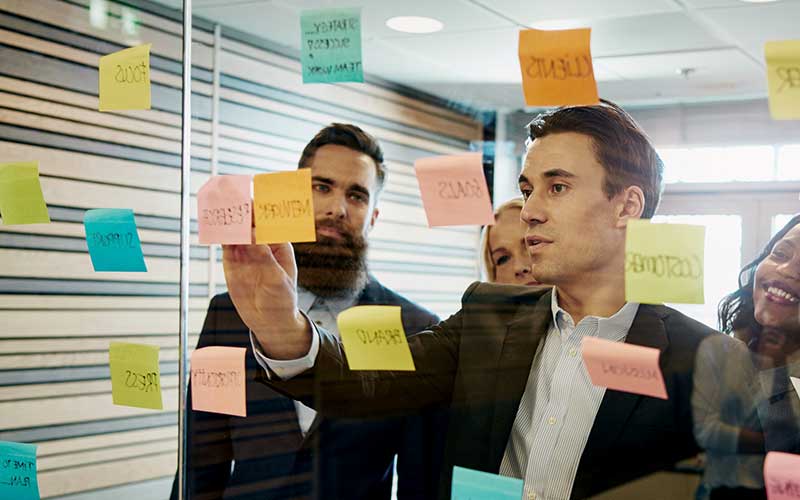 Lindsay Wall on Digital Innovation

April 06, 2020
Lindsay Wall, General Manager for the UK, Ireland and Middle East at Brilliant Basics, discusses digital innovation and the challenges that big corporations are facing today. The discussion covers Infosys Digital Radar 2020 report and why telecoms are under threat.

Hosted by Anand Verma, European Head of Digital Services for Infosys and Founder & CEO of Brilliant Basics, Infosys' Design Studios.

"A common challenge that we find with a lot of our clients as well, is that they're doing many of the right things. They've set up innovation labs, they've set up centers of excellence, they're training all their employees on design thinking. But if you measure it around, what are the five to ten unicorns that are going to transform that business and the whole operating model and the organization at large. Delivering that is the key challenge."

- Lindsay Wall
Show Notes
00:05

Lindsay and Anand are talking about Infosys Digital Radar 2020 Report.

01:42

Lindsay shares his background.

02:51

Lindsay goes into a little bit more detail into report's categories (watchers, explorers, and visionaries) and how someone like Brilliant Basics and Infosys are helping their clients face challenges that we're looking at.

04:41

Why digital innovation is important? What is it all about?

06:27

Lindsay talks about why do companies fail to capitalize.

07:52

What are the challenges that big corporates are facing today?

10:35

Lindsay gives us some examples of which companies are actually taking this in their stride and actually innovating through the three categories that he defined.

19:04

Lindsay talks about the client who created a model whereby they believe that by bringing this digital and physical components together, they can actually start to build a culture of innovation that was not possible before.

21:05

Lindsay explains what's going to happen if large enterprise businesses actually do nothing to change?

23:41

Lindsay shares his favorite book and explain why he likes it.

Music by Ruhan Verma, 13-year-old upcoming Drummer and Producer

Anand Verma: We are fast approaching the level at which all the easy benefits of technology implementations have been achieved. That's a quote from our recent Infosys Knowledge Institute 2020 Digital Radar Report. Lindsay, what's your view on that?

Lindsay Wall: It's a really interesting read. It's the latest analysis from late 2019 where over 1,000 business leaders were interviewed to assess their digital transformation progress. I think one of the interesting findings, this is the third version of this analysis, and in it we categorize companies as watchers, explorers, and visionaries in terms of where they are on that progress. And I think they report basically that one of the key findings is this notion of companies being a little stuck in the middle, they've made some progress leveraging technology, they made improvements around productivity and efficiency, and they've obviously removed costs and about 68% of those interviewed are in that position, but they've kind of hit a digital maturity ceiling. They've gone so far, but now they can't make this leap to their vision.

Anand Verma: And that's what we'll be exploring in today's conversation, just for our audience benefit, we are remotely recording the podcast, given what's going on in the world with coronavirus right now. So we don't stop, we keep going, and the power of digital tools allows us to do this. So welcome to this Knowledge Institute Podcast, the Brilliant Basics edition, where we talk about digital disruption, design, and future work. I'm Anand Verma, I'm European Head of Digital Services for Infosys and also founder and CEO of Brilliant Basics. We're here with Lindsay Wall, General Manager of Europe and Brilliant Basics and I'm absolutely delighted to welcome Lindsay to this remote podcast. Lindsay, over to you talk about your really interesting background.

Lindsay Wall: So as you said, I am general manager for Brilliant Basics. In terms of how I kind of arrived at where I am today and my career, I'd like to think there was some deep seated strategy, but to be honest, it's largely because I think I followed my own nose and for me that's been following the emergence of digital and the subsequent shift from brands making people want things through advertising and communications to making things that people want through customer centered products and services. I love that phrase. It's props to John Willshire at the Smithery for that quote. And my focus is on helping clients with everything that entails in terms of how organizations go about that change in the organization.

Lindsay Wall: In terms of my responsibilities, three key areas really, people, so ensuring that we're a people first business and we very much believe in if we make our people happy and motivated at work, they do brilliant things for our clients. Public, in terms of ensuring the satisfaction of our clients, that we're pushing their businesses and we're helping them transform and deliver against those journeys. And importantly planet as well, so what are we doing as an organization, bears in mind everything that's going on with the planets and overall and how can we be more sustainable and how can we help our clients on that journey as well?

Anand Verma: Thank you Lindsay. Lindsay, let's go back to the topic of the discussion, which is the report that we're talking about from Infosys and Knowledge Institute. What's your view on, now that the easy benefits of technology implementation have been achieved and you have categorized some of the clients in those three categories you're talking about. Can we just go into a little bit more detail into those categories and how someone like Brilliant Basics and Infosys are actually helping our clients face these challenges and the type of categories that we're looking at as well from this report's perspective?

Lindsay Wall: If we think about the report, I think we're almost at a phase now where everyone is looking at how they can leverage the benefits of technology to increase efficiency. I think that that period is gone and happened over the last sort of three to five years. We still work with clients who are beginning or halfway through that journey. And we help them with the road maps to see the benefit or ensuring that we can implement technology in a customer centered way rather than just technology for technology's sake.

Lindsay Wall: I think the interesting period now is around supporting explorers right through to visionaries. So, for an explorer, what are the things that they need to do that really, really sees the benefit of being customer centered? And for us, and especially for visionaries, a lot of what we're doing is aligning agile ways of working, helping find the customer centric and ensuring that the technology is adopted and implemented in a customer centric way. So for us, it's the alignment of business technology and design and all of that with a laser focus of how it affects both customers and increasingly employees as well who use the technology as well. So we're doing a lot of work around employee experience because I think it's the new interesting differentiator for a lot of brands and clients to help attract employees.

Anand Verma: That is what we're seeing across the client's needs and I like the way you're defining innovators and explorers as well. The main topic of the session today was digital innovation is a business innovation, right? So let's talk a little bit more about why is digital innovation important? What is it all about? What should clients be thinking about or doing? And also if you've got some examples where some of our clients are actually leading the way, I'm pretty sure our audience will be delighted to hear that.

Lindsay Wall: Yeah, sure. So the question, why is it important? I think you almost need to take a step back a little bit and think about brands today. I think there's a number of surveys out around brands really being in this fight for relevance and ultimately survival. I think there's a Havas report that said 77% of brands could simply disappear today and not a single customer would care. And if you think about that, that's an enormous shift from say 10 years ago where we had staple brands that everyone bought and consumed, they were the life blood of large organizations. Today that simply isn't the case anymore.

Lindsay Wall: To illustrate that point again, if you think about today, we live in a world as an example where a 16 year old new car entrant Tesla, with an entirely different business model is worth more than the dominant car makers of the last a hundred years. The Fords, the General Motors. That for me is a startling example of this point around brands fight for relevance and ultimately survival. You would never say that about a Ford or a General Motors 10 or 15 years ago.

Anand Verma: So as Henry Ford said, "If I had asked people what they wanted, they would've said faster horses." So that quote is very relevant to, Lindsay, what you're talking about with regards to innovation. Even though Ford is an innovative company from early 1900s, hasn't been able to keep up with someone like Tesla.

Lindsay Wall: Yeah. Yeah. I think that the disruptive power of innovation is no respecter of brand heritage. There are numerous examples you can think about where the dominant brand of the era is no longer. So, what's causing that? Why do companies fail to capitalize? Often they're clearly brilliant teams. Kodak invented the digital camera. Xerox invented most of the technologies that we use in personal computing today. So if they created those game changing innovation, why have they failed to capitalize on that? And for us, largely what we're seeing is organizations either seem unwilling or unable to do or implement the right business model to take those technologies into the market. That is a huge, huge challenge for a dominant business today. How do you take that innovation and use it to reshape and reimagine the whole organization?

Anand Verma: If you build on that, Lindsay, clearly Tesla is taking the leap in this innovation world given the company's almost starting with a clean slate. Right? And when you look at the enterprise and the dominant business, as you described them, a lot of challenges within the business itself. And I'm sure in your experience at BB and also outside in previous roles, you must've seen some of these challenges that big corporates are facing today. It'd be great to see or hear what those challenges are from your perspective.

Lindsay Wall: For me it comes into three categories for success for companies today, I guess it's difficult to imagine a time when that success may stop. And again, history talks about lots of examples like Nokia and other businesses that have fallen into that trap. But so I think it takes a particularly pressing type of leadership if you're the incumbent and a major player, it's probably lacking in most organizations today. I think the successful transformations of those big established leaders... I listened recently to Microsoft and Satya Nadella in terms of the transformation he's taken that organization on from a very successful starting point as well. So I think there's a lot to be learned around that and this type of leadership, as I mentioned.

Lindsay Wall: Closer to home for us in terms of clients, it'd be interesting around things like BP and re-imagining that organization to be net zero by 2050. That's a big, huge, audacious goal. And the leaders of that organization have to keep that in mind in order to change it. I think the challenge that comes from that is successful business model today, the management are largely tasked with exploiting that advantage to its fullest extent. So they are organized to manage that successful business model, the company structures, the operations, the process, the tools, culture are all geared towards what they've always done to a degree. So if you think about breakthrough innovation, it rarely fits into existing business structures. So, I think that's a huge challenge for our clients. And we see that and also we help clients around how they can navigate that. And there's a spectrum of things that they can do to navigate that challenge.

Lindsay Wall: I think the second point is, and the second challenge that we find is organizational changes are hard. As I said, it's companies that structurally organized around a successful business model find it really difficult to implement new innovations. So I think you either strike lucky in that you create an incremental innovation that fits into the current structure. Or generally and what we find is huge innovations don't fit into those company structures and therefore if you don't change the structure, you're likely to fail with it.

Lindsay Wall: I think the third point kind of quickly is, and again, I'm borrowing a quote from Seth Gordon, so you have to recognize that no organization ever created an innovation. The people innovate, not the companies themselves. So that is a big cultural challenge around providing people with the framework and the autonomy to make decisions to often fail. And again, the successful companies that we find are the ones that enable organizations to work in that way.

Anand Verma: I think the third point kind of quickly is, and again, I'm borrowing a quote from Seth Gordon, so you have to recognize that no organization ever created an innovation. The people innovate, not the companies themselves. So that is a big cultural challenge around providing people with the framework and the autonomy to make decisions to often fail. And again, the successful companies that we find are the ones that enable organizations to work in that way.

Lindsay Wall: We have some telcos clients at BB who are really delivering against that pressing leadership that I mentioned. So they're successful organizations, but they've taken a bold leap around, in one instance, they're reorganizing the whole of the organization around four or five customer journeys from the technology stack through to the way that the business operates through chapters and squads and doing that on a wholesale level through the organization. And that's the kind of further end of the spectrum I mentioned around a really bold step to actually change the organization, focus on what's important, and set it up to succeed for the next five years or so.

Lindsay Wall: And we also have examples again close to home around clients again taking this bold step around setting up almost like an enterprise startup. So in recognition of the challenges of making those changes, doing something very, very bold in which they're almost starting with a green field. They are re-imagining the kind of technology that they used to use to serve their customers, they are attracting the right kind of talent to that organization, and they're setting up in a separate entity in recognition of the core business declining over a period of time and then the new business emerging very rapidly to change the perception of that business to their customers.

Lindsay Wall: So, I think there is this kind of spectrum of where you sit as an organization and the challenges and forces of disruption that you're being impacted with. And organizations are reacting to that in different ways depending on, as I said, the need to transform for some in some categories where there is huge disruption. Talking about the pace of change being in the next three to five years. So, not a huge amount of time to get organized and completely change the business. For others, it's slightly slower. So they're allowed to have the luxury of almost experimenting with delivering transformation rather than it being a kind of fundamental pillar of the whole business going forward.

Anand Verma: Yeah, and it's hard, right? So, the chain, people who have been in the company for 25, 30 years and expect them to do something really different. The muscle memory is simply not there. And I think, that brings me to my next kind of subtopic, Lindsay, which is about the industry vertical. So, if you look at the industries that have taken the leap, when I started BB in 2012, financial services companies were leading the way. They were investing a lot in digital transformation and making the financial services be it retail banking, wealth management, global banking markets really accessible and easily deployable through digital channels for their customers and clients. Now, eight years down the line, other verticals are catching up. And what I would like to discuss in this section is what kind of business are affected by this digital innovation? And in your view, are some industries affected more than the others?

Lindsay Wall: Yeah, I mean I think it's an interesting point. All businesses will be affected to play back an often used quote, "The future is here. It's just not evenly distributed yet." The pace of transformation differs within different categories but I think ultimately, all organizations will be affected. I think the ones that are particularly under threat are the ones where this completely new business model has emerged and a completely different changing customer need has emerged as a result of these kind of innovative startups in many ways who are providing a service that actually is more tailored to what clients want today. So you've got this kind of convergence of a way of working that is the way it has been for a very long time, now competing with something that looks more customized to the clients, more personalized, more flexible as well. And actually, those are the things where that is happening within a sector, those forces are the things that are going to make change happen quite rapidly.

Lindsay Wall: Then you've got other sectors where I guess the cost to join those categories is significantly high and therefore the pace of wholesale innovation is a little bit slower. It's being done at the kind of edges in the margins, but there isn't a fundamental rethinking of the way that services are provided to customers. So I think that this, where there are low barriers to entry, where there are adjunct businesses or innovations that allow clients to nibble away at some of those traditional areas, that gets pace and momentum pretty quickly. It becomes the new thing. If you think about we're all working from home today and if you think about Zoom as an example, I think that's the sort of interesting versus say the more traditional players that are delivering services in a more flexible way, in a way that the customer wants with a lower cost of entry. Suddenly if you do that at scale, you can get the distribution, you become a very powerful threat to the usual incumbents that everyone knows in terms of people like WebEx or those kinds of guys as well.

Anand Verma: That is a brilliant way of get the topic started about verticalized view. And the more and more I think we discuss this, Lindsay, I realize that the whole CMT sector, comms, media, and telco sector is affected massively by this. And also it seems that they're ready to go away from their classic hardware, network-based business to the digital innovators. So I'm going to switch gears a little bit here and talk about the telecommunications industry in terms of what they're going through. And we've got quite a few of these examples in our books with some clients in Australia, clients in North America. You have been leading an engagement with one of the largest telcos in Europe right now.

Anand Verma: Just talk about telcos, why do you think their business model is particularly under threat at this point in time? And the second question for you is, do you think telcos can survive in a world that is dominated by these digital native companies? Be it Zoom for example, which is becoming a telco company, right? They're providing hardware, but software enabled. You've got your [inaudible 00:00:16:53], which is Facebook, Alibaba, Amazon, Netflixs and Googles of this world. So it's an interesting dichotomy of challenges that's coming from various parties internally and externally. And some of the traditional telcos might not be as comfortable as they were few years back.

Lindsay Wall: Yeah, I mean I think the conundrum is the historical competitive advantage they had in the fixed lines, network, infrastructure, the things that made them attractive to big corporate clients for example, is now becoming the disadvantage because that has meant that they relied on that to a large extent. They probably haven't innovated as much as they needed to. And what's happened now is that whole business model is certainly in some categories within telcos is now less relevant today to a lot of clients. They want different ways of engaging. They don't want to sign up for a five year multimillion program, they want to be able to have the flexibility that recognizes the changes that they will have as an organization. The services that they offer are also having to change as well quite dramatically. As I said, the thing that made them and gave them a competitive advantage to a large degree is, unless they take bold action is hampering them in this kind of new world.

Lindsay Wall: So that's a huge leap in terms of, what's our value proposition and has it changed to such a degree that we have to completely reimagine the whole organization as a result of that? And I think some telcos businesses are recognizing that in certain, media companies are certainly recognizing that if you think about the kind of disruption of what Netflix has achieved and Disney+ launched in the UK recently as well and the recognition of the thing that they traditionally did. It's more of the same I think in a faster pace in telcos because of the rise and dominance of Amazon and AWS and Google and those guys who are offering some of the similar services, but doing so in a much more cost-effective, and much more flexible and much more personalized way. And for many, that is what they want going forward.

Anand Verma: And with regards to the change that you're seeing, without naming the client name, they've taken a completely different model, haven't they? In terms of the way they're going to take this organization forward without creating this sense of, there's a shiny thing that's happening out there and there's some boring stuff happening here, right? They've created a model whereby they believe that by bringing this digital and physical components together, they can actually start to build a culture of innovation that was not possible before. Any thoughts on that?

Lindsay Wall: I think it's a bold move. I think the interesting thing is, how do you deliver that in a way that doesn't impact your existing business but recognizes that your existing business is changing over a period of time? I think again, across a number of clients, it's not like you're betting everything on one versus the other. I think there is a degree of, going back to the pressing leadership point of almost treating these kind of enterprise startups as, like if you had a seed fund, you give them some funding to demonstrate that they can make progress. There are quite aggressive timelines around some of the things we're doing with clients that is completely alien to what they've done historically. If you can demonstrate that that succeeds, you get more funding and the thing scales over a period of time.

Lindsay Wall: So, for me that's an interesting way of large organizations going down this path, making progress relatively rapidly, and also doing so in a way that they know can have a larger impact on the rest of the organization if they can get it right. So, I think that's an interesting model that we're working with specifically on one client. But I do think it has a lot of relevance to other large organizations who are faced with similar challenges. So, treat it like a startup, give them the funding, set some stringent targets in terms of progress, demonstrate that they can do it against that, and then reassess and then develop the roadmap and scale it once you've got to that point where you can see that it's being successful.

Anand Verma: Yeah. And hopefully we'll see a major change in the ways of working that other parts of the organization can learn from this, almost like a learn fast experiment. So with a bit of the rail guards on to support the directional outcome they want to achieve from these enterprise startups. Let's talk about the companies who are doing this and the companies who are actually still thinking about it. I don't think this comes out in the report as well, people who are sitting on the fence and waiting for visionaries or explorers to show them the way. What's your view, Lindsay, in terms of, what's going to happen if in a large enterprise businesses actually do nothing to change?

Lindsay Wall: Yeah. I mean it's a really good point. I think doing nothing is not a strategy. Your competitors are always doing something. If they're innovating, they're adapting and then they're educating. Then they're the ones whose products are going to succeed. So I think you, again our history is littered with examples of people who've done nothing a bit. So I just don't think that that's acceptable strategy anymore. And I don't think large organizations, the instances of that where they're doing nothing are few and far between now. I think one of the key challenges is, what is that strategy? Are you going to cover multiple different areas to hedge your bets? Are you dabbling in a certain startup area? Are you setting up innovation labs? Are you doing it in a way that makes the organization feel like it's responding but not necessarily delivers innovation that's going to change the organization?

Lindsay Wall: And this is a common challenge that we find with a lot of our clients as well, is that they're doing many of the right things. They've set up innovation labs, they've set up centers of excellence, they're training all their employees on design thinking, but if you measure it around, what are the five to 10 unicorns that are going to transform that business and the whole operating model and the organization at large. Delivering that is the key challenge. And any clients, they've got to the point where they've done some of those things, but they're sitting back and they're saying, "What difference does it make to the whole organization today? How is it changing our business?"

Anand Verma: So sitting back and watching is clearly not an option. And like you said at the beginning, the report says that 77% of the brands will disappear in the next 10 years and people would not even notice. Right? So that's a good way to wrap up the conversation, Lindsay. Thank you so much. And we have a tradition in our podcast that we can't let you go unless you talk about a book you're reading or you've read that might be useful to share with our listeners.

Lindsay Wall: Yeah, I think one that I'm reading, I just finished is called Eat Sleep Work Repeat. The author's a chap called Bruce Daisley, who was I think the CEO of Twitter in Europe. And the Microsoft example I mentioned at the start of the podcast he covers in his book around, how does an organization, such a successful organization, such a dominant organization as Microsoft, how does it transform that business? And it goes into quite a lot of in depth around the journey that they've gone. So it's a fascinating read. So, I think if this is a topic that you're interested in, you can learn a lot from the work that he's done and the book that he's created.

Anand Verma: That's a good one. And Lindsay, how can people find you online?

Lindsay Wall: You can find me on LinkedIn and Twitter and also we are posting quite a lot of work from BB on medium as well. So look out for those. We're doing quite a lot of work around future of work. So again, you can find all those things through those channels.

Anand Verma: Amazing. Thank you, Lindsay. That was Lindsay Wall, General Manager at Brilliant Basics in Europe. Lindsay, thanks for your time. It was really interesting and I'm 100% confident that listeners will enjoy listening to this really important and interesting topic.

Lindsay Wall: Thanks very much Anand.

Anand Verma: Everyone, you have been listing to The Knowledge Institute, the Brilliant Basics edition where we talk about digital disruption, design, and future work. Thanks to our producer, Yulia De Bari and the entire Knowledge Institute and Brilliant Basics team. Until next time, keep learning and keep sharing.
About Lindsay Wall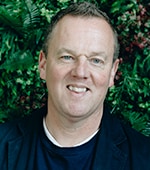 Lindsay started his career in big Agency networks like Publicis, Lowe Lintas and McCann Erickson. He helped grow iris Worldwide into one of the world's leading independent agencies and then led Rufus Leonard to become BIMA Agency of the Year. He held digital design & innovation leadership roles for EY Seren, WAE / Globant and is currently with Brilliant Basics, Infosys' Global Design & Product Studio.
Selected Links from the episode