Enterprise leaders must build the three pillars of hyper-productive work to be successful in the modern economy
The digital age brings us the opportunity to do more than just "a better job," and to be truly hyper-productive. This is of special significance for businesses that are not digital-native yet but keenly aspire to become more digital. But perhaps the most compelling aspect of the future of work or hyper-productive work is the fact that it will leverage alternate and more inclusive talent pools to execute jobs—jobs that are only just emerging in the digital era.
HFS, in conjunction with Infosys, surveyed 100 C-level executives and functional heads across the globe to understand how they are evolving their enterprises to meet the changing business environment. Crucially, throughout this study, we examine how enterprises are coming to the quick realization that to be successful in the modern economy, they must embrace three core pillars to build a hyper-productive workplace:
A model that breaks down silos and barriers internally to adopt a "OneOffice" culture.
A process of embedding technologies at the core of the business.
An inclusive and enabling talent strategy to drive the business forward.
Key insights from this preliminary research include
Over 80% of executives believe building a hyper-productive workplace is key to be competitive.
More than 80% of executives expect organizational culture to be a major battleground, but half believe mentoring and role models will drive meaningful change.
Almost 80% of business leaders recognize emerging technologies will have a significant impact on employees.
Thirty percent (30%) of executives expect this impact to replace people, although the majority anticipate technology will enrich existing jobs and create new ones.
Sixty-six percent (66%) of executives believe humans will take on the emerging role of "problem-finding" as machines become more effective problem solvers.
Fifty eight percent (58%) of leaders think we'll see new roles in end-compute maintenance as testing and maintaining software-defined networks grows exponentially.
Over 80% of leaders believe a hyper-productive workplace will need inclusive and diverse global teams.
Over 60% anticipate using untapped talent pools such as non-STEM graduates and talent with vocational qualifications to fill new roles.
However, only 60% have a robust talent strategy to meet business aspirations over the next three years.
As you'll discover when reading this report, the next decade presents a significant opportunity for those willing to embrace the talent, culture, and technology pillars of hyper-productive work.
Exhibit 1: Culture, technology, and talent are the three pillars of hyper-productive work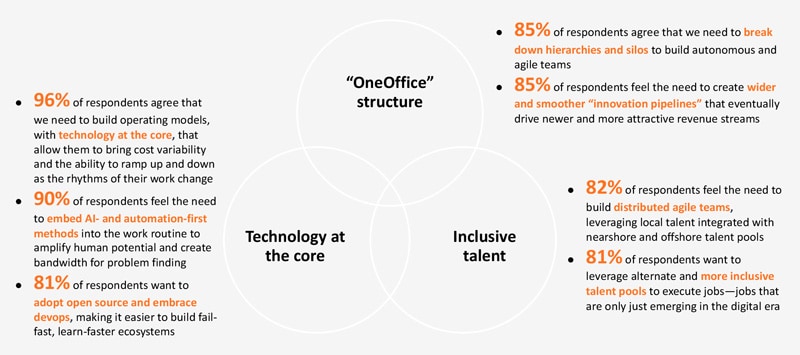 Sample: 100 C-level and business unit or function heads from Global 2000 enterprises
Source: HFS Research, 2020
Exhibit 2: The majority of executives believe technology will augment and enrich current jobs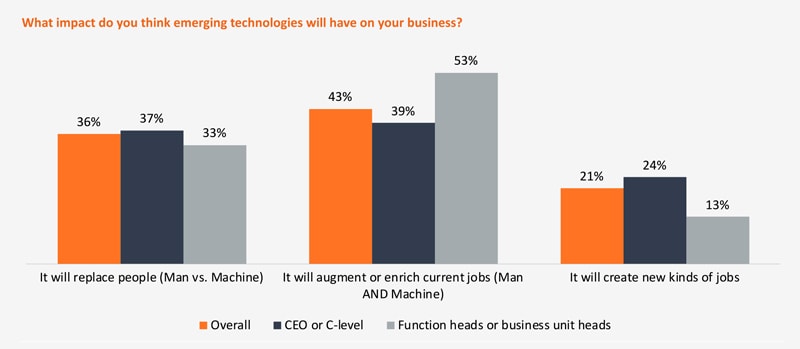 Sample: 100 C-level and business unit or function heads from Global 2000 enterprises
Source: HFS Research, 2020
Exhibit 3: Attributes of the hyper-productive work culture will need an interdisciplinary collaboration and an inclusive and diverse workforce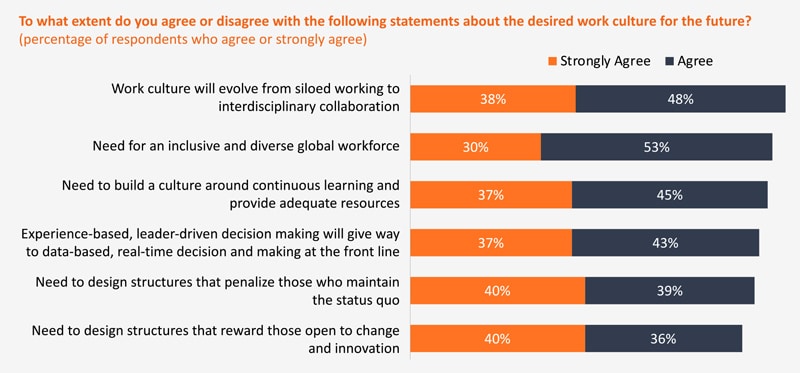 Sample: 100 C-level and business unit or function heads from Global 2000 enterprises
Source: HFS Research, 2020
Exhibit 4: Organizations don't have their talent strategies ready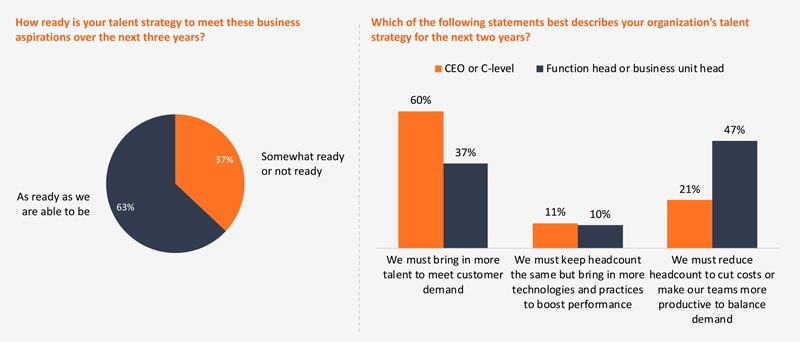 Sample: 100 C-level and business unit or function heads from Global 2000 enterprises
Source: HFS Research, 2020