Infosys named a 'Leader' in IDC MarketScape: IX Strategic Consulting
Infosys has been positioned as a 'Leader' in the IDC MarketScape: Worldwide Manufacturing Information Transformation Strategic Consulting 2018 Vendor Assessment (Doc #US42455617, February 2018). The report notes that Infosys has been working with global customers to deliver complex information transformation projects, including one with a manufacturer to increase automation and raise information accuracy.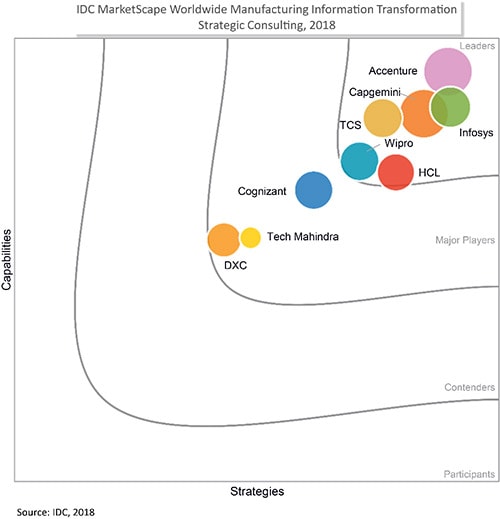 IDC MarketScape vendor analysis model is designed to provide an overview of the competitive fitness of ICT suppliers in a given market. The research methodology utilizes a rigorous scoring methodology based on both qualitative and quantitative criteria that results in a single graphical illustration of each vendor's position within a given market. The Capabilities score measures vendor product, go-to-market and business execution in the short-term. The Strategy score measures alignment of vendor strategies with customer requirements in a 3-5-year timeframe. Vendor market share is represented by the size of the icons.
Key highlights:
Infosys brings together a strong focus on the manufacturing industry, expertise and IP in data management and advanced analytics, innovation with new technologies such as IoT and AI, and a deep set of resources from delivery and innovation centers, COEs, and partnerships.
Over the past five years, Infosys has completed more than 230 IX strategic consulting projects for manufacturers. Infosys also deserves credit for its escalating investment in North America to develop and attract local talent.
The shift the company has made because of its investment in Nia is highly visible in the scale and scope of its IX projects.
Read an excerpt of the report.