Infosys cited as Leader and Star Performer in the life sciences ITO 2014 PEAK Matrix™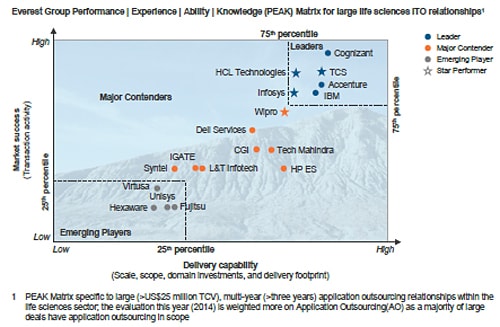 Infosys has been rated as a Leader and a Star Performer in the life sciences IT outsourcing 2014 PEAK Matrix™ by the Everest Group. The report recognized Infosys, among others, for its delivery capabilities and success in the market place.
The life sciences industry is facing many challenges such as stifling R&D efficiency, changing portfolio mix, and increasing M&A / restructuring. Service providers are adopting real-world, evidence-based personalized medicine, and outcomes-based methods, to tackle these challenges. This calls for increased implementation of analytics and infrastructure outsourcing tenets. Everest Group's healthcare outsourcing research program analyzes the outsourcing trends and service provider capabilities specific to ITO in the life sciences vertical.
In the 2014 Life Sciences ITO PEAK Matrix™, Everest Group evaluated capabilities of 18 leading ITO service providers. The services providers were assessed on their annuity-based AO and IO services with total client relationship value greater than US$25 million and contract duration greater or equal to three years. The capabilities and forward-looking strategy of Infosys helped it gain the leadership position in the assessment.
Infosys has transitioned from Major Contender to Leader position due to its robust life sciences ITO revenue growth, balanced geographic buyer base, and investments in proprietary solutions.
Related reading
Press release: Infosys Cited as a Leader and Star Performer in the Life Sciences Industry - 2014 Everest Group PEAK Matrix™