Infosys as a Leader in Professional Services Firms for Mining Operational Process Optimization, IDC MarketScape
IDC MarketScape: Worldwide Professional Services Firms for Mining Operational Process Optimization 2020 Vendor Assessment positions Infosys as a Leader.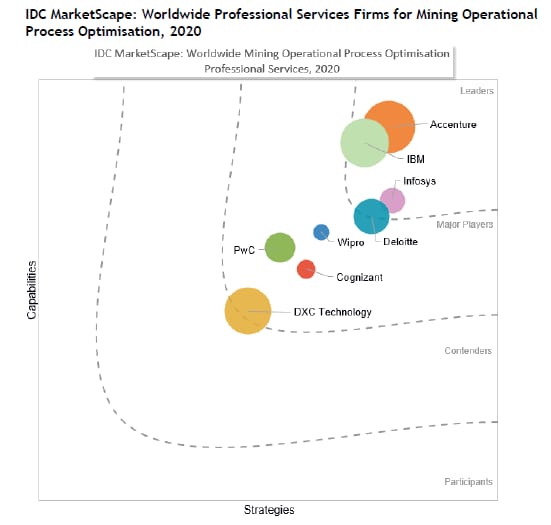 IDC MarketScape vendor analysis model is designed to provide an overview of the competitive fitness of ICT suppliers in a given market. The research methodology utilizes a rigorous scoring methodology based on both qualitative and quantitative criteria that results in a single graphical illustration of each vendor's position within a given market. The Capabilities score measures vendor product, go-to-market and business execution in the short-term. The Strategy score measures alignment of vendor strategies with customer requirements in a 3-5-year timeframe. Vendor market share is represented by the size of the icons.
This positioning considers the services and offerings from Infosys, which mining firms can leverage to experience agility in operations.
These offerings include the Digital Navigation Framework, which is centered around a digital platform for IT–OT integration, manufacturing execution system (MES) automation, remote operation, decisions support, digital procurement and integrated supply chain, digitally connected assets, and next-gen safety and sustainability.
Mentioned in the IDC MarketScape Vendor Assessment is Infosys' capabilities across the mining value chain. These encompass engineering services, supply chain, mining operations, and field service management. Also recognized as focus areas of Infosys technology capabilities are IoT, data platforms, mobility, cloud, cybersecurity, and AI.
The IDC MarketScape Vendor Assessment points out that Infosys services are delivered from "closer to mine" delivery hubs located in Toronto, Phoenix, Monterey, Santiago, Sao Paulo, London, Frankfurt, Perth, and Brisbane, as well as global delivery centres in India, United States, and Europe, the Middle East, and Africa (EMEA).
Infosys strengths and challenges identified by IDC MarketScape
Strengths: Buyers were positive about Infosys' focus on R&D, level of innovation capability and the vendor's reliability. IDC analysts noted Infosys' growth in success in the operations side of the mining sector and its improved messaging in supporting its credibility in this area.
Challenges: Infosys has potential to further expand its greater mining sector specific expertise as part of scaling this business further and the ability to support its geographical footprint more evenly.