Infosys is positioned as a 'Leader' in IDC MarketScape for Mining Operational Process Optimization
Infosys is positioned in the 'Leaders' Category of the 2023 IDC MarketScape for Worldwide Professional Services Firms for Mining Operational Process Optimization.
In the IDC MarketScape report, customers highlighted Infosys strengths in terms of the depth of its mining industry expertise and technology capabilities, specifically on data platforms, analytics, and data management as well as cloud offerings.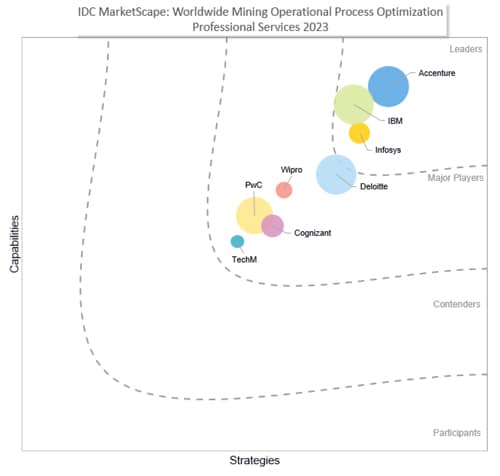 Key highlights:
Breadth of offerings
Infosys has innovative offerings, which encompass digital technologies and capabilities, including AI, ML, and Agile at scale. Mining-specific solutions cover mining operations decision support, integrated remote operations centers, next-gen connected safety and sustainability solutions, digitally connected assets, IT/OT integration, and automation.
Depth of offerings
Infosys has a depth of mining experience and capabilities, which allow it to offer solutions encompassing software engineering services, integrated environment, health, and safety (EHS) platforms, mining operations (including electrification), waste and water management, and field service management.
Mining value chain
Infosys partners with mining clients to streamline operations across the value chain from exploration and drilling to ore extraction and processing. It employs the Live Enterprise Framework, which helps customers react, adapt, and learn from changing situations and scenarios in their operations. It also assists clients to migrate to the cloud through its Cobalt offering.
Technology capabilities
Clients can benefit from its expertise in data acquisition, management and analytics services, IoT, data platforms, mobility, cloud, cybersecurity, and AI.
Partner ecosystem
Infosys has built a strong partner ecosystem that includes horizontal and mining industry-specific partners, Microsoft, SAP, ESRI, and Enablon, covering a wide spectrum of technologies and services. It engages in continuous improvement through R&D investments – Infosys Living Labs and the Infosys Innovation network – as well as industry forums and academia, such as the Indian Institute of Technology (Indian School of Mines) (IIT), Curtin University, and the University of Western Australia. Infosys has set up new mining centers of excellence (COEs) in Phoenix AZ, Raleigh NC, Santiago Chile, and Calgary AB.
Learn more about Infosys Mining solutions.
Register to download the excerpt.