The 'gift' of cancer
It came as a shock.
Liz Abrahams and her family were just about recovering from her husband Lory Lanzon's prostate cancer when a seven-and-a-half-centimeter lump was detected in her breast.
It was in the middle of the pandemic in 2021 and the process from the first mammogram to the biopsy took longer than usual. "I knew on that day with the callback, something was not good," Liz recalls her thoughts at the moment, "(It was now) Okay, there's a lump… This is actually something that maybe more serious than just a lump."
She was told she had stage-four breast cancer. Within a week, she came to know the cancer had spread to her spine, bringing to a halt Liz's flourishing 30-year-old sales and marketing career.
But attuned as her work life was to solving complex projects, Liz flicked into work mode. She knew the biggest project of her life yet, was right before her.
In the days that followed, she dived into her extensive network of coworkers at Infosys, doctors and anyone who could share their experiences with breast cancer, including people she hadn't spoken to in two decades.
"I thought, 'okay, I need to now plan for the worst, and hope for the best'," she said.
Liz was now ready to fight it out.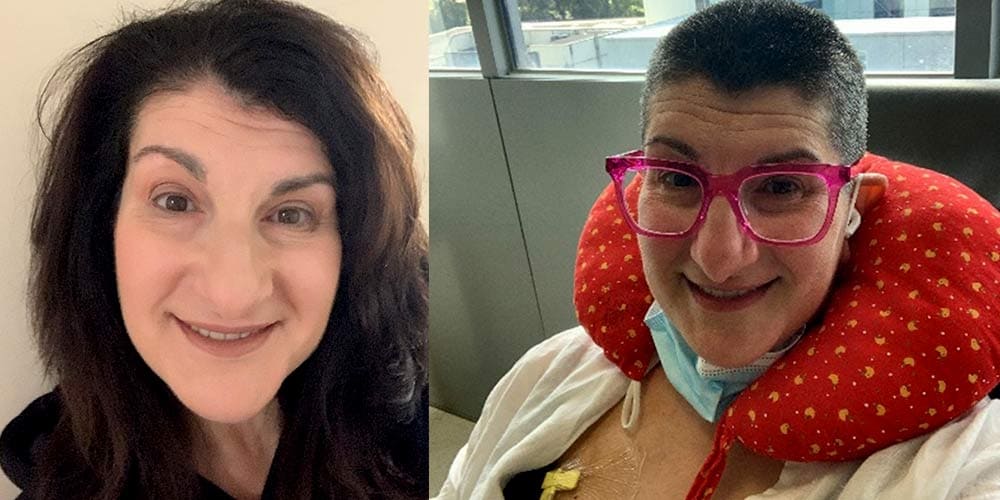 Being in the fight together
The next few weeks were some of the most trying for the family. Even though the cancer had spread, Liz had to go through chemotherapy after the lump was surgically removed. The fatigue and impact of the radiation was visible on Liz's appearance. She aged within days, lost her much cherished hair.
The impact on her spirit, though, was minimal. In fact, it only got stronger as her husband of 36 years and her son Joshua Lanzon joined in the fight with equal dedication.
"We've been together for as long as we have… So, I knew that whatever the outcome is, good or bad, it would be one step in front of the other… I don't think I can magically fix it. I can't remove the lump. I cannot make it go away, but we can just be there to support," said Lory.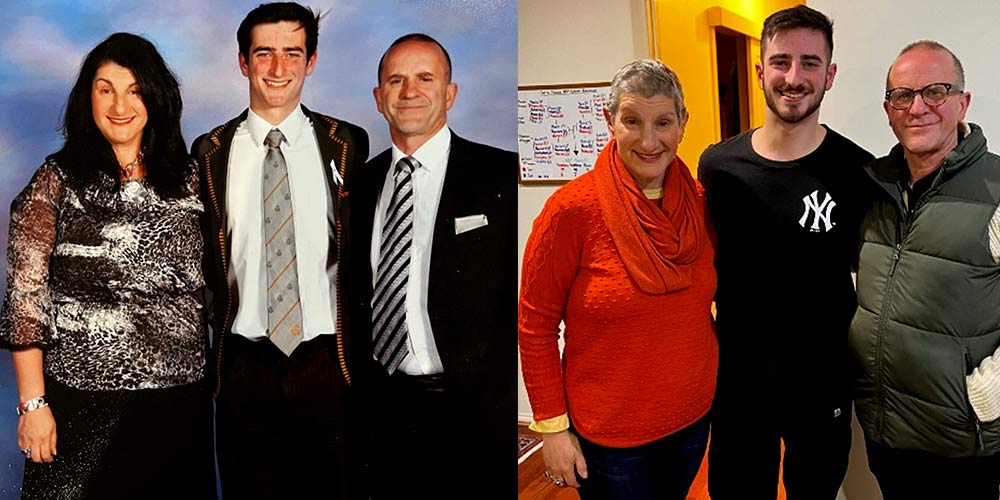 Just a month after her breast surgery, when her 22-week-long chemo sessions were going on, Liz started Pilates. She started weight training to gain muscles and walked every day to flush out chemicals from her body. Her fitness regime was complemented with healthy food habits, all of which continue to this day.
For Liz, the cancer was an opportunity to incorporate all those good habits that she had been ignoring because of her busy work life.
Joshua and Liz also came up with bucket list of places they want to visit.
"You can't think about the negative side of it. You just got to appreciate the time that you have, and make the most of it," said Joshua. "We really want to do a trip over Antarctica, we want to go to New Zealand together. I want to go to Japan and Canada and I see the northern lights. So yeah, just doing those things before it gets too late and before you may get sick again."
For the family, this journey was more than a moment of reckoning. It became a turning to the way they perceived happiness and life goals.
The cause gets bigger
Liz recovered much faster with her family, colleagues, and friends by her side, but the experience meant something much bigger to her.
She has become an ardent advocate for cancer patients' access to treatments such as medical acupuncture for chronic pain relief and is supporting the Olivia Newton-John Cancer Wellness & Research Centre, a research institute she is associated with as a patient advocate for cancer awareness. Teams of people from Infosys, all over the world, are walking to raise awareness on cancer and wellness.
"It does make all the difference to the patients. We know that however hard the journey is, it's a little bit easier for patients that take a positive approach. Use the journey to help other people. We're very grateful for everything she's doing for so many other people. She's a true inspiration," says Debbie Shiell, from the Olivia Newton-John Cancer Research Institute.
Today, at Infosys, Liz is championing Diversity and Inclusion through knowledge sharing across the APAC region, while helping attract, hire, and retain a diverse set of people.
"I'd really like my work legacy to be that of equity, diversity, inclusion – equity is central to what Infosys has in its corporate strategy. It is important that the workplace reflects the citizens and countries where we operate, so that we're not over-represented with one particular culture of employees."
In the true spirit of a fighter and an Infosys leader, Liz believes that a mix of people from different backgrounds, abilities, ages and sexual orientations, at every level of the organization, makes it a welcoming space and is, indeed, the true source of well-being and innovation. And despite the many challenges ahead, she continues to work for it with a bright and infectious smile.
"I can definitely tell she's a lot happier now. She takes every second that we have together and embraces it. She seems more positive, and her approach has made it astronomically better for Dad and I to deal with. In the moment, while the time that she has left to live, she's using it to enjoy her life and to be happy. I couldn't be more thankful for her reaction," Josh says of his mother.
For her family, however, Liz's wishes are simpler yet equally profound.
"I want Lory and Josh to be well first of all, and to follow their dreams, to be happy. I'd love to see (Joshua) get married, have kids. And avoid being sick," the mother and wife says as her eyes well up.