Infosys Thiruvananthapuram building awarded the highest LEED rating
Infosys has been awarded the Leadership in Energy and Environmental Design (LEED) India 'Platinum' rating for its Software Development Block 2 in Thiruvananthapuram, India.
This is the second building at the Thiruvananthapuram campus and the fifth Infosys building to receive the prestigious Platinum rating. Platinum-certified buildings at Infosys now cover an area of 1.2 million square feet.
Platinum certification is the highest level of green building certification under the Indian Green Building Council's LEED rating system. LEED Green Building Rating System is a globally accepted benchmark for design, construction, and operation of high performance green buildings.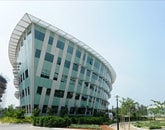 Software Development Block 2 is located in the Special Economic Zone of the Infosys Technopark campus in Thiruvananthapuram.
Some of the key features of this building include:
Water efficiency: The building uses 55 percent less water due to efficient plumbing fixtures and recycled waste water.
Energy efficiency: An efficient building envelope, and energy-efficient lighting and HVAC systems helps this building exceed the global American Society of Heating, Refrigerating and Air-conditioning Engineers (ASHRAE) standards by 36 percent.
Green power: 50 percent of the building's electricity comes from off-site renewable sources.
Indoor environment quality: The fresh air provided in this building is 30 percent better than global ASHRAE standards.
Efficient use of material and resources: Recycled materials account for more than 14 percent of the building. These include cement, steel, aluminum, medium-density fiberboard, glass, gypsum, and carpeting. 20 percent of the total construction material was manufactured regionally, which reduced pollution from long-haul transport.