Infosys Rated as a 'Leader' in ISG Provider Lens™ ServiceNow Ecosystem Partners in Australia 2022 Quadrant Report
The research study "ISG Provider Lens™ 2022 ServiceNow Ecosystem Partners, Australia" examines the extensive, global and complex partner network of one of the leading workflow management software solutions. In this ISG Provider Lens™ quadrant study, ISG includes the following three quadrants on:
ServiceNow consulting services - The ServiceNow Consulting Services quadrant ranks the leading providers in the critical consulting services market. Consulting services often are the starting point for investment in ServiceNow.
ServiceNow implementation and integration services - The ServiceNow Implementation and Integration quadrant ranks the leading providers in this market. Without implementation and integration services, ServiceNow software is just a concept and not a reality for clients.
ServiceNow managed service providers - The ServiceNow Managed Services quadrant ranks the leading providers in the market. The managed services offering is critical to ensure that enterprises and government agencies realize benefits from their investment in ServiceNow.
Infosys has been positioned as a Leader in all three quadrants, namely ServiceNow Consulting services, ServiceNow Implementation & Integration Services and ServiceNow Managed Services Providers.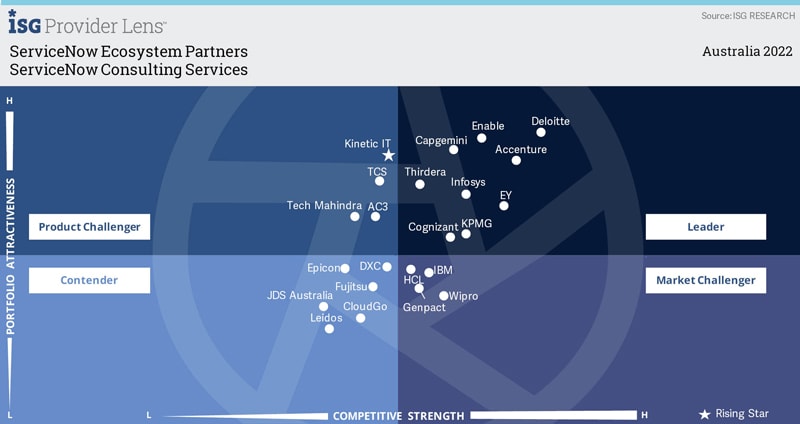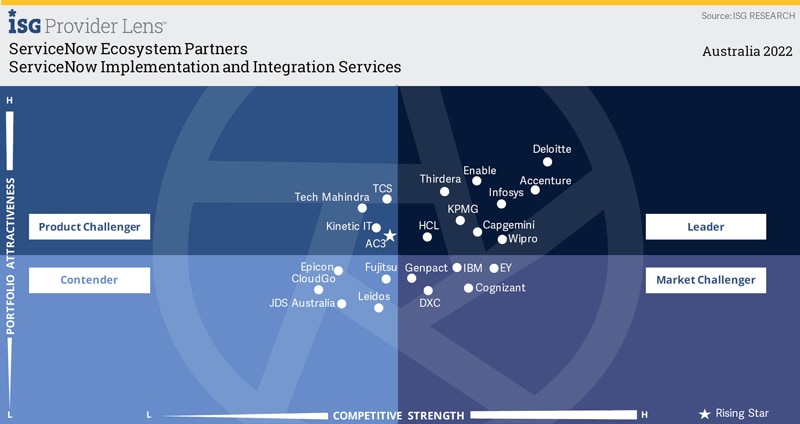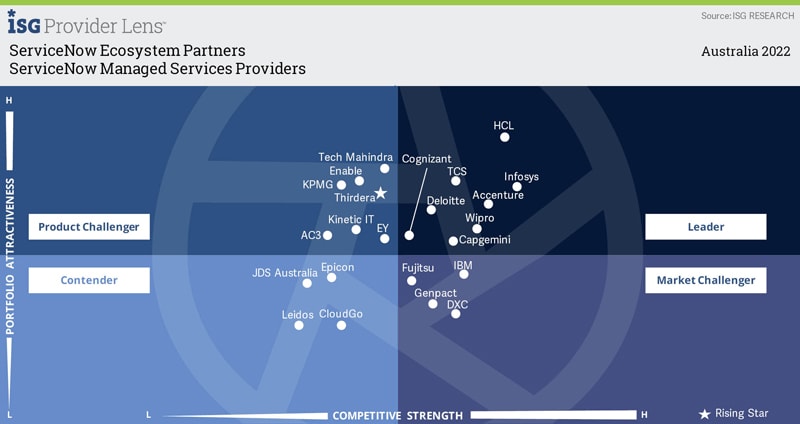 In this report, ISG, a leading global technology research and advisory firm, mentions Infosys
Focusses on process re-engineering, software risk management and performance analytics. It also has specific capabilities focused on various industries such as logistics, hospitality (restaurant management) and healthcare.
Integration capability is a natural extension of its range of ServiceNow managed services. It can leverage both onshore and offshore resources to enable clients to take a long-term perspective on their investments in ServiceNow.
Infosys Strengths as per the report:
Infosys has adopted a strategic approach for ServiceNow implementation for clients. There is a recurring theme on the importance of data and that applies to Infosys as well. It leverages data and ServiceNow as a joined platform for the digitization of clients' business processes.
Infosys has a large number of certified resources across the ServiceNow portfolio. It has strong capabilities in IT operations management, IT service management and HR service delivery. This enables it to provide its Australian clients with appropriate resources that enable quick engagement and customer outcomes.
The Infosys Enterprise Service Management (ESM) Café is an AI-powered solution for the implementation of ServiceNow. With a suite of accelerators, customers can choose from more than 50 process templates with a ready-to-deploy code. This provides accurate and tested outcomes for clients.
ServiceNow and Infosys are developing joint solutions to ensure manufacturing processes are optimized. From an Australian perspective, this can potentially be leveraged for the mining and natural resources sectors. Leveraging its Cobalt cloud blueprints, Infosys and ServiceNow can jointly provide operational technology management to digitize factories, floors, and plant operations.
Data is the key for Infosys' managed services. The company leverages optimized organizational and process data and ServiceNow as a joined platform for the digitization of business processes for clients. Following the application of optimized data for implementation services, it is but natural to leverage them for managed services.