Infosys Rated as a 'Leader' in ISG Provider Lens™ ServiceNow Ecosystem Partners in U.S. 2022 Quadrant Report
The research study "ISG Provider Lens™ 2022 ServiceNow Ecosystem Partners, U.S" examines the extensive, global and complex partner network of one of the leading workflow management software solutions. In this ISG Provider Lens™ quadrant study, ISG includes the following three quadrants on:
ServiceNow consulting services - This quadrant emphasizes on the ability and in-depth expertise of the provider firm to consult enterprises on mapping ServiceNow capabilities. Consulting service providers evaluate business requirements and map corresponding products, services, and packages.
ServiceNow implementation and integration services - This quadrant assesses the competencies of provider. implementing and integrating the ServiceNow platform in diverse environments and technology set-ups, including connecting inhouse systems with ServiceNow for optimum performance and continuous service availability.
ServiceNow managed service providers - This quadrant assesses the ability of a service prover to manage, maintain and support the ServiceNow platform. The capability to customize and personalize the platform with the right set of resources is a critical factor.
Infosys has been positioned as a Leader in all three quadrants, namely ServiceNow Consulting services, ServiceNow Implementation & Integration Services and ServiceNow Managed Services Providers.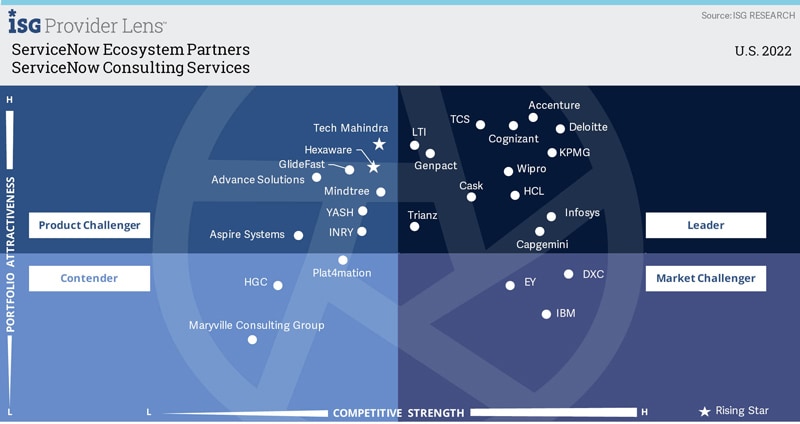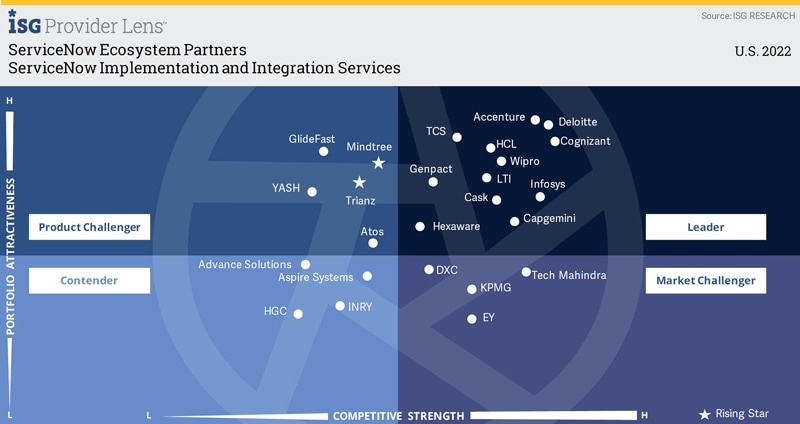 In this report, ISG, a leading global technology research and advisory firm, mentions Infosys
Takes an outcome-focused, measurable and service-levels aware view of ServiceNow managed services across IT, business services and operating environments of client enterprises.
Cobalt framework provides standard, tried and tested transformation templates along with best practices to ensure client success in strategic ServiceNow implementations.
Infosys Strengths as per the report:
ServiceNow Consulting Services

Proven industry expertise in ServiceNow consulting: Infosys' ServiceNow consulting capabilities in the ESM space encompasses connected, integrated and cross-channel engagement platforms; multicloud orchestrators; data ecosystems; AI-first enterprise ops; digitalized workflows; and experience-as-a-package services.
Persona-based service offering: Infosys' ServiceNow consulting provides unique end-to-end competencies across IT and enterprise business processes and services through its design capabilities and user experience(UX)-focused persona-based approach. Infosys' ServiceNow solution offers four different personas of the same individual users for service requests, reporting errors, support and finding a solution.
ESM Café – a unique value proposition: Infosys' differentiators empower clients to leverage ServiceNow for accelerating the expansion of value between IT and non- IT. Infosys also leverages innovations such as the ESM Café and enables low-code/no-code and industry specific solutions with intellectual property embedded into large deals.

ServiceNow Implementation and Integration Services

360 degrees ServiceNow implementations expertise: Infosys cross leverages the platform's innovative ecosystem with its Cobalt framework of competencies. This includes the cloud innovation ecosystem on Cobalt, orchestrators facilitating movements to the cloud and blueprinting for new solutions and experience.
Innovative tools to accelerate Implementation: Infosys' integrative approach balances client requirements for modernizing the core as well as for building a cloud-first approach. These include the legacy requirement arising from data center consolidation, applications ERP modernization, legacy tech transformation to APIs and data modernization for analytics.
Simplified interface for usage convenience: Infosys' ServiceNow practice enables end-to-end transformations in client landscapes across different verticals, ranging from financial services to semiconductor manufacturing and hi-tech industries. It delivers targeted outcomes, ranging from environment simplification to tools rationalization and enhanced user experience (UX). These outcomes are delivered with a proven industry track record — a few weeks rather than months and quarters — because of its experienced, domain-savvy talent pool.

ServiceNow Managed Services Providers

Outcome-based flexible commercial and delivery models: Infosys has delivered outcome-driven flexible commercial models for ServiceNow managed service engagements that are in sync with the dynamic demands in mature markets such as the U.S. The outcome-based models focus on the achievement of service objectives in runtime. The unit-based models are the equivalents of pay-per-use in case of services delivered. The intellectual property-based models factor in the client value realized through the use of relevant solutions. The company also offers traditional cost models such as T&M and fixed price.
Improvement and modernization at the core of service offerings: The outcome-based operating models for ServiceNow's managed services include service improvement objectives achievable per milestone, improvements in self-service usage and adoption, maintenance of assets for automation of workflows, and asset data accuracy, among others.
Security and cloud service offerings bolstering risk mitigation: Given that Infosys' ServiceNow practice is positioned within the larger cloud and security ecosystem, the managed services leverage these adjacent capabilities to ensure value realization for clients in a risk-mitigated and compliant manner.