Infosys Positioned in the Winners Circle of the HFS ServiceNow Top 10 Services 2021 Report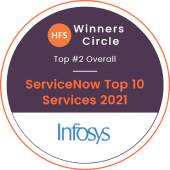 Infosys has been positioned in the Winners Circle of the HFS ServiceNow Top 10 Services 2021 report as the global system integrator with dynamic growth momentum. We have been ranked at an overall position of number 2 in the rating.
The HFS Top 10 ServiceNow Services report examines 16 service providers across a defined series of innovation, execution, and voice of the customer criteria. The report highlights the overall rankings for all participants and the leaders for each sub-category. It focuses on ongoing third-party services as defined by the ServiceNow services value chain.
Key Highlights
#2 in Ability to execute
#2 in Scale and growth of ServiceNow practice
#2 in Strategy and vision
#3 in Differentiated IP
Infosys Strengths
ServiceNow as the enterprise platform to drive digital transformation: Infosys is expanding from a managed service focus to a broader consultative approach that puts ServiceNow at the center of digital transformation. An acceleration of localization is another reference point for this evolution.
Scaled deployments crossing over to ESM and GBS: Infosys can reference a strong roster of marquee clients, including a multinational food and beverage corporation, that have scaled with IT workflows and crossed over to ESM deployments. Scaling often includes reacting to spikes in demand, which clients praise Infosys for. The company has been an early proponent of ESM, most notably with the Infosys Cobalt "Enterprise Service Management Café," an AI-powered plug-and-play solution with process templates to accelerate rollouts.
Leveraging expansive data ecosystem: The company emphasizes leveraging data assets with AI, progressing from asset management around the CMDB toward broader workflow digitization and automation.
Focus on outcome-based contracts: More than 30% of Infosys contracts are outcome-based, such as improving self-service or automation of workflow, referencing the shift toward higher-value services.
Push on automation: Infosys has created a committed innovation fund to develop new solutions and provide an integrated IT Service Management and Automation Platform, extending workflows to execution and automation.
Talent development strategy: Talent crunch remains a key issue in the industry. Infosys is implementing various approaches to address this issue, like creating a ServiceNow hub with ServiceNow professionals. The strategy includes delivering projects from that hub, having dedicated training centers, increasing its localization approach by hiring talent near clients, and acquisitions.