Infosys is a Market Maker in capioIT Salesforce Asia Pacific Systems Integration and Services Providers Capture Share Report - 2023
According to capioIT's Capture Share analysis, Infosys is positioned in the Market Maker position in the capioIT's Capture Share: Asia Pacific Salesforce Systems Integration and Services Providers.
The report highlights that Infosys, as one of the top 4 vendors, provides genuine business outcomes for clients and has strong capabilities to transform and leverage client requirements. Infosys differentiates based on the depth of the relationship, the broad industry, engagement with Salesforce and the overall ecosystem.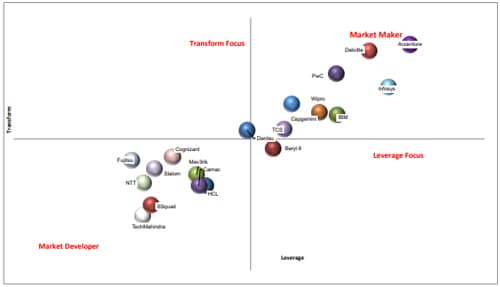 Phil Hassey, CEO and Founder of capioIT, and the author of this report states, "Infosys has a strong capability across the board in Salesforce that is important as it balances scale with intimate client delivery. This is a crucial strength for Infosys".
The report also calls out the following:
Top Three Infosys Capabilities that positioned it as Market Maker in Asia Pacific are Internal R&D, Solution Portfolio Depth and Delivery Partnerships.
Infosys' key differentiation is more than the scale of capacity. It is the ability to transform client-customer experiences.
Click here to download the report excerpt.
Note: Capture Share reports are based on analyzing 17 key capabilities and attributes of service providers. These attributes are focused on two key areas, Transform and Leverage.
To undertake the appropriate level of analysis and data integrity, the individual attributes are weighted in percentage terms based on the overall influence of the Transform and Leverage capabilities. Data and process integrity are critical components of a report of this type. Fundamentally, the data be valid and untarnished. To help ensure this, all information for the measurement and assessment of these attributes comes from a range of sources. Sources of information include Salesforce, Salesforce users, vendor briefings and meetings, media sources, the IT solutions ecosystem and specific end-user feedback.