Infosys positioned as a Salesforce Ecosystem Leader in ISG Provider Lens 2020 report
Infosys has been rated as a Leader in Implementation and Integration Services and Managed Application Services quadrants. We have been ranked as a leader in all the 3 geographies – US, Germany and Brazil.
The Implementation and Integration Services quadrant assesses the providers offering implementation services for Salesforce applications as well as the integration of these applications with major standard software solutions that are usually a part of the sophisticated system landscape of large enterprise customers operating globally. The Managed Application Services quadrant covers providers with the capability to offer managed services for maintenance and support functions that include monitoring, remote support, centralized management of Salesforce applications, data quality management, data security and compliance-related aspect.
According to ISG, apart from provisioning a comprehensive development environment for Salesforce implementations, Infosys' portfolio includes a strong set of advanced industry-specific solutions for industries such as Automotive and Healthcare. Based on a comprehensive suite of application management tools and a powerful global delivery model, Infosys offers a strong portfolio of managed application services for Salesforce that meets the needs of large enterprise clients.
Some of the key strengths of Infosys highlighted in the report include:
Infosys operates as a global delivery organization with several delivery centers in the U.S. that offer a mix of onshore and offshore resources contributing to cost-efficient project execution
Infosys focuses on legacy to SFDC migration to help clients achieve application rationalization alongside modernization of various platforms to integrate with the Salesforce platform
Infosys has several industry-specific solutions encompassing industries such as automotive and healthcare. For example, the Smart Field Service Manager is specifically designed for the needs of the Hitech industry
With standardized solution packages, Infosys covers the integration of Salesforce-based solutions with complex IT environments. Particularly for sales cloud, the company's portfolio includes a comprehensive pre-configured template for cross-industry use
Infosys has variety of tools to support efficient application management for example - Infosys Agile Pro–Smart Development Platform, Code Coverage Manager, Infosys Sandbox Manager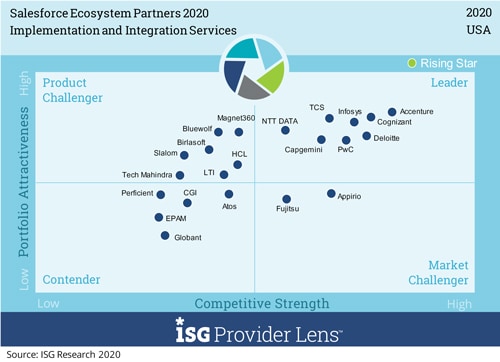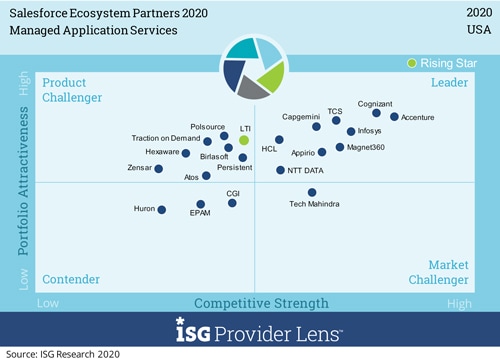 Click here to download the Implementation and Integration Services quadrant report and Managed Application Services quadrant report
ISG Provider Lens™ is a practitioner-led service provider comparison, empowered by ISG's advisory experience and data-driven research. The recent Salesforce Ecosystem research study examines various offerings around the Salesforce platform for the US market. It covers four distinct market segments evaluating the most significant service providers and primary Salesforce partners registered in the Salesforce AppExchange portal.
Know more about Infosys Salesforce services