Infosys is a Leader in NelsonHall NEAT Assessment for Salesforce Services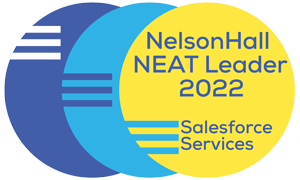 NelsonHall recently published its NEAT (NelsonHall Vendor Evaluation and Assessment 2022) for Salesforce Services. This assessment analyzes the performance of vendors offering Salesforce services.
Recognizing Infosys as a 'Leader', the report scored Infosys highly on both axes – ability to deliver immediate benefit and to meet future client requirements. Infosys was positioned highly for Marketing Cloud, Experience Cloud, and MuleSoft offerings.
The NEAT report recognizes the core strengths of Infosys such as:
Consulting capabilities that have been enhanced by acquisitions such as Fluido and Simplus
Industry solutions and micro-vertical solutions in partnership with Salesforce with an emphasis on automotive, telecom, CPG, communications, and healthcare
Rich partnership ecosystem with ServiceMax, Xactly, IQVIA, Veeva, and nCino (mortgage origination), Conga, and DocuSign
Accelerated upskilling effort towards specialized services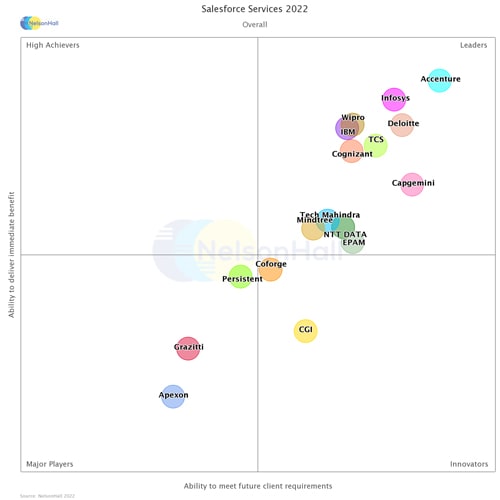 NelsonHall has highlighted our comprehensive offering ranging from core products (Sales and Service Cloud) to Marketing, Community, and Commerce Cloud and consulting services and specialized services such as Revenue Cloud, Salesforce Industry, Einstein, Field Service, and CloudSense (commerce subscriber management). Additionally, Infosys has been positioned as a Leader in seven other focus areas - Field Services, Marketing Cloud Services, Experience Cloud Services, Commerce Cloud Services, Vlocity Services, MuleSoft Services, and Revenue Cloud Services.
Other remarkable mentions in the report include:
Experience Cloud: Infosys has expertise and solutions around automotive dealerships. Infosys has expanded its capabilities to CMS integration. Infosys has also developed specific offerings such as a farmer portal, an HR case management portal, an automotive dealer portal, a booking portal, and a funds portal.
Marketing Cloud: Infosys has a comprehensive offering and specialized capabilities such as campaign as a service and subscription centers. Infosys has telecom-specific offerings and intends to create a solution for the insurance sector around campaign conversion tracking. The company will develop partnerships with several ISVs.
Commerce Cloud: The company provides a full range of lifecycle services, including program strategy, business consulting, OCM, implementation, data and application integration, and application management around B2C Commerce (Demandware), Salesforce B2B Commerce Classic (formerly CloudCraze), Salesforce Commerce, which includes Salesforce Commerce B2B (Commerce on Lightning Experience) and Salesforce Commerce for B2C (formerly, B2B2C). The company has developed its IP around integration and specialized features.
Field Service: Unlike most competitors, Infosys has scale in field service, due to its background in Clicksoft. Infosys has experience in four core components (asset management, scheduling and dispatch, mobile enablement, and communications). Infosys is investing in new offerings, with a proactive service based on IoT and AI. The new service will use data captured by sensors and AI-based analytics to identify potential failures and required maintenance for various equipment.
Revenue Cloud: Infosys' background in ISV (SteelBrick) which Salesforce acquired and which became the basis for the Revenue product has also been called out. Infosys has several accelerators around CPQ (partner channel sales) for the manufacturing and high-tech industries. For high-tech, Infosys has self-service capabilities for managing contracts and the installed base (products already purchased from suppliers), including increases and decreases down to contract termination/cancellation.
MuleSoft: The report mentions our offerings around IBM and TIBCO migration to MuleSoft's Anypoint Platform in addition to MuleSoft-specific offerings such as C4E. Infosys has specialized offerings and accelerators such as Migration-to-MuleSoft, Infosys Connected Supply Chain, Integration Workbench, ICC Factory, One-Click API, and Integrate+.
Vlocity: Infosys has one of the most comprehensive and specialized offerings and accelerators along with scale. The company has aligned its Vlocity capabilities around four industries to cover the full range of Vlocity products.

Telecom: Quote-to-order and order-to-cash process automation. Infosys has built a B2B reference architecture across BSS processes
Insurance: Quotes and claims
Health: Enrollment, member maintenance, and renewal
Utility: CPQ, targeting commodity billing for items such as gas, water, and solar panels. Infosys highlights that Vlocity's adoption is now growing in the utility industry.
Dominique Raviart, IT Services Practice Director at NelsonHall and the author of this report states - "Infosys has prepared for growth acceleration in its Salesforce practice and has diversified its services portfolio toward next-gen Salesforce services, building on its organic efforts and the Fluido and Simplus acquisitions. The company has well-rounded offerings, positioning Infosys as a key partner for clients embarking on their CX transformation journeys"
Click here to download the report.
*The NEAT tool allows strategic sourcing managers to assess the capability of vendors across a range of criteria and business situations and identify the best performing vendors overall, and with specific capability in Experience Cloud Services, Field Services, Commerce Cloud Services, Marketing Cloud Services, Revenue Cloud Services, MuleSoft Services, and Vlocity Services. Vendors evaluated for this NEAT are Accenture, Apexon (formerly Infostretch), Capgemini, CGI, Coforge, Cognizant, Deloitte Consulting, EPAM Systems, Grazitti Interactive, IBM, Infosys, Mindtree, NTT DATA, Persistent, TCS, Tech Mahindra, and Wipro.