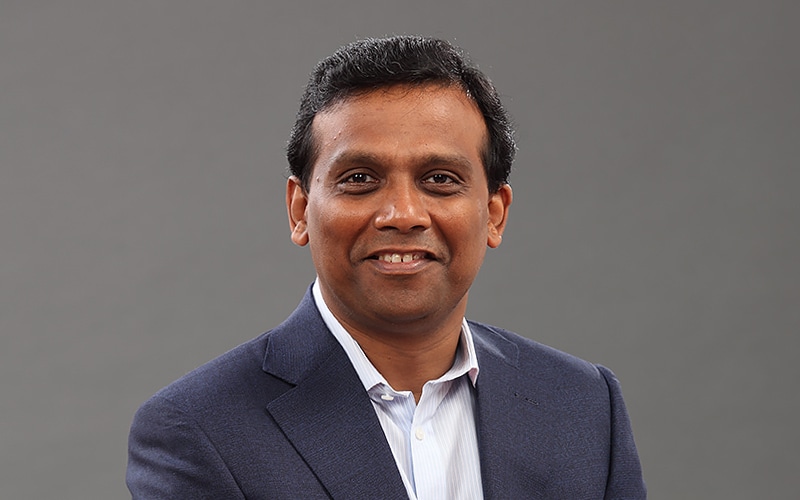 Ravi Kumar S.
President
Ravi is a President at Infosys. In this role, he leads the Infosys global delivery organization across all global industry segments, driving digital transformation services, application development and maintenance; independent validation services, engineering services, emerging technology solutions, business intelligence & analytics, cloud & infrastructure, and enterprise package applications service lines. In addition, Ravi is championing and leading the U.S talent model for Infosys to drive the creation of new Innovation and Technology Hubs by collaborating with clients, local state governments and academic ecosystems. He oversees Infosys Business Process Management (BPM) and is the Chairman of the Board of Infosys BPM Ltd. He also oversees Infosys operations for Infosys Public Services, Latin America, Japan and China. He is the Chairman of the Board of Infosys China and is also on the Board of Infosys Public Services, Infosys Consulting and McCamish Systems (an Infosys BPM company). Ravi's responsibilities include managing the alliances organization and the partner ecosystems at Infosys. He is chairperson of the Infosys Foundation, USA.
Previously, Ravi was the Group Head for the Insurance, Healthcare, and Cards and Payments unit, where he drove client services, demand generation, next-generation service offerings, game-changing innovation, and a world-class delivery organization to support clients. He has also led the US$700+ million Global Consulting and Systems Integration practice in the manufacturing industry. Spanning a global clientele and other new incubating engines, he built the global Oracle and CRM practices for Infosys. Under his leadership, the Hyderabad Development Center, housing 22,000+ employees, won the Infosys Excellence Award for the Best Development Center five years in a row from 2010 – 2014.
Ravi has over 18 years of experience in the consulting space, incubating new practice lines, driving large transformational programs, and evangelizing new business models across industry segments. He has played diverse roles across organizations within the CRM space for Oracle Corporation, building a next-generation CRM practice at Cambridge Technology Partners. He has also worked on process and technology transformation for the unbundling of Indian State Electricity Boards at PricewaterhouseCoopers.
Ravi started his career as a nuclear scientist at the Bhabha Atomic Research Center.
Ravi is a part of several steering committee boards of large transformational initiatives for global clients. He actively writes and blogs on technology-led transformation, big data, next-generation supply chain, digital transformation, and disruptive business models. He is an Honorary Founding Board Member of the Technology Advisory Board at MIT Forum (launched in 2012); Advisory Board of the Global Supply Chain Center at Marshall Business School, University of Southern California; Member of the Young Presidents Organization (YPO)-Manhattan Chapter, Oracle's Enterprise Project Portfolio Management (EPPM) Board; and many other industry forums.
Ravi has a master's degree in business administration from Xavier Institute of Management, Bhubaneswar, India.