Winning the Future with Talent
- By Salil Parekh
Chief Executive Officer and Managing Director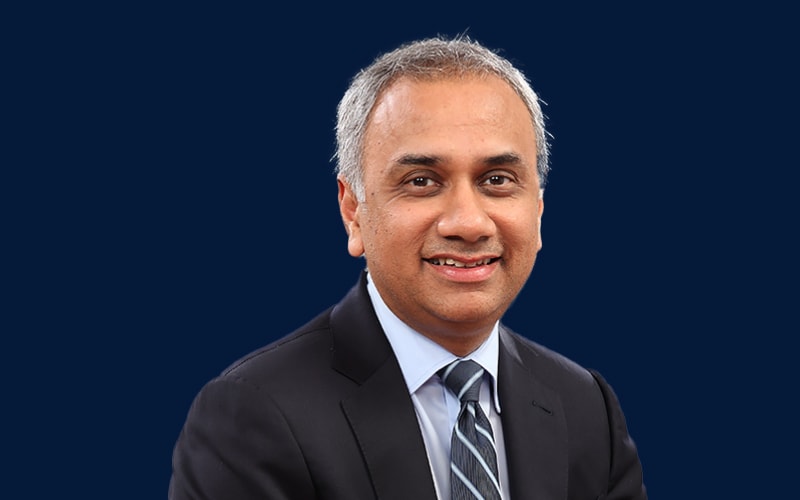 It's been said many times that the future belongs to those who see possibilities before others do. How better than to stake a claim in the future than by harnessing the greatest of all possibilities – people!
Research across the globe indicates not just the urgency, but the volume of reskilling required is staggering! Gartner, earlier this year, placed talent shortage, amongst the top three risks that organizations face. The World Economic Forum predicts that the rapid evolution of machines and algorithms in the workplace will create 133 million new roles in place of 75 million that will be displaced between 2018 and 2022. The Infosys Knowledge Institute developed a Talent Readiness Index to indicate how ready an organization is to meet its talent needs -- 70% of the enterprises surveyed, fell short of being prepared! Clearly, there is plenty that we can do to win the war concerning talent.
Here are some of the most compelling approaches, based on our experience and studies, in addressing the skill gap.
You've not done enough with your talent. Do more!
Nearly every company tries to develop the talent it already has. Long-proven approaches, such as instructor-led classroom training, onboarding programs, and coaching, are widely used. However, while traditional methods for developing talent have not entirely fallen by the wayside, learning is becoming more experiential. Self-guided online education is growing as universal as in-class courses, and leading organizations are adding digital campuses, boot camps, and hackathons to their skills development offerings. Companies are also changing the speed at which they deliver learning initiatives, and are developing knowledge-sharing platforms, self-guided online learning modules to ensure that an employee can learn anytime, anywhere, and from any device.
Use data to cast your net, not just widely, but accurately.
As the battle for new hires continues, organizations have to go beyond traditional means of recruiting. From digitizing recruitment processes to using machine-learning algorithms to select potential employees, the data generated on employability, employees, and recruitment methods are proving that the gaps in skills are likely to be filled by hiring from unlikely sources. Can students of Liberal Arts, community colleges, and trade schools be trained in the relevant expertise? Will those returning to the workforce after military service or parenting breaks have skills required in the digital age? The answer is an emphatic, yes! Because, as customer clusters become varied, we need multiple points of view, different skills, and diverse perspectives. We need imagination, empathy, and creativity to complement our technical expertise. Our new pool of talent is not STEM or Liberal Arts, but a dynamic composite. Unfortunately, it is a composite that our education systems are not geared to meet. Enterprises must collaborate with academia in strategic, innovative ways, at grass root levels, to develop new talent, together.
Ignore the gig economy at your own risk
According to HBR, approximately 150 million workers in North America and Western Europe have left the relatively stable confines of organizational life — sometimes by choice, sometimes not — to work as independent contractors. This is not always easy, and the strategic approach requires robust internal processes to contract, integrate, manage, and release workers as projects spin up and then wind down. Successful companies are those that have better means to engage temporary workers strategically and better manage them; and those who employ creative or design capabilities — which are in short supply — thereby increasing the real value that the gig economy can provide to enterprises.
Are you ready for holacracy?
If not, creating an agile structure is essential. Digital initiatives require organizational structures that support collaboration and enable employees at all levels to make decisions. They must move away from hierarchical organizational structures to team-based, self-managing ones for agile project needs. Creating customer experiences and achieving new business-related goals can be successful when there is a team-based model, where multiple groups work toward a common objective.
Tap into talent beyond your immediate jurisdiction
As the world becomes less fragmented, enterprises are increasingly finding themselves at the center of collaborative ecosystems. This can be a massive advantage. By tapping intelligently into its extensive networks of expertise and partnerships, you can make the most of a new breed of partners and startups, and digital natives. A carefully curated mix of talent and academic institutions, enterprise partnerships, on-demand design, and innovation hubs, and startups, will gain you instant access to new technologies to differentiate your business and help you create collaborative solutions.
In Conclusion: Embrace duality
People are works in progress. The more enterprises embrace this understanding, the more likely they are to commit to nurturing the talent they need to compete in the digital era. Perhaps, the most crucial characteristic of developing talent in this era is the need to embrace seemingly contradictory approaches to build and manage talent. You must learn to think of these methods less as contradictions and more as a duality — two non-similar perspectives that exist in harmony to achieve a common purpose. For example, enterprises must both hire and develop talent, have on their roles permanent and temporary workers, recruit bachelor's and associate degree holders, from both STEM and Liberal Arts backgrounds, look for hard and soft skills, and provide classroom and virtual training.
At a time when talent is scarce and getting scarcer, being able to do multiple things simultaneously, many times over, might be the critical differentiator for companies to meet their talent demands – it also may be our last chance to win the future back!