Infosys Named as a Leader in Avasant's Healthcare Payor Digital Services 2022-2023 RadarView Report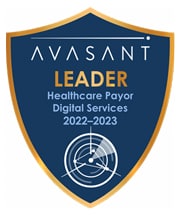 INFOSYS: RADARVIEW PROFILE
Analyst Insights
Practice Maturity:
Infosys continues to garner more traction in the healthcare payor market by specializing in design thinking expertise (built through acquisitions) with domain-centric offerings and a highly skilled team. Specifically, it has formed Team Magnum, an exclusive team to focus on large deals.
It has developed a robust portfolio of industry-specific solutions by leveraging its IP assets like Nia, Cobalt, and Cyber watch, to align with emerging business requirements. Specifically, it developed Helix, an AI-based platform for payors to drive operational resilience, build solutions across value chain, and manage quality care at scale.
With digital contributing over 50% of the healthcare revenues, Infosys has delivered highly impactful projects by converging digital technologies. For example, for a US-based American insurance company, it helped increase user registration by 25% by leveraging AI, analytics, and cloud.
With the growing push for regulatory compliance, Infosys has built offerings to help payors comply with the Cures Act (through FHIR based APIs) and the No Surprise Act.
Investments & Innovations:
Infosys has established two payor specific CoEs, Medicare and Medicaid CoE and Interoperability and Compliance CoE, to develop reusable offerings for clients. It has also set up two healthcare innovation and design hubs: one in Hartford to evaluate Healthtech offerings and build design thinking capabilities and another in Phoenix to develop AI-based healthcare-specific solutions.
To further enhance its back-office enrollment and application offerings for Medicaid clients, it acquired resources from LA-based Health Plan in 2020 as a part of a USD 70M deal.
It has partnered with Cornell University for assessing and tracking health techs for co-creating solutions and GTM support.
Partner Ecosystem:
Infosys's strategic alliances with leading cloud platform (such as Microsoft and AWS) and solutions providers (such as Salesforce and SAP) plays a critical role in accelerating GTM and reducing implementation risks.
It has partnered with specialized companies like Blue Prism and Automation Anywhere to supplement its domain offerings with automation capabilities for developing payor-specific solutions such as provider credentialing and claims management.
It has also partnered with niche companies to expand its domain-centric offerings. Specifically, it has partnered with 1UpHealthand Change Healthcare to develop interoperability solutions and Trio Tree for EMR offerings.