Cummins Honors Infosys with Category Partner Award
Infosys has been named a 'Category Partner' for IT Consulting by Cummins. The Category Partner list recognizes the performance and commitment of Cummins' suppliers to deliver value. Significantly, Infosys is the first partner to be recognized in the IT Consulting category.
Cummins, a Fortune 500 corporation, designs, manufactures, distributes, and services a broad portfolio of power solutions. The company works with global partners and selects category partners for their ability to achieve a competitive advantage in the marketplace.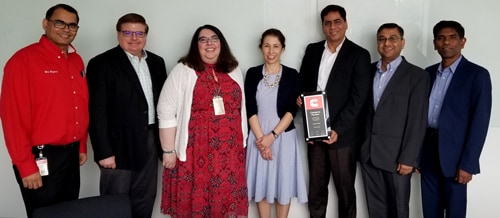 Infosys has been a Global Preferred Vendor (GPV) of Cummins for more than a decade. The 'Category Partner' recognition elevates the Cummins-Infosys relationship to:
Deliver maximum value to customers
Develop the most innovative products, processes, and services
Deliver highest quality goods and services
Provide a responsive supply chain
Reduce risk and waste in the supply chain
Cummins Inc. Selects Infosys Technologies as a Global Preferred Vendor for Information Technology
Cummins collaborates with Infosys to revamp supply chain planning system