Infosys Recognized as a Leader in Avasant's Manufacturing Digital Services 2020-2021 RadarView™ Report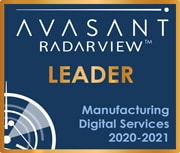 Infosys has been recognized as an Avasant RadarView™ leader for Manufacturing Digital Services 2020-2021. A comprehensive evaluation of 21 top-tier providers supporting the manufacturing industry in digital transformation, the study assesses service providers across three dimensions: practice maturity, investment and innovation, and partner ecosystem.
In its report, Avasant highlights how Infosys has been delivering business benefits to clients through industry-specific IPs and solutions, strategic acquisitions, focused investments on next-gen technologies, and robust partner ecosystem.
The evaluation highlights the strengths of Infosys in the following areas:
Practice maturity: With a vast domain experience of over 30 years and technological expertise, Infosys helps clients achieve tangible business goals. To contain cost and improve efficiencies, Infosys extensively uses Asset Efficiency Platform (for predictive maintenance) and KRTI 4.0 (for remote operations and maintenance), along with next-gen technologies like Robotic Process Automation (RPA), analytics, Internet of Things (IoT) and Artificial Intelligence (AI).
Investments and innovation: The study highlights the four strategic acquisitions of Infosys in 2020, including Kaleidoscope Innovation, Simplus and GuideVision. Further, it recognizes Infosys' investments in co-creation of digital solutions across the value chain and lays emphasis on Infosys Living Labs, which is contributing to industrial use cases like RFID-based field and plant asset management.
Partner ecosystem: To deliver end-to-end solutions and accelerate clients' digital transformation journey, Infosys has partnered with leading technology providers like AWS and Microsoft, along with specialized companies like Dassault Systemes and PTC, for co-creation of industry-specific solutions. Besides, Infosys works closely with several start-ups such as IOTICS for digital twin capabilities, universities such as RWTH AACHEN University for Industry 4.0 offerings, and industrial associations such as Acatech.
Swapnil Bhatnagar, Senior Research Director at Avasant noted, "Since pandemic, progressive manufacturers are evaluating new operating/ business models, prioritizing SKU, reducing human dependency to ensure business continuity and stability. Infosys has emerged as a leading service provider catalyzing digital transformation for this shift in the industry. It has developed several differentiating solutions such as Digital Factory Framework and KRTI 4.0 to improve operational efficiencies and manage operations remotely. It has also made strategic acquisitions in 2020 to complement the on-going investments in next-gen technologies for bolstering its product designing, manufacturing, and supply chain capabilities. Delivering business benefits to manufacturers through customized, industry-specific, digital solutions, focused investments, and robust partner ecosystem has placed Infosys as the leader in Avasant's Manufacturing Digital Services 2020-2021 RadarView."
Read Avasant's Manufacturing Digital Services 2020-2021 RadarView™ Report excerpt here and Infosys RadarView profile here.