Infosys cited as a Leader in the European life sciences ITO 2014 PEAK Matrix™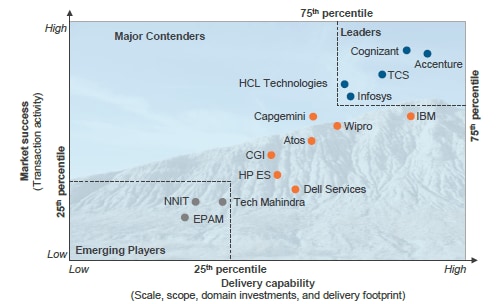 The healthcare industry is witnessing an unprecedented churn and transformation, leading to a surge in IT and business process outsourcing adoption. Driven by regulatory reforms, tenets of customization, market consolidation, and emergence of next-generation digital avenues, outsourcing has accelerated in this space.
Infosys has been rated as a Leader in Everest Group's first European life sciences IT outsourcing 2014 PEAK Matrix™. The report recognized Infosys, among other 14 ITO service providers, for its market success and overall capabilities in the life sciences ITO.
The service providers were evaluated across two key dimensions:
Market success measured by the active ACV of European life sciences ITO contracts
Delivery capability measured by scale of operations, scope, enabling domain investments, and delivery footprint
Related reading
Infosys cited as Leader and Star Performer in the life sciences ITO 2014 PEAK Matrix™