Infosys positioned in the Winner's Circle by HfS Research Blueprint Report for Utility Operations - 2017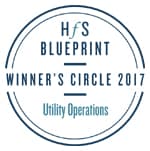 Infosys has been positioned in the Winner's Circle in the HfS Research Blueprint Report for Utility Operations – 2017. The HfS Blueprint evaluated 14 global service providers of the utility industry.
The report recognizes Infosys' "strong vision for the utility market underpinned with deep domain expertise and a consultative, innovation rich approach." The HfS Blueprint discusses Infosys' capabilities, partner ecosystem and alliances, and investment in digital services:
Client focus
The HfS report highlights Infosys' engagement with clients using a 'one team, one goal' approach and mentions that "Infosys invests significant effort and money." Utility clients appreciate Infosys' ability to introduce innovative solutions, tools, and methodologies.
Domain expertise
The report states, "Infosys has a deep understanding of the utility industry and business challenges utilities face." Significantly, clients value the combination of technology prowess and deep industry expertise for transformation engagements and innovation projects.
Consulting
"Infosys has a significant utility industry consulting capability," says the HfS report. It adds that clients consider Infosys to be a committed partner going the extra mile, using a collaborative methodology for execution, and retaining the original team for the duration of the engagement.
Design thinking
The HfS report states that Infosys has put design thinking at the heart of developing solutions and reimagining processes. In addition, digital offerings of Infosys are a catalyst for online channels and migration to the cloud for utility enterprises.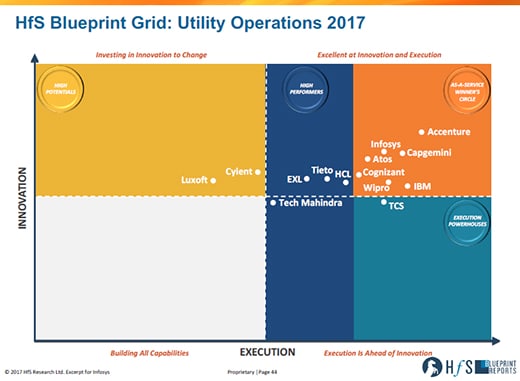 Download the HfS Research Utilities Blueprint Report: Infosys Excerpt
About HfS Research Blueprint Report for Utility Operations:
The HfS Blueprint Report for Utility Operations provides a comprehensive overview of services for the utility industry. This Blueprint looks at business process services, information technology services, and engineering services across the utility value chain areas of generation, market operations, transmission, distribution and metering, marketing and retail, and cross- value chain BPO, engineering, and ITO services. This report analyzes and reviews how the market is evolving toward more business-outcome-focused, flexible, and collaborative services and how service providers are meeting the needs of utility organizations.