Infosys named a 'Leader' in the IDC MarketScape: North American DERMS Strategic Consultants and Systems Integrators 2020 Vendor Assessment
The IDC MarketScape has positioned Infosys in the Leaders category in its North American Distributed Energy Resource Management Systems (DERMS) Strategic Consultants and Systems Integrators 2020 Vendor Assessment (doc # US44514919, March 2020).
IDC MarketScape evaluates the strategies and capabilities of consultants and systems integrators (SIs) in the utilities industry.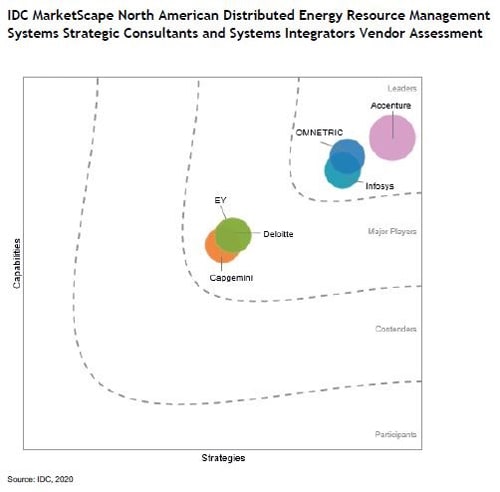 IDC MarketScape vendor analysis model is designed to provide an overview of the competitive fitness of ICT suppliers in a given market. The research methodology utilizes a rigorous scoring methodology based on both qualitative and quantitative criteria that results in a single graphical illustration of each vendor's position within a given market. The Capabilities score measures vendor product, go-to-market and business execution in the short-term. The Strategy score measures alignment of vendor strategies with customer requirements in a 3-5-year timeframe. Vendor market share is represented by the size of the icons.
About Infosys
IDC MarketScape recognizes that the Infosys Utilities practice has long-standing relationships with some of the largest investor-owned utilities in the United States. It highlights core areas of services spanning the utilities value chain with customer engagements in generation, energy trading, transmission and distribution, customer service, enterprise services, and consulting.
The report identifies the strengths of the Infosys Utilities practice in the areas of innovation, quality IT outsourcing, systems integration, and managed services. Specifically, in DERMS, Infosys partners with clients to integrate new DERs with existing systems within utilities such as DMS and supervisory control and data acquisition (SCADA) along with customer information systems (CISs), automated meter infrastructure (AMI), meter data management (MDM), and order management system (OMS).
Infosys strengths
Infosys' growth strategy is also strong in the area of DERMS, which includes the use of blockchain in transactional markets; aerial surveillance to improve asset inspection and vegetation management; asset health monitoring based on asset reliability, availability, maintainability, and sustainability (RAMS); and the use of utility network models to improve network tracing and grid connectivity.
Infosys is developing a digital platform — 'Urban Grid' — to model, manage, and optimize the future grid with distributed energy resources, EVs, and storage and also enhance the experience of prosumers and the workforce.
Infosys has a competitive product portfolio featuring an enterprise offering (EdgeVerve), open source big data analytics, SaaS application testing (Panaya), omnichannel digital CXM (Skava), AI (Infosys Nia), and machine learning (SkyTree).