Event details | Event overview | Speakers
Event details
Date: September 23, 2015
Time: 1 p.m. – 5 p.m. CET
Venue: Le Meridien Parkhotel, Frankfurt
Event overview
The explosion of data in this digital age is opening up new possibilities. While there is a lot of talk about the value from data, the path to realizing it is not clear to many. Infosys will host a roundtable on monetizing data, to help define a call-to-action and obtain real insights in real-time.
Why attend?
The Infosys roundtable will address critical business issues related to deriving value from data such as:
There is a lot of talk about value from data. But how do you realize the value promised, and realize it rapidly?
Most organizations have reporting in some form. However, how do you leverage analytics to drive up revenues, and reduce costs?
What is the right organizational construct to help monetize this data? What is the structure, culture, and set of capabilities that need to be enabled?
What is a future proof solution architecture, given the rapid changes in technology landscape?
Speakers

David Rhee, Global Marketing Analytics, adidas group - speaks on "adidas 2020 strategy - creating the new: Leveraging consumer analytics"

Maurice Verhagen, Head of Reporting Services, Philips - speaks on "Philips building differentiation through analytics: Initial successes, challenges, and its unique organizational structure supporting analytics initiatives"

Ambeshwar Nath
Vice President – Retail, CPG and Logistics, Infosys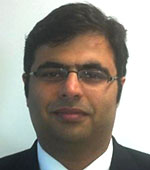 Ruchir Budhwar
Associate Vice President, Head – Manufacturing (Germany, UK), Automotive (EMEA), Infosys
Related reading
POV: Monetize Data: Making it happen!
Read more about Infosys offerings in BI & analytics space
Read more about Infosys Retail, CPG & Logistics space