Date: July 23, 2021
Time: 11.00 a.m. – 12.30 p.m. EDT | 10.00 a.m. – 11.30 a.m. CDT | 08.00 a.m. – 09.30 a.m. PDT
Watch Now
Event Overview
What is driving growth for regional banks and credit unions in a post-COVID world? Everyone is banking on next-gen technology to stay connected with customers and deliver ongoing services. But leading regional banks are accelerating their digital agenda by offering direct banking services, newer products and customer experiences, streamlining front-to-back operations and testing new business models while delivering operational efficiencies and cost savings. Collaboration, rather than competition, is the key for leaders that want to stay ahead.
Key Takeaways:
What are the factors driving growth for regional banks post-pandemic and how to sustain this momentum?
How the regional banks plan to strike a balance between growth related investments and cost efficiencies to get the most out of digital transformation?
How the regional banks can leverage trends like cloud, digital assets, FinTech collaboration and others to become digital-first and grow through data?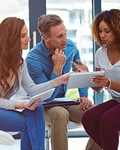 Viewpoint: Regional Banking- A Personal and Digital Touch to Grow in the Future
Read more
Watch the Recording
Panelists

Jim Ryan, Chairman and CEO, Old National Bank

Nitin Mhatre, CEO, Berkshire Bank


Debbie Bianucci, President and CEO, BAI

Peter Esparrago, Founder and Chairman, Finlocker

Ira Robbins, President and CEO, Valley Bank

Dennis Gada, Industry Head - Financial Services, Infosys (Moderator)