Date: Thursday, February 25, 2021
Duration: 60 minutes
Location: Virtual
Watch On demand
Event Overview
Artificial intelligence adoption is at an interesting juncture – as it graduates from consumer AI, towards enterprise grade AI. This shift also marks the second inflection point for AI. As AI re-shapes businesses, delivers perceptive experiences and guides decisions, companies around the world are starting to realize that value from AI can bring them the competitive advantage.
However, most organizations, especially the traditional ones, are challenged with integrating AI with their core, lack strategies and tools to enable enterprise-wide adoption, and are unable to generate value from AI at scale. There are also data challenges. What organizations need is a comprehensive approach and a defined roadmap.
Join us for this virtual event as we discuss how organizations can future-proof and efficiently scale AI investments enterprise-wide, while managing and minimizing the risks.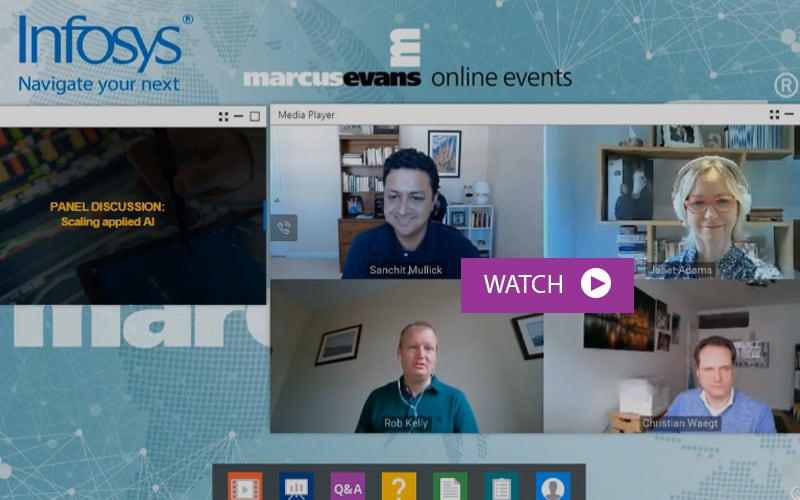 Key Takeaways
Discover value and ready-to-deploy AI solutions across the value chain
How to "future-proof" and efficiently scale AI enterprise-wide
Managing the reputational and performance risks associated with AI adoption
Speakers

Janet Adams, AI and Risk Expert, United Kingdom
AI enthusiast, change agent and risk professional with research interests in Explainable AI and Robotics in financial services.
Successful track record of rolling out both large scale customer facing technology solutions and regulatory change and risk frameworks. Experience in risk management and frameworks for management of risk types including conduct, credit, operational, technology and change risk, driving transformational change across Commercial, Retail and Investment banking sectors.
Recently completed an MSc in AI with thesis on development of an explainability framework for regulatory compliance of AI in financial services. Learned Python, Matlab, C++, robotics, neural networks and deep learning, fuzzy logic, support vector machines, K-NNs and common machine learning (ML) algorithms.
Very excited about how these transformative technologies will combine with my change and risk skills to drive data powered smart automation in the banking industry, and for the greater good.

Rob Kelly, VP Digital Production & Projects, bp
Rob was appointed Vice President, Digital Production & Projects in bp's Innovation & Engineering organization on January 1, 2021. He is based in Houston, with accountability to lead SecDevOps squads to deliver Digital Transformation across Production, Projects, Engineering, HSE & Carbon, and Safety & Operational Risk Assurance.
Rob's previous role was Head of bp's Upstream Digital Organization from February 2019 to December 2020, with accountability for shaping and delivering bp's Upstream digital transformation.
Rob has 33 years of industry experience, joining bp straight from college in 1988. His career in bp has spanned a variety of disciplines, world-wide.
Rob lives in Houston and is married to Fransisca, with a daughter (Jennifer – aged 21) and a son (James – aged 17).

Christian Waegt, Program Lead, M&A ERP at Novartis
Christian is a Senior Director at Novartis responsible for Organizational Transformation, Restructuring, and Mergers & Acquisitions in IT to change key business applications in alignment with the strategic organizational changes. He has been with Novartis for over 10 years and has played several pivotal roles in Novartis's ERP journey. He is very passionate in the applications of new digital technologies to explore further efficiency gains which will optimize the execution of Mergers & Acquisitions deals and also has several strategic AI initiatives planned and running under him. He has been a committed leader and visionary having delivered many successful large programs in his career with an innovative and digital mindset. Christian is based in Basel, Switzerland and loves travelling , skiing, cycling, photography, Japanese cuisine & cooking Indian food in his leisure time.

Sanchit Mullick, AVP and Global Head of Sales for AI and Automation Services at Infosys
Sanchit leads the worldwide sales, marketing and alliances for AI and Automation Services for Infosys and partners with customers to help them chart their roadmap across the automation spectrum leveraging everything from robotic automation to cognitive services. Sanchit has worked across US, Australia, UK and India having played roles cutting across sales, consulting and delivery. Given his breadth of experience, Sanchit's strength lies in his ability to drive effective problem finding, leverage cutting edge technology and harness the strength of extended teams to deliver a solution.
Related Readings