Event Overview
Hyperledger is an open source collaborative effort created to advance cross-industry blockchain technologies. It is a global collaboration, hosted by the Linux Foundation, including leaders in finance, banking, Internet of Things, supply chains, manufacturing and technology.
Hyperledger Meetup groups have an informal relationship with Hyperledger, and make up a key part of the Hyperledger ecosystem. Participation in a Hyperledger Meetup group is open to anyone—employees of a Hyperledger member company, Hyperledger contributors and developers, and people just passionate about blockchain technology.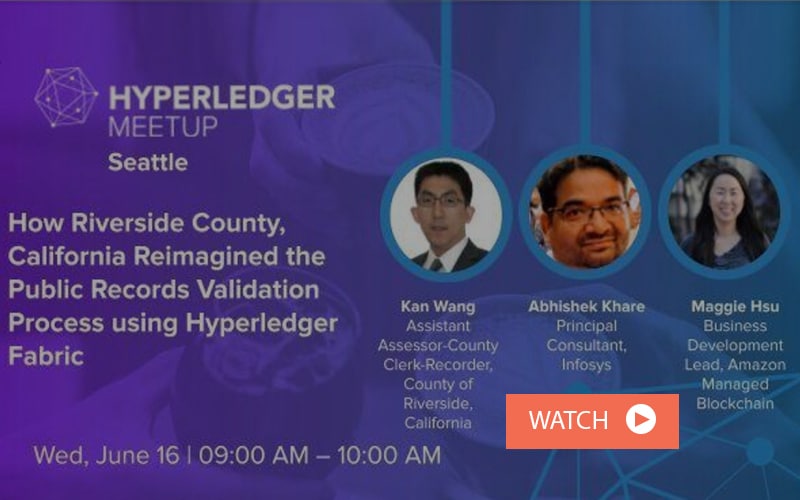 Session: How Riverside County, California Reimagined the Public Records Validation Process using Hyperledger Fabric
Webinar length Lecture: 45 minutes
Q/A: 15 minutes
Watch this session for a robust conversation around how blockchain technology can transform the public records management process. Riverside County, California (10th-largest county in the U.S.) and Infosys Public Services, in collaboration with Amazon Web Services, created a platform on Amazon Managed Blockchain where various forms of digital records (e.g., land records, births, marriages, and deaths) can be seamlessly verified and authenticated. This results in cost savings, faster turnaround time, and enhanced customer service.
Kan Wang, Assistant Assessor-County Clerk-Recorder, County of Riverside, California
Kan has over 25 years in the Information Technology industry and joined the County of Riverside in 2007 as Information Technology Officer. He accepted the Property Tax System IT Officer position in 2012 and led the County's Property Tax System Modernization effort. He is currently the Assistant Assessor-County Clerk-Recorder. Kan holds a Master of Business Administration degree, a Master of Science degree in Applied Computer Science, and a Bachelor of Science degree in Business Administration with concentration in Management Information Systems. He is also a Lecturer with the University of California Riverside School of Business and A. Gary Anderson Graduate School of Management.
Abhishek Khare, Principal Consultant, Infosys
Abhishek Khare is currently working as a Principal Consultant at Infosys Limited. Abhishek, a chartered accountant (equivalent to CPA in the US) with two decades of industry experience in Treasury and Capital Markets domain including Trading, Risk management, Operations, and Compliance, has led digital transformations in the Financial Services sector under the Digital Experience practice of Infosys. For the last three years, he is advising Infosys government sector clients in India and US on the value blockchain-powered networks bring to the several departments and the citizens at large. Taxation, citizen services and education are his areas of interest. He has been instrumental in developing Infosys proprietary solutions for e-Governance and Credentials Management. Abhishek is also a research scholar pursuing a Ph.D. in the area of blockchain adoption.
Maggie Hsu, Business Development Lead, Amazon Managed Blockchain
Maggie is the Business Development Lead for Amazon Managed Blockchain. She was previously at Fluidity/AirSwap, an Ethereum startup, and prior to that was Chief of Staff to Tony Hsieh, former CEO of Zappos.com. She also worked at McKinsey & Company as a consultant. Maggie has an undergraduate degree and MBA from Harvard. When not at work, she enjoys hiking with her German Shepherd.