Infosys to offer Apprenticeship Program in the United Kingdom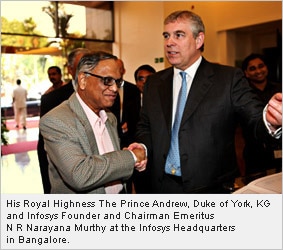 Infosys will develop an Apprenticeship Program with the National Apprenticeship Scheme (NAS) in the United Kingdom (UK). Through this program, Infosys will develop and support learners to achieve long-term employability through a combination of training and gainful employment.
The deed of commitment was signed in the presence of His Royal Highness The Prince Andrew, Duke of York, KG and Srinath Batni, Member of the Board and Head – Delivery Excellence, Infosys at the Infosys Headquarters in Bangalore.
Infosys, widely recognized for its software training programs and its Global Education Center in Mysore, will provide apprenticeships to over 100 learners over the next five years across its offices in UK. The apprenticeships will be in fields such as marketing, human resources and more.
The NAS in UK supports, funds and co-ordinates the delivery of apprenticeships throughout England. They are responsible for increasing the number of apprenticeship opportunities and providing a dedicated, responsive service for both employers and learners.
Related reading
Infosys brings world-renowned software career training to Wayne County Community College District in Detroit
Infosys USA Foundation supports NYC Science Education Initiative