Infosys Foundation supports Narayana Health to launch an Institute of Robotic Surgery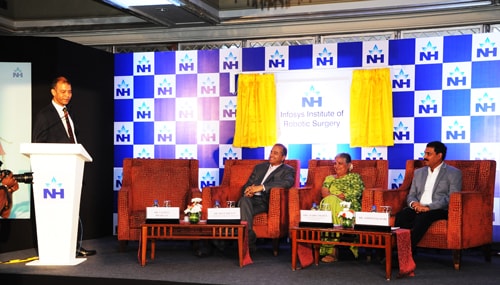 Supported by Infosys Foundation, Narayana Health has launched an Institute of Robotic Surgery at its flagship unit at Narayana Health City, Bengaluru. The Foundation has donated the da Vinci Robotic Surgical System which will be used primarily for prostate, kidney, gynecological, colorectal and select head and neck cancer surgeries.
Through this collaboration, the Foundation intends to encourage and enable rapid adoption of robotics in healthcare, and provide access to affordable, minimally invasive surgeries to a large number of people of the country. The creation of the Infosys Institute of Robotic Surgery is also aimed at training and providing research opportunities for use of robots in complex surgeries and to indigenize the production of such technology in India.
Speaking on the importance of robotic surgery, Mrs. Sudha Murty, Chairperson - Infosys Foundation said, "The need to adopt and continually update treatment protocols that reduce errors is crucial for a country like India, which sees high patient volumes and a wide spectrum of complex diseases. Robotic surgery, with its high degree of precision and faster recovery time, has the potential to address this efficiently. Our partnership with Narayana Health, incontestably a pioneer in delivering world-class healthcare, is aimed at encouraging rapid adoption of robotics in healthcare in India. Through this endowment, we also intend to provide impetus for further research in this area, and enable the masses to reap the benefits of affordable and high-quality treatment."