Infosys Chandigarh Organized 'Tree Plantation Drive' to Increase the Green Cover by 2500 Saplings
Infosys Chandigarh Development Center (DC) organized a tree plantation drive by planting more than 2500 saplings in 24 hours. Over 150 volunteers took part in the well-orchestrated campaign which witnessed participation from employees of Infosys Chandigarh along with their kith and kin. The volunteers planted saplings at designated spots along the road, in schools, colleges and universities in and around the city.
The drive was inaugurated by Mr. Maninder Singh Bains, IAS, Chairman Housing Board, with Mrs. Garima Singh, (IRS) Additional Commissioner Income Tax Chandigarh, by planting a sapling at Rajiv Gandhi Technology Park, Chandigarh.
The massive drive started from Chandigarh IT Park where 1000 saplings were planted. Volunteers moved from one target location to another planting more than 1500 saplings in a single day. Some of the areas covered were Panjab University (PU), Government College Sector 11, Punjab Engineering College (PEC), Chandigarh College of Engineering & Technology Sector 26 (CCET), Gurukul Global School, Govt Model Middle School (MHC) Manimajra, Govt. Model Sr. Sec. School Sector 32 C, Govt. Model Sr. Sec School Sector 46 D, Kendriya Vidalaya Sector 47,Sri Aurobindo School Sector 27 A, Chandigarh Spinal Rehab Sector 28 A, DAV School Sector 39, Govt. Model Sr. Sec. School Sector 37 B, Chitkara International School, Chandigarh. Infoscions were joined by students and faculty members at colleges and schools. In addition, patients from Spinal Rehab also came forward with huge enthusiasm and planted saplings in their campus.
The initiative also saw participation from ICICI Bank, which supported the drive with the novel intent of increasing the green cover of the beautiful city.
A quick snapshot of the 'Tree Plantation Drive'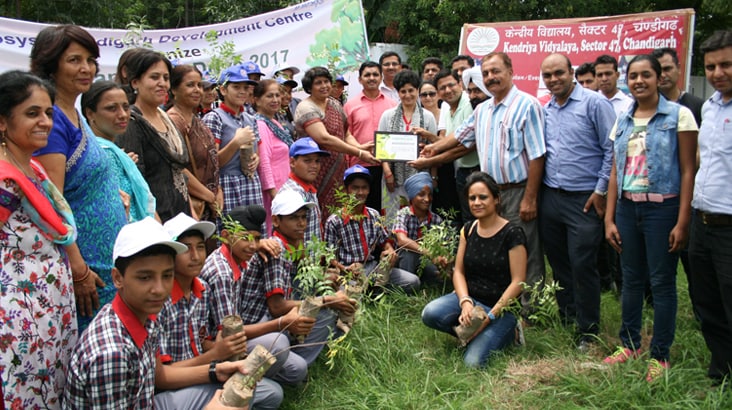 Infosys employees planting saplings along with students and staff of Kendriya Vidalaya, Sector 47, Chandigarh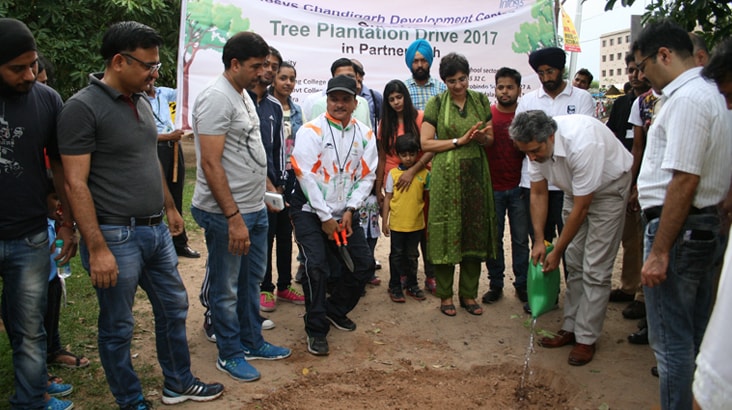 Mr. Maninder Singh Bains, IAS, Chairman Housing Board and Mrs. Garima Singh, (IRS) Additional Commissioner Income Tax Chandigarh, planting a sapling at Rajiv Gandhi Technology Park, Chandigarh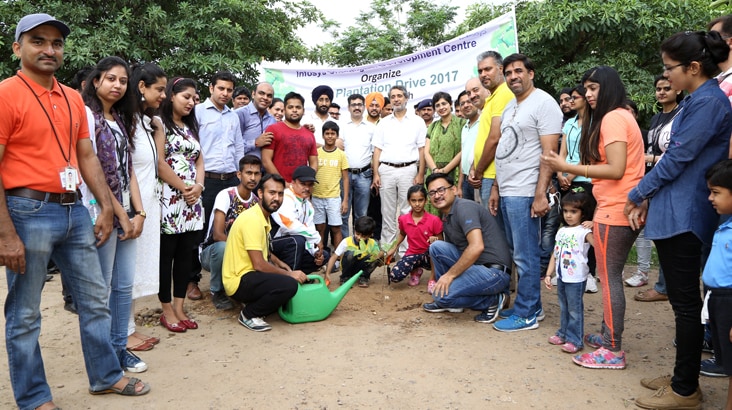 Tree Plantation in Chandigarh IT Park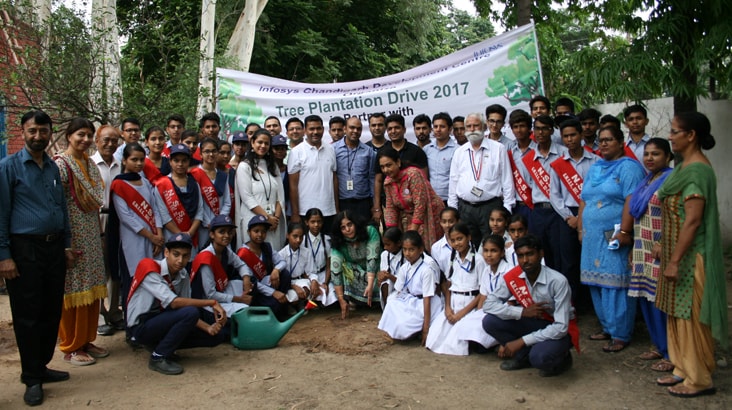 Infosys employees planting saplings in Government Model Senior Secondary School, 32 C, Chandigarh