Infosys Wins AutomotiveIT's Rising Star of the Year 2022 Award
Infosys has been recognized by AutomotiveIT, the top publication for IT decision makers in the German automobile industry, as the Rising Star of the Year 2022. Infosys received the award for enhancing its footprint in the region through its work within the industry and climbing up the publication's top-25 IT service providers rankings from eighth position in 2020 to fourth position in 2021.
AutomotiveIT Awards 2022 recognize innovative, tech-powered solutions offered to automakers, supporting their digital transformation efforts. Infosys' work to empower automotive industry become more resilient to the challenges and shifts in the industry landscape, as well as to become more sustainable, were recognized.
Over the last 20 years, Infosys' automotive practice has continually strengthened its presence as a leading digital transformation service provider for the automotive industry with an expanding client base of Original Equipment Manufacturers (OEMs), suppliers, automotive finance companies and dealership groups across the world. Infosys has continued to invest towards the future of mobility. This includes establishing a Digital Technology and Innovation Center in Stuttgart, which is designed to help automakers deliver transformation at scale. It also includes Infosys' mission to accelerate the transition to sustainable mobility through its work with Lefdal Mine Datacenter, one of the world's greenest data centers, to support Infosys' Green Data Centre as a Service offering and in turn facilitate automakers' shift to High Performance Cloud computing (HPC).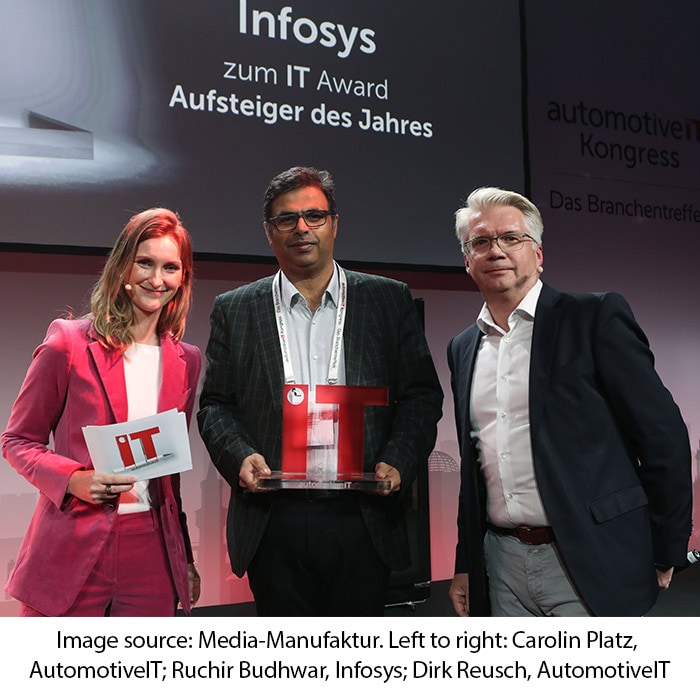 To learn more about the award, please visit: https://www.automotiveit.eu/technology/welche-it-dienstleister-gewinnen-den-automotiveit-award-686.html
To learn more about Infosys Automotive practice, please visit: https://www.infosys.com/industries/automotive.html