Infosys Recognized as the 2021 Global AI Services Company of the Year by Frost & Sullivan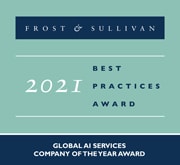 Frost & Sullivan recognizes Infosys with the 2021 Global Company of the Year Award, based on its recent artificial intelligence (AI) services industry assessment. The report highlights the Infosys' ability to provide a clear AI services strategy that addresses customers' concerns and needs to solve their unique business challenges.
Each year, Frost & Sullivan presents Company of the Year award to the organization that demonstrates excellence in terms of growth strategy and implementation in its field. The award recognizes a high degree of innovation with products and technologies and the resulting leadership in customer value and market penetration.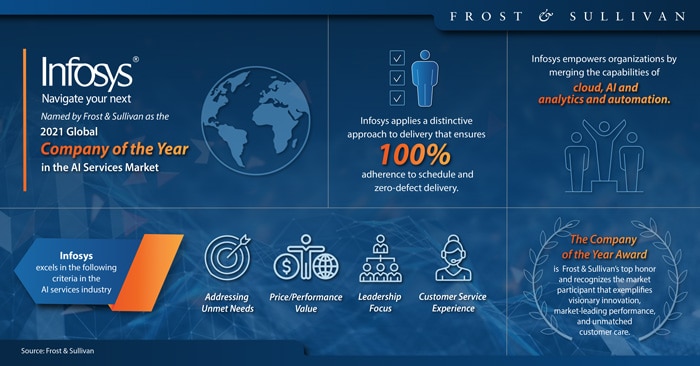 Key callouts & strengths:
AI's Ability to Unlock Value: Integrates automation, analytics, cloud, and robotics to accelerate the digital transformation journey and generate value from AI at scale.
Best-in-class Practices: Continuously evolves to offer high-quality solutions to its global clientele through its AI repositories, standardized AI development methodology, ensuring repeatability with reusable tools, accelerators, adapters, skillset enhancement, and effective oversight of projects by the AI council.
Creative Thinking and Continuous Improvement: It's technology and innovation hubs develop cutting-edge technologies for client collaboration and prototype development and state-of-the-art learning facilities.
Delivering Superior Experience: Effortlessly implements zero-touch operations
Read the Press Release here.
Read the full report for more details and to know more about Infosys applied AI.