NelsonHall Recognizes Infosys as a Leader in Cognitive and Self-Healing IT Infrastructure Management Services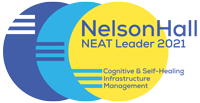 NelsonHall assessed and evaluated Infosys' offerings and capabilities in cognitive and self-healing IT infrastructure management and has identified Infosys as a Leader in the Overall market segment. This market segment reflects Infosys' overall ability to meet future client requirements as well as delivering immediate benefits to its IT infrastructure management services clients.
Infosys is also identified as a leader with specific capabilities in cognitive service desk and server-centric services in this NEAT evaluation released in April 2021.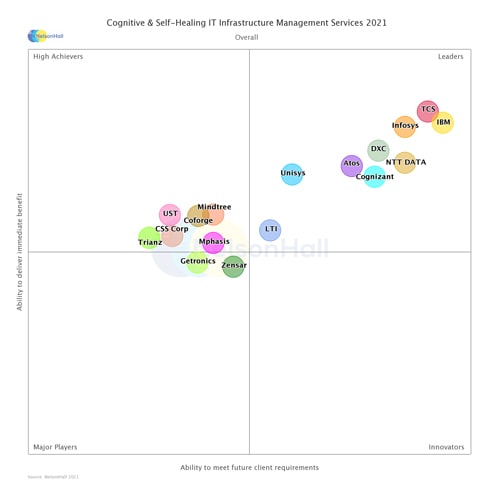 The report highlights Infosys Cobalt and states "As part of its Cobalt Cloud Community to drive grassroots level innovation, it now has 16k assets across business, engineering, learning, and knowledge. From a knowledge perspective, it is further building domain expertise with the transition of employees from recent wins. Infosys' Cobalt Cloud Community now provides a catalog of 225 industry cloud-first blueprints, curated from the 16k cloud assets. It has a dedicated team (~100 FTEs) curating assets from the cloud community, and we expect Infosys will ramp these resources as the cloud community expands."
The evaluation highlights Infosys strengths with regard to:
Significant IP (Polycloud Platform, NIA, Wingspan, and Enterprise Service Management Café); and strategic investment in the cloud as a key focus area for Infosys
Infosys Cobalt Cloud Community and dedicated resources to curate assets
Expanding DevSecOps and SRE-led approach to operations
Focus on AIOps observability capabilities, Kubernetes, microservices, and docker-based architecture
Cobalt Labs at global digital centers to enable clients to prototype and co-create new cloud-first solutions rapidly
16K+ cloud assets and 225+ industry cloud-first solution blueprints
Comprehensive partner ecosystem in support of Polycloud Platform and automation framework; and expanding innovation network in support of startups to drive next-gen capabilities
Partnerships with academic institutions to seed skilled workforce
Significant investment in the training of personnel
John Laherty, Senior IT Services Research Analyst at NelsonHall, said: "Infosys continues to invest in its Polycloud platform, focusing on providing full-stack integrated observability driven by AIOps and ML. It is also taking a DevSecOps and SRE-enabled approach as the default to manage end-to-end cloud services in a highly automated way through Polycloud. Plus, through Wingspan and its digital reskilling program, Infosys is reskilling all CIS resources in SRE automation".