Infosys Positioned among Top 3 in the HFS Research Hyperscaler Cloud Service Providers Top 10 2021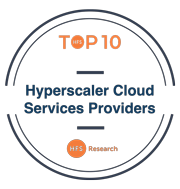 Infosys has been recognized as a Top 3 HFS Podium Winner in 2021 Top 10 hyperscaler cloud service providers by HFS Research for our overall performance across execution, innovation, and voice of the customer criteria.
This report looks at service providers with a minimum of 10,000 cloud professionals, services across the cloud services value stream, and scale to provide global and cross industry services.
Communicate value stream, not a product narrative
The report highlights that enterprises are looking for a clear methodology from their partners to discover, assess, migrate, automate, and manage solutions on the cloud. Infosys Cobalt serves as one stop service offering for both core and contextual applications.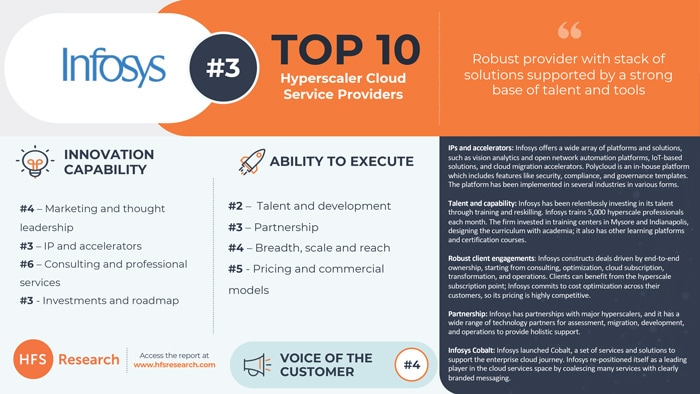 Infosys Strengths:
IPs and accelerators: Infosys offers a wide array of platforms and solutions, such as vision analytics and open network automation platforms, IoT-based solutions, and cloud migration accelerators. Polycloud is an in-house platform which includes features like security, compliance, and governance templates. The platform has been implemented in several industries in various forms.
Talent and capability: Infosys has been relentlessly investing in its talent through training and reskilling. Infosys trains 5,000 hyperscale professionals each month. The firm invested in training centers in Mysore and Indianapolis, designing the curriculum with academia; it also has other learning platforms and certification courses.
Robust client engagements: Infosys constructs deals driven by end-to-end ownership, starting from consulting, optimization, cloud subscription, transformation, and operations. Clients can benefit from the hyperscale subscription point; Infosys commits to cost optimization across their customers, so its pricing is highly competitive.
Partnership: Infosys has partnerships with major Hyperscalers, and it has a wide range of technology partners for assessment, migration, development, and operations to provide holistic support.
Infosys Cobalt: Infosys launched Cobalt, a set of services and solutions to support the enterprise cloud journey. Infosys re-positioned itself as a leading player in the cloud services space by coalescing many services with clearly branded messaging.